Written by James Dolan
Lately I have become obsessed with older Japanese vehicles otherwise know as Japanese nostalgic cars. And not because I own one, it just sort of happened for me since I have owned my RX-7 seemingly forever now. If you have read my story about Ten Cars I'd love to own, you would know that I have a passion for cars from all over the world including Japan. It has been more of a life long appreciation for these vehicles and a curiosity of mine to see if others share my taste in automobiles. Also I have wondered if any of these vehicles are left on the roads any more as they can be a rare site in these parts. As I have found, not only is there an appreciation, there is a growing following as well.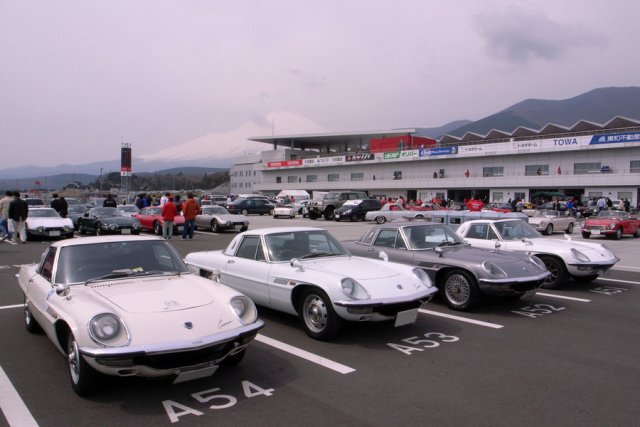 Mazda Cosmo's in a row with a row of Toyota 2000GT's in Japan, rare site indeed.
Any Japanese vehicle over 25 years old can be considered a nostalgic. As you can imagine there is already quite a following for classic J-tin in Japan where there are gatherings, car shows, clubs and magazines all dedicated to the hobby. But enthusiasm for these older vehicles is already starting to catch on here primarily on the west coast. In fact I think nostalgic J-tin will be the next trend in classic cars. Here is why. Since serious collectors have been concentrating on American Muscle cars over the past 10 years pushing prices up and regular people out of the hobby, old Japanese cars are still an affordable way to get into the classic car hobby. Also as my generation ages we will want to relive our youth and that coincides with the rise in popularity of Japanese cars from the 70's.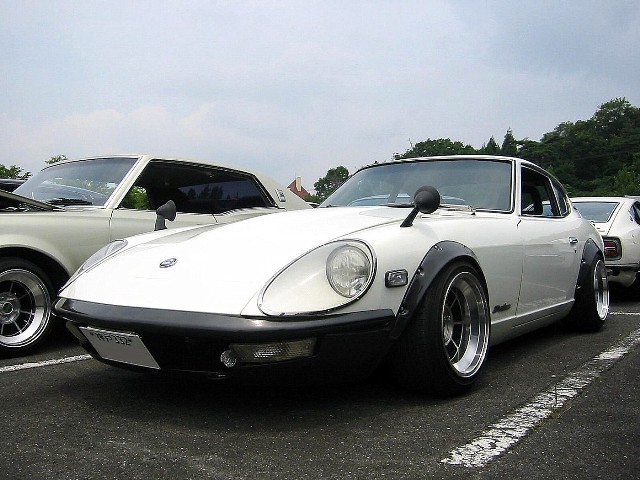 Nissan Fairlady Z (Datsun 240Z) in rare "G-Nose spec"
So I know what you're thinking. Besides the sports cars how can old Japanese cars be interesting or even collectable? The answer is simple, modifications. There are enough performance parts and goodies to make even the stodgiest old Datsun 510 or Toyota Corolla into a capable, pleasant and down right sexy road machine with out going over board. Second is price. Most of these vehicles can be had for less then ten grand for excellent examples making these cars an affordable way to enter the hobby. And finally these vehicles have good performance bones. Features like rear wheel drive, snappy engines, light weight, decent engineering and lots of potential. As an added bonus you will have something very unique at the local cruise night or car show when everyone else will be pulling in with a Mustang or Nova.
The Japanese Nostalgic world also has exotic superstars as well that can command prices well into the six figure range and can be as rare as any exotic from Europe. Join me in my look at just a few examples of some cool vintage cars from Japan. From the unobtainable to obtainable, Enjoy!
---
The 2000 GT marked many firsts not only for Toyota but for the Japanese car industry as a whole. It was the first "Super Car" ever produced in Japan, the first Japanese car to use 4 wheel disc brakes. More importantly the 2000GT marked Japan's rise in the auto industry and Toyota's legitimacy internationally. Before the 2000GT the auto industry in Japan was viewed somewhat as a joke. They were tinny, tiny, outdated and generally not suited for use outside Japan, in other words the cars were garbage. Many of the first Japanese imports would have their engines expire in a spectacular display of steam and smoke during highway use as speeds of 70-80 miles an hour were unheard of in Japan.
This car was different. It was well engineered, well built with high standards for quality and materials. The 2000GT also had a sensational twin cam 2.0L straight six developed by Yamaha that could run with the best engines in the world. The engine and sounded just as wonderful as well trumpeting out sounds usually reserved for a European exotic. But best of all, the car was gorgeous, in a sinful kind of way. The lines remind of an E-Type Jaguar and that isn't necessarily a bad thing. If this car was a member of the opposite sex you would want it to go to prom with you. Heck forget the date, I'll just take the car.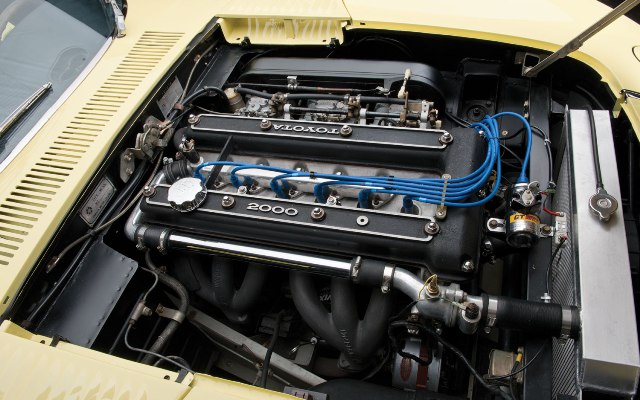 The lovely Toyota 2000GT twin cam engine
Unfortunately the 2000GT was only made for three years and in very limited numbers. During its production run from 1967 to 1970 only 337 vehicles were made. Although made in small numbers the vehicle left a big impression and this in turn means that this vehicle falls under the unattainable category. Even if you could find one, you could pay as much as $400,000 for one. Not an insignificant amount of cash for a Japanese car over 40 years old. Who would have thought a Japanese car would be worth so much? But it does show that classic Japanese cars are finding their place in the collector car world and it's about time.
---
Mazda Cosmo 110S: The Genesis of the Rotary Revolution
The Mazda Cosmo is another late 60's early 70's ultra rare Japanese gem. Although this little Mazda coupe didn't make the same impression on the world as the Toyota 2000GT doesn't mean it was any less important or exotic. The Cosmo is a sensation in its own right. Mazda as a company was going through a transformation during the '60's and they wanted a halo car to differentiate themselves from other manufacturers. To accomplish this Mazda needed a car that possessed futuristic engineering technologies. You see the Cosmo was the first ever Mazda to use the Rotary engine as its power plant. At the time the Felix Wankle designed engine was somewhat of a wonder and an exotic piece of technology. Some even predicted that the Rotary was the engine of the future.
Not only did the 110S have a unique engine, it was absolutely gorgeous. The long hood and covered headlights are simply divine and the rear end looks like something from a early 60's turbine powered concept car. The interior is finished with a wood rimed steering wheel and black and white cloth inserts in the seats. The upright dash and uncluttered interior have a simple elegance about it. Good thing its simple since the Cosmo is tiny. Back in the 90's I have had the pleasure of being up close and personal with an early 70's Cosmo. Even though it was engineless at the time the car still took my breath away. I remember being barely able to fit in its tight confines and back then I was not quite the man I am now if you know what I mean.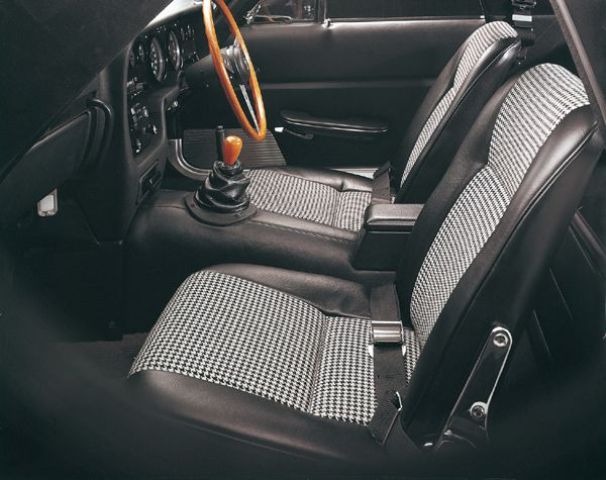 The Mazda Cosmo simple yet elegant interior
The only real unfortunate aspect of the Cosmo is that it's highly unlikely you'll ever see one in the metal; I doubt I'll ever see one again. Because the Cosmo was somewhat an experiment and an image car for Mazda it was made by hand in very small numbers. With just over 1500 examples ever made and very few imported outside of Japan the Cosmo 110S will remain unattainable and exotic. It almost makes you want one more doesn't it?
---
Datsun 510 (1968-1973): BMW beater
The Datsun 510 has the well deserved reputation of being the poor mans BMW. This should come as no surprise since the car was inspired by European sedans of the time, particularly the BMW 1600, 2002 series. Not convinced? Look at the specifications. The engine is a 1.6L rev happy over head cam 4 cylinder that looks as if it's a carbon copy of engines from Mercedes. The suspension is independent all the way around with struts at the front and semi-trailing arms in the rear (except the wagon). The transmission was a slick 4 speed manual, although you could have a 3 speed automatic. These are the type of technologies that only the Europeans were putting into their vehicles, but Datsun was doing it with an economy car! Put all this into a package that is wrapped in sheet metal that could have come from Germany or England and the European influence is undeniable.
This European influence is not at all a bad thing. This made the 510 an absolute blast to drive and combine this with 3 body styles, a 4 door sedan, a 2 door sedan and a 5 door wagon and a price everyone could afford Datsun had a success on their hands. The 510 had a snappy engine, great handling and was practical as well. Car enthusiast and racers gravitated to the 510 for all it mechanical goodness and driving fun. Soon performance parts were readily available and a factory racing program was underway. All these goodies and development made the 510 the tuners choice of the day and an enthusiast's choice in vehicle for 40 years.
Because the Datsun 510 was a commercial success with many thousands sold between 1968 and 1973 there are still examples out there that can be purchased by an average enthusiast for a reasonable amount of money. I'll have to admit that if I had a choice between a nicely prepared 510 and a BMW 2002 I would have a hard time deciding which one to choose. Ultimately I would probably choose the Datsun just because it took on BMW and in my opinion won.
---
Datsun 240Z (1970-1973): One of the all time greats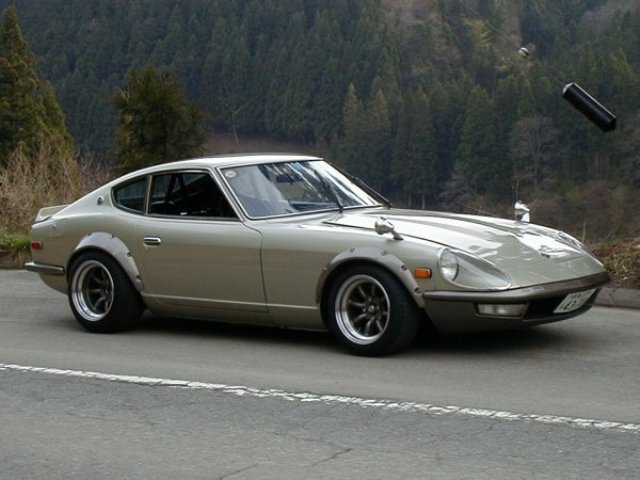 A stunning Datsun 240Z "G-Nose"
Without a doubt the Datsun 240Z is one of the all time great sports coupes. All the elements that go into a fine driver's car are here. Using the same recipe of European inspiration as they did for the 510, Datsun came up with a winner by all accounts. Not only was the 240Z a winner n the hearts of car enthusiasts and a sales success the car was a massive image boost for Datsun and Japanese vehicles in general. Toyota and Mazda were able to prove to the world that the Japanese could make an amazing car with the 2000GT and Cosmo. Datsun was able to take things one step further and make a world class vehicle in volume production numbers for less then the price of a Jaguar, Porsche or Corvette, truly impressive.
The 240Z uses a 6 cylinder version of the L-series engine used in the 510. Displacing 2.4 litres and using twin side draught Hitachi carburetors (how cool is that!) the over head cam engine produces a solid 150hp. Find a 240Z with a 5-speed manual and you'll be grinning from ear to ear as you rev the engine to its 7000 rpm red line while accelerating the 2,300lb coupe to 100KPH in a tick over 8 seconds. You would be forgiven if you thought the engine in a 240Z is a direct copy of a Mercedes engine. They look remarkably similar, but there are enough differences that parts are not interchangeable.
And the fun doesn't end there. Independent suspension at all four corners, anti roll bars and 14" wheels will please your driving senses as the 240Z clips some corners. Turn the steering wheel and you will find the rack and pinion steering communicates every ridge and pump in the road. Although the steering can be a bit heavy at low speeds because there is no power assist, it's a refreshing change to the over boosted artificial systems of today's cars.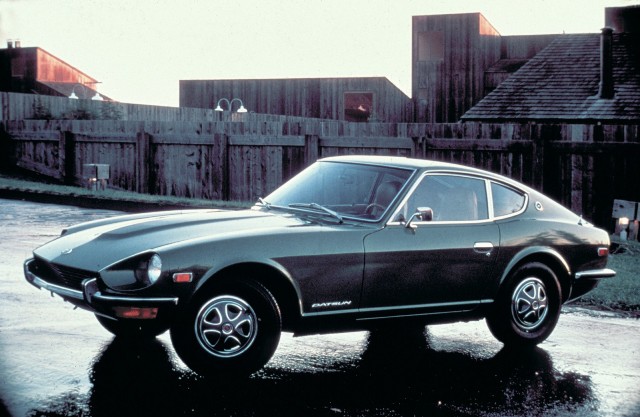 A 240Z as it came from the factory
The real trump card for the 240Z is reliability. If you own a 240Z you would spend more time on the road then in the garage, provided it is in good shape to begin with. The power train is bullet proof, no constant valve jobs or endless carburetor tunings. The electrics work, your lights will light up the night, your wipers will work when it rains, heck your car will even start in the rain! The axels won't break and the wheels will stay on the car like they should. You can't say that with any confidence of a Triumph TR-6 or Austin-Healey. It's as if Datsun took a British sports car and actually made it properly.
---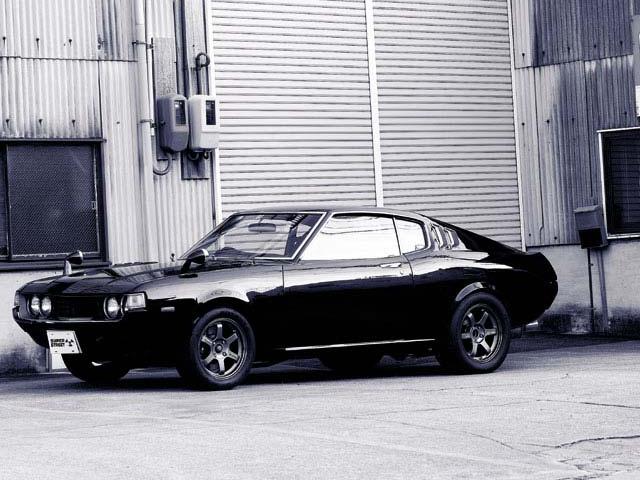 1975 Toyota Celica Liftback - tastefully modified...
Datsun looked to Europe for influence when they designed the 510 and 240Z, Toyota went a different direction and took a page from American culture for the Celica. The first generation Toyota Celica took the playbook from the Ford Mustang and translated it into Japanese and that isn't necessarily a bad thing. Ford had great success with the Mustang so why couldn't Toyota do the same thing only scaled down. Just one look at the Celica and you can see the influence the Mustang had on design. Just like the Mustang the Celica was offered in 2 body styles, coupe and lift back. The coupe was available from the get go but the lift back didn't appear until 1973 in Japan and 1976 elsewhere in the world.
Toyota always takes a rather artistic approach to the naming of its vehicles and the Celica is no different. The name Celica is derived from the Latin word coelica meaning "heavenly" or "celestial". I would have to say that the meaning of the name suits the vehicle, just look at it, it's beautiful. The coupe is a pillar less hard top notchback. The front has a lovely slant nose with recessed headlights in the grill. The overall shape is muscular yet elegant at the same time. The lift back and later coupes have a flat nose treatment with the quad headlights still sunk back into the grill area. The side profile of the lift back definitely took its cues from the late 60's early 70's Mustang fastback as the two cars share a very similar look. Rear bumper and tail light treatment of the lift back is again heavily influenced by the Mustang. Even though the Celica has many of the Mustang's design elements scaled down, Toyota was able to pull everything together, pull it off and give the Celica its own character. Unlike the Mustang II that looks hokey and a bit comical the Celica looks ready to run.
The Celica was a simple car in order to keep prices in check so that average people could take one home. This simplicity was a good thing as the Celica was light weight yet very robust and reliable. Even though the technology was simple, the Celica was a pleasant car to drive. The large 2.0L 18R overhead valve 4 cylinder engines had plenty of low end torque and a low, lazy cruising speed that made the Celica a great car for a long journey. Rear wheel drive and large tires gave the car decent cornering abilities belying its leaf spring rear suspension and slow recirculating-ball steering. Both power and handling improved in 1975 when the 2.0L 20R overhead cam engine and coil spring multi link rear suspension were introduced. And just like the Mustang there are plenty of performance parts you can get imported from Japan for the Celica. How does a vintage twin cam Toyota engine tickle you fancy?
With appealing styling, affordable price and decent performance the Celica followed the Mustang formula very well and was successful for it. In fact the Celica is what the Mustang II should have been instead of the Pinto based, over weight, poor performing joke that it was. Good thing Toyota followed Ford's formula better then Ford did.
---
Mazda RX-7 (1979-1985): The savior of so many things
This is the car that saved the Rotary engine from extinction, saved Mazda from total ruin and saved the affordable sports car marked from the pages of history. Quite an accomplishment I'd say. The RX-7 did all this not because it was the most advanced sports car ever made either. Sure the RX-7 was simple, but it was how the all the parts put together and how they worked that made this such a fantastic car.
At the time of its development and introduction Mazda was in big trouble. The cars were not selling and the Rotary engine that they used in almost every model had developed a bad reputation for drinking too much gas and a short life span due to apex seal failure. Mazda's were like the drunken uncle your family never talks about, nobody wanted anything to do with them. So they developed a Rotary powered sports car to save the day, sounds illogical right? Well to Mazda's credit they did improve their bread and butter vehicles by installing efficient and reliable piston engines. But Mazda needed something exciting to bring people in the doors of quiet dealerships. After many years of hard work Mazda had finally perfected the Rotary engine and didn't want to totally abandon it. The engineers at Mazda still believed that the Rotary engine had its place. Besides the rev happy and light weight Rotary engine was more suitable for duty in a performance vehicle anyways.
The decision was made; build a sports car and the customers will come was the logic. There was a problem however. Mazda had virtually no money to spend on things like complex rear independent suspensions and rack and pinion steering. Besides those thing would drive the price of the car up and the idea was to make an affordable sports car like the Datsun 240Z from days gone by. Mazda took parts they had installed in other vehicles and used good engineering techniques to make everything work together in perfect harmony. The light weight and compact Rotary engine was mounted as far back as it could to give the car a front-mid engine type layout. By doing this gives an ideal 50-50 weight distribution for great handling. Mazda then spent many hours tuning the rest of the parts such as steering and suspension so that they could get maximum performance out of them. Even though on paper the RX-7 looks rather unsophisticated with its solid axel rear suspension, recirculating-ball type steering and rear drum brakes the car is simply epic to drive.
Wined out the 12A Rotary engine and with a flick of the wrist toss it into a corner, feel the suspension take set and tires grip and you just know you are having one of the greatest automotive experiences you could possible have. Really, the RX-7 is that much fun, light and endearing to drive. And fun was exactly what the sports car market needed in 1979 when the RX-7 hit the streets. Best of all the RX-7 had a distinct price advantage over the competition. The low tech approach and costs meant Mazda could sell the RX-7 for a steal. The competition had got slow, fat, wheezy and expensive and there was a pent up demand for a fun car again. As a result the RX-7 had the market to its self and woke the segment up from near death.
Classic good looks, epic driving experience, solid reliability and exotic Rotary engine make the RX-7 a definite Japanese Nostalgic worth consideration. But I might be just a wee bit biased since I already own one.
---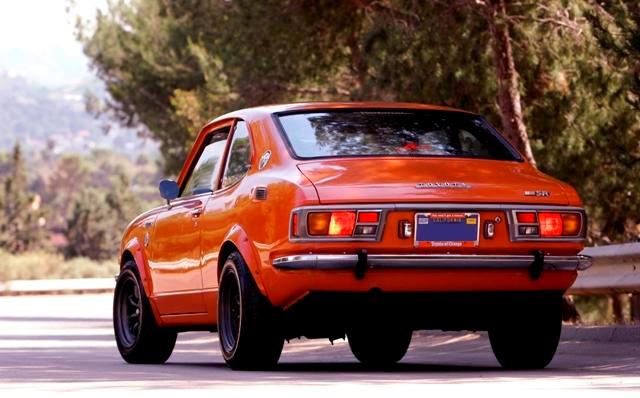 Early 70's Corolla SR5 - modified
So you are probably asking yourself what makes a 1970's Toyota Corolla a Japanese classic. There is nothing inherently exciting about a Corolla. It's a point A to B car so to speak, and for the most part that is true. But the Corolla has a few important things going for it that will change your way of thinking. Price is one, you can pick up a 1970's Corolla for almost next to nothing and that is always a good thing. Toyota has sold these by the hundreds of thousands so there is still a selection out there.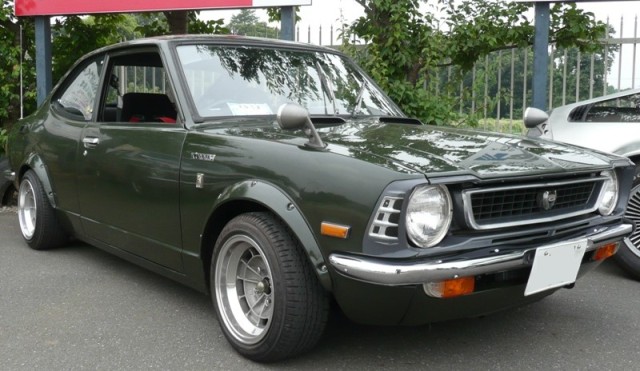 Early 70's Corolla SR5 - modified to Japanese secifications
Good dynamics is another positive. Back in the day the rear wheel drive Corolla was no slouch when it came to handling and driving dynamics and was known as competent performers, especially in SR5 specification. The SR5 had additions such as a 5-speed manual, bolt on fender flares, wider wheels and tires, stiffer suspension and various cosmetic goodies. Combine all that with a peppy 1.6L overhead valve hemi head engine and you have a good foundation for a fun little corner carver for not all that much money.
Most importantly the Corolla has tonnes of potential. Like the Volvo 200 series or Volkswagen Rabbit/Golf the Corolla was popular and responds well to some tuning work. You can do almost anything to a Corolla and because this car is a popular classic in Japan you can get almost anything for it. You can get dual side draught carburetors, limited slip differentials, wheels, brakes and all kinds of exterior and interior add-ons to make your Corolla all your own. As an added bonus the Japanese market had some cool performance versions with stunning twin cam engines that you can have imported for something really unique.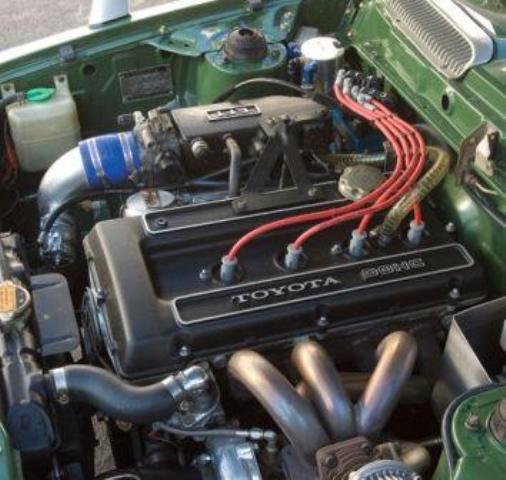 1974 Corolla Japanese specification twin cam engine is a popular modification
Go out and get yourself a plain Corolla and turn it into a real sensational car that is perfect for rolling down the windows finding a nice curvy road and clip some corners while listening to a nicely tuned motor rise and fall through the rev range with every shift of the transmission. This is the appeal of this car, it's a blank canvas. You can create your own thing or recreate a beautiful Japanese twin cam spec model or just get a fender flared SR5 and go out and have some fun on a sunny day all the while knowing you didn't break the bank.
---
Closing Thoughts
These are just a few of the Japanese nostalgic cars out there waiting to become sought after classics. There are many, many more out in the world just waiting to be discovered like such legends as the Honda CRX, the '84-'87 Corolla GTS, Mazda RX-2 and RX-3, Mazda 323 GTX are just a few. However with all good things there are some caveats.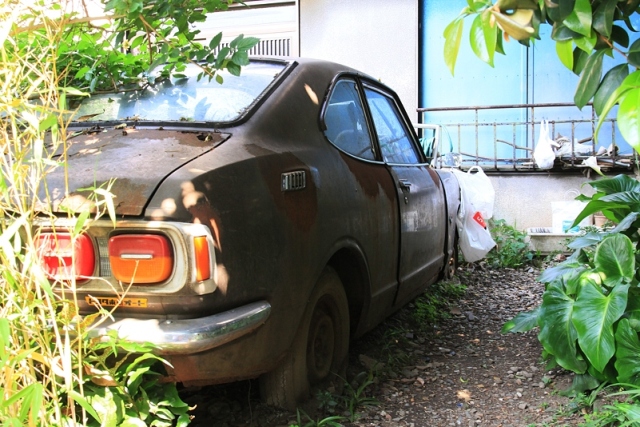 Rust can be a major issue on any vintage Japanese car. Unfortunately they just didn't have the protection that they have today and most just simply vanished overnight in owners' driveways as they slept. So finding a rust free example in Northern Climates is nearly impossible. The good news is there are still fine examples in the southern U.S. and Japan that can be bought and imported. And although importation and be a hassle and risk all its own, if you dot your I's and cross your T's you'll have a fun and unique car that should bring you years of pleasure and pride of ownership.