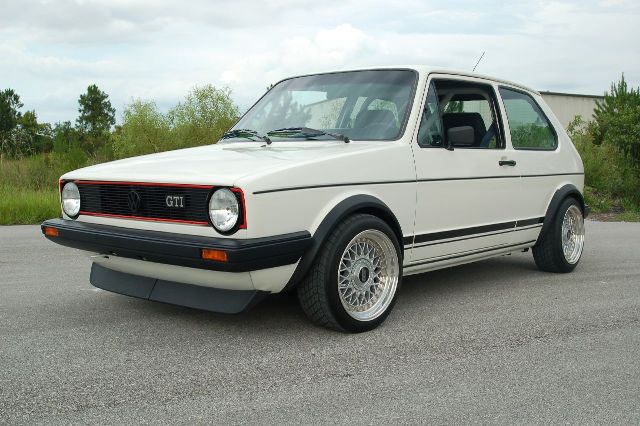 Written by James Dolan
Hot hatchbacks were the best automotive development ever. That's a heady statement considering all the vehicle developments in the auto industry over the past hundred plus years. The mini van, the hybrid power-train, and the sumptuous exotic can't hold a candle to the hot hatch. For me driving a hot hatchback is an experience so exceptional that in most situations I'd rather pilot one of these gems than something more exotic like a Porsche or Ferrari.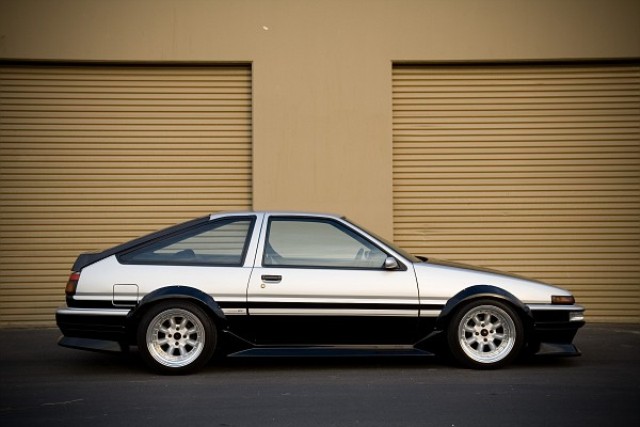 What makes these cars so wonderful is recipe used to make one of these little road rippers: Take a compact, light weight, yet practical hatchback, shove some chili peppers up its tailpipe, add in a heavy dose of suspension tuning and keep it simple and cheap to buy. What you end up with is a sensational performing car that handles as crisp as mountain air, is able to carry four normal sized people in great comfort and is almost as practical as a pickup truck. These little pocket rockets can and will out-perform much more expensive vehicles from the same era. Even today you'd be hard pressed to find a better performing car on tight, twisty roads, and I would dare you to find something as entertaining.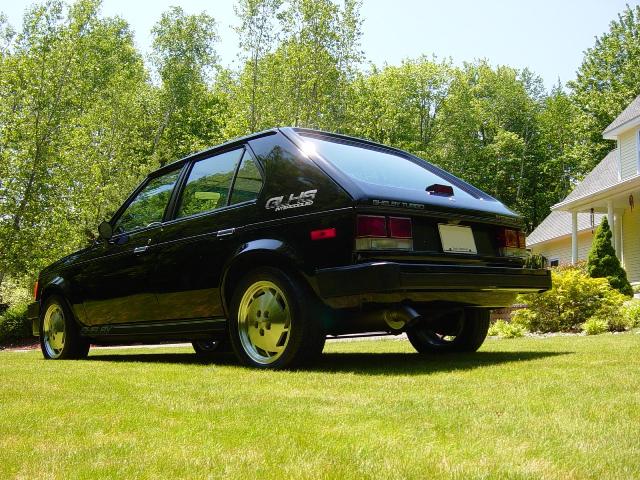 Today we are looking at an assortment of these little wonders from the 1980's. This era was the zenith for hot hatchbacks. Since then their numbers have dwindled, choices are fewer and those that remain have gotten fatter, duller and more expensive. We can thank low fuel prices and the rise in popularity in SUV's for that. Join me as we take a peek at a time when things were good, the choices were vast and the air was crisp for the hot hatch.
---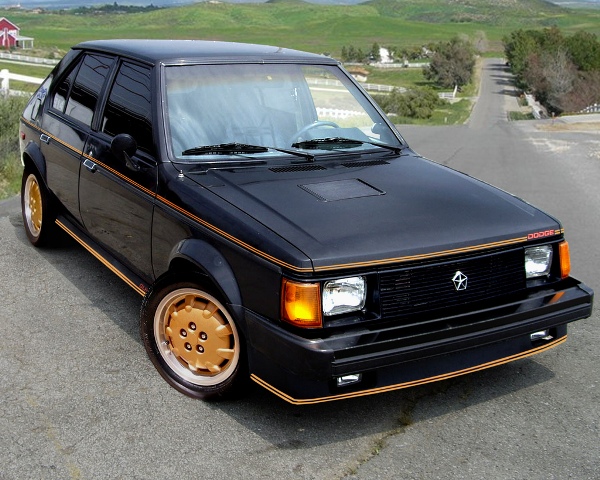 The Dodge Omni introduced many firsts in for the American auto industry in 1978. It was the first front wheel drive vehicle developed by Chrysler and was the first transverse engine front wheel drive car produced by an American manufacturer. The Omni was greeted with very good initial reviews by the press, this in turn made the Omni the first front wheel drive American car to sell in large volumes. There was one problem with the Omni though… It was excruciatingly boring to drive. Sure it would dutifully get you from point A to B without any drama or bursting into flames but you would probably fall asleep halfway to your destination. So a performance car it was not.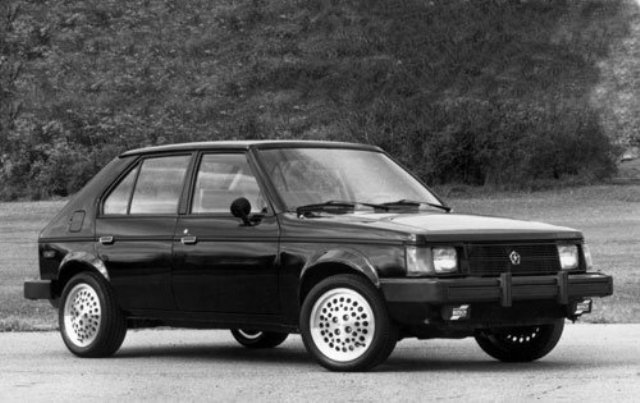 But like all dull things automotive, add some magic from a hot-rodding Texan named Carol Shelby and suddenly the world starts spinning in the opposite direction as tires start smoking. Shelby is better known for his work with Ford V8 powered products such as 60's Mustangs. But good old Carol and Ford had a bit of a fight so Shelby hooked up with his former Ford buddy Lee Iacocca who was now over at Chrysler. Initially a 4 cylinder hot hatchback from Chrysler and Shelby seems a bit odd considering neither party had attempted something like this before. But on the other hand it does make perfect sense. Chrysler needed an image boost, Shelby needed some work and since the public still had the sting from the last fuel crisis ingrained in their memories a small hopped up hatch was the logical choice. The outcome was a series of great, yet still forgotten American made hot hatches and sedans that gave both parties involved a much needed boost. The GLH was the first offspring of that marriage. Originally Shelby wanted to call the car the Coyote in reference to the competition, the Volkswagen Rabbit GTI. But Iacocca liked GLH because it stood for "Goes Like Hell" and that is just what the car was named. There was a hotter version named GLH-S and that stood for "Goes Like Hell Some more".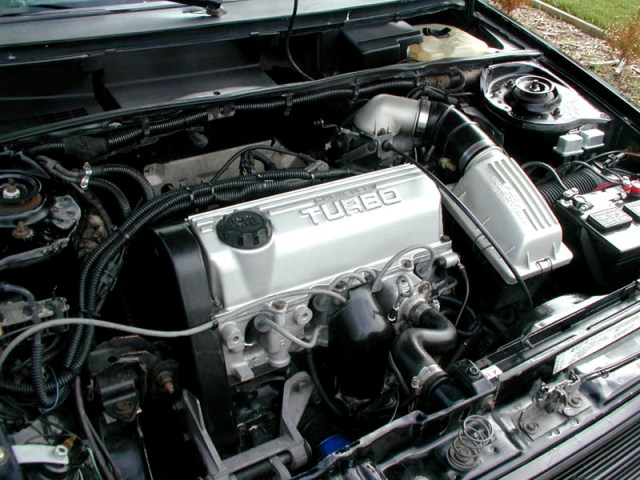 Fat tires, tuned suspension, light weight, and 146 horse power 2.2 litre turbo charged 4 cylinder engine is what the GLH is all about. Although it may not have been as refined and a little rough around the edges compared to its European and Japanese competition; true to its name it sure went like hell. Weighing in at a scant 2400 pounds, the little Chrysler would outrun more expensive V8 powered Mustang GT's and Camaro Z28's of the day. Not only could the GLH run away from more expensive vehicles, it could run circles around them as well. The grip seemed endless, almost supernatural because this little wonder could out-slalom and pull more G's in a corner then just about any car made at the time. Fat, sticky tires can take some of the credit for the handling improvement and there is nothing wrong with that since it adds to the aggressive look of the car. To be quite honest the Omni GLH was probably the best Chrysler product from this period and the best performance per dollar as well. And did I mention that is has 4 doors?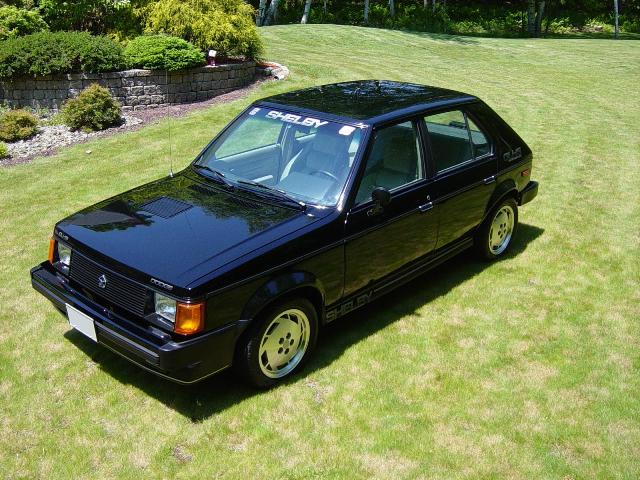 Unfortunately the little Chrysler had some pitfalls. It wasn't made very well and the interior components were to put it mildly, very low rent. The interior design was circa 1976, in other words whoever was in charge of the layout of the controls such as the heater located to the left of the steering wheel was taking heavy doses of acid; not very pretty or practical. Shifting through the 5 speed manual transmission wasn't exactly crisp and smooth either. Add in a heavy dose of torque steer that would send the car into on coming traffic if the driver isn't careful with the throttle application, and the out-come is a car that could go to finishing school a while longer.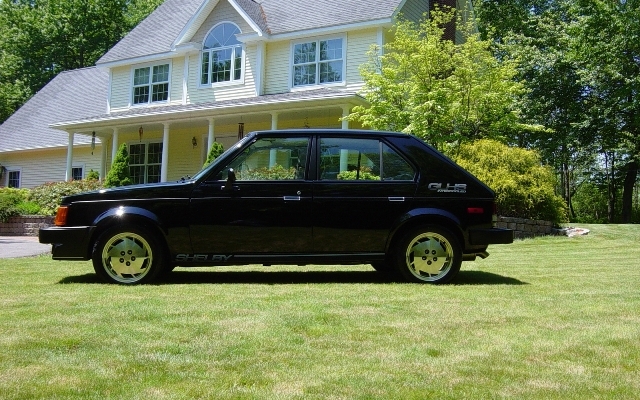 These shortcomings can be forgiven. The GLH did everything its name claimed it would, and more. Best of all it was cheap, fast, fun and with four doors. The GLH was the most functional of the hot hatches. At the end of the day the GLH owner had the satisfaction of knowing they just smoked a person in a Mustang or Corvette, paying a fraction of the money, and that is what these cars are all about.
---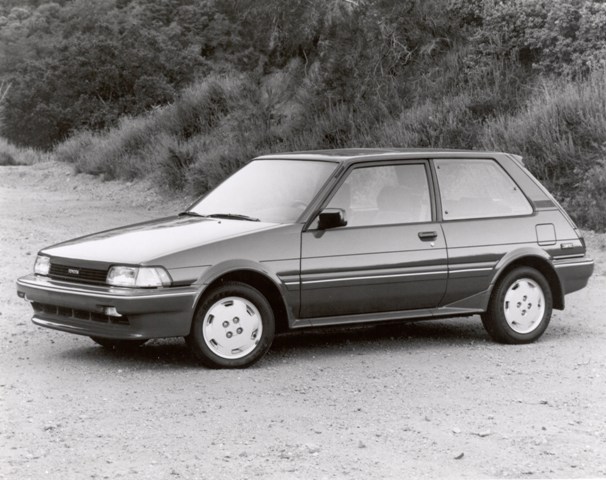 Remember when you wanted to be an aircraft pilot but never had the chance to take to the skies? Well the Toyota Corolla FX16 GT-S is the pocket rocket for you. This is the car that forgot it was a car and not a plane; it feels like it can fly. And this is a good thing. The FX16 has all the ingredients mixed together and baked at the proper temperature to make a great hot hatchback. Such things as a twin-cam 16 valve fuel injected high-revver plucked from the engine bay of the mid engine MR-2 sports car, fully independent suspension tuned for handling with wide sticky tires is thrown in for good measure. All these things bolted to a shortened, braced and lightweight front wheel drive Corolla body shell made for a surprisingly quick and entertaining ride.
Obviously the FX16 is not your run of the mill boring front drive Corolla and I am glad it isn't. It is as if someone at Toyota got tired turning out the same blandness and decided the smallest and lightest Corolla needed some attitude. When completed it was pure pleasure on four wheels. The little beast could run with the best of the crowd with its peaky twin-cam 16 valve engine spinning musically making 108 BHP at a dizzying 6,600 rpm from 1.6 litres. At the time an engine of this type of specification was considered to be a somewhat of an exotic piece of machinery. Unlike today where these engines are common place, back in the 1980's single cam 8 valve engines was the norm. In this respect the FX16 was well ahead of its time.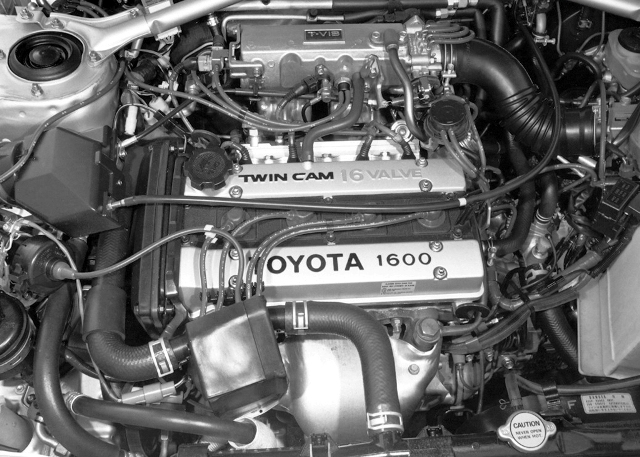 The good vibes continue with the gearbox. Shifts are slick as you row up and down through all five gears. Good thing since you will be doing plenty of gear changes to keep the engine in its power band high in the rev range. Since the engine has almost no low end torque, the gearing is low and the ratios are close. Like all Toyota gearboxes the FX16 has a solid quality feel that is a joy to use so you don't mind constantly running up and down the gears like a race car driver.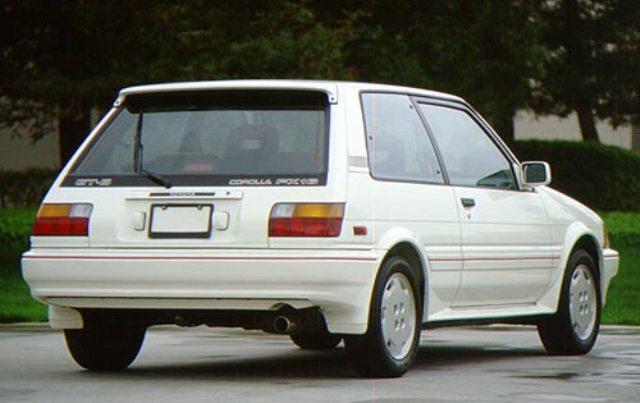 When the road gets twisty is when a hot hatch really comes into its element and the FX16 is no different. The fully independent suspension may not be sophisticated; the approach is simple yet the tuning and execution is very effective. The front has the typical strut arraignment with an anti roll bar thrown in for good measure. The rear consists of struts, dual transverse links, trailing links and an anti roll bar as well. All the suspension pieces work together to give the driver a secure confident feeling and plenty of grip.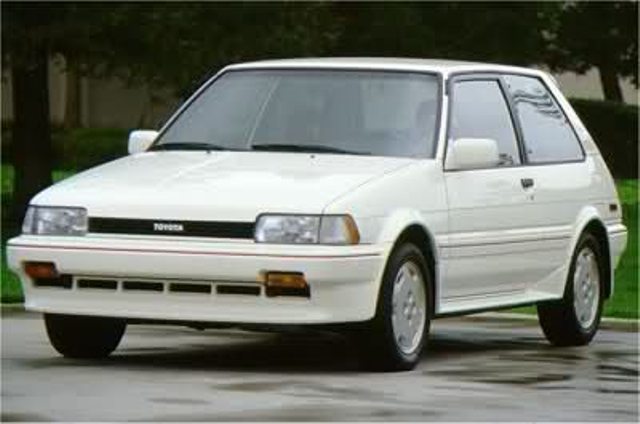 However, it is what the suspension attaches to that differentiates the Corolla FX16 from the competition. There are a total of three structural braces attached to the body of the car to keep everything from moving about and solid. A solid body structure will keep everything square allowing the tires to be planted firmly to terra firma; a good thing for handling. This also allows suspension engineers to dial back the firmness of the struts just a tad, giving a smoother ride. So not only does it handle among the best of the pocket rockets this Corolla's ride won't punish you either. Thrown in 4-wheel disc brakes with solid stopping performance and a crisp rack and pinion steering system, and you have the makings of an epic hot hatch. If charging down the road in an FX16 won't put a smile on your face then nothing will.
The one thing the Corolla FX16 GT-S does lack is character. Where cars like the Volkswagen GTI and Dodge Omni GLH has loads of character, the FX16 is a bit too efficient and soulless. Yes it will run forever and put a smile on your face when you drive it. Park the FX16 next to a GTI or GLH you will gravitate towards the German and American every time. The GTI is playful and always pushing you to have some fun and the GLH has a rough and tumble attitude like a kid from the bad side of town. The Corolla can be driven day in and day out without a hint at all that it has some performance pretensions, unless you actively try to drive the car with some sort of vigor. It's a shame really because part of the fun of a hot hatch is not only the performance but its personality, good or bad.
---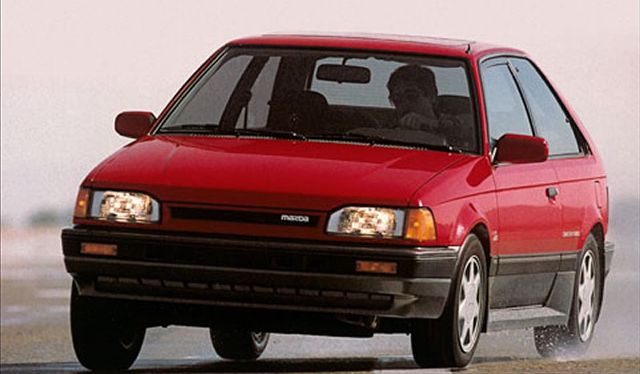 Never heard of the Mazda 323 GTX? I'm not surprised, not many people have, hell not many people have ever seen one. Although the GTX was never made to be a sold in great numbers, it was made to homologate the car for WRC eligibility, what Mazda did make it had a hard time selling. This little Mazda was ahead of its time. Before the days of the Subaru WRX and Mitsubishi EVO were even a vague thought Mazda engineers conjured up the 323 GTX. Mazda took a 323 hatchback, dropped in a DOHC 16V 1.6 litre engine and turbo charged it. However they didn't stop there. They reworked the suspension and added four wheel drive and the GTX was born.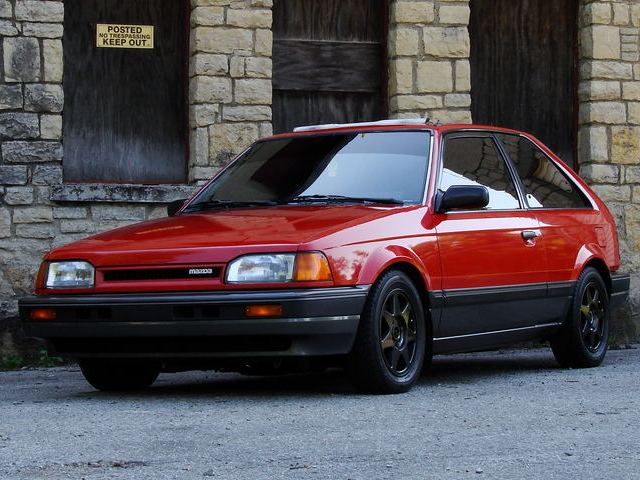 Unlike the other hot hatches on this list the 323 GTX was a sophisticated, complex and somewhat expensive little car. It was something that Americans really weren't ready for at the time. The thought of plunking down top dollar for a small three door hatchback seemed ludicrous to Americans at that time. When you look at it now, the 323 GTX wasn't really all that much more expensive then the competition and look at what you got! No matter, Mazda could only sell 1200 GTX's in 1988 and 1989 before the car was discontinued and forgotten by the majority of enthusiasts. It's a shame really because the 323 GTX is one of the all time great hot hatchbacks and a pioneer for other all wheel drive sport compacts to follow.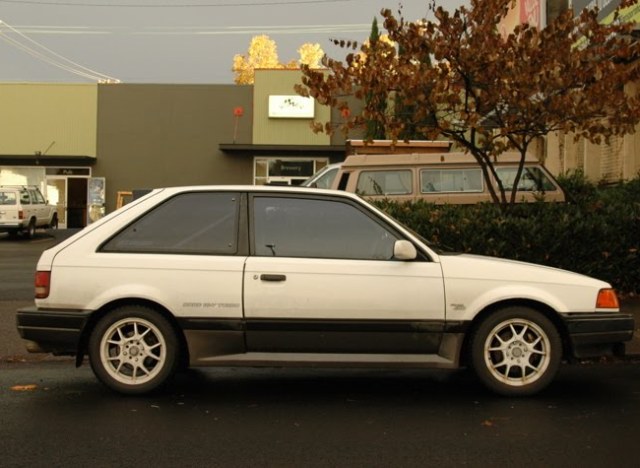 Being developed as a rally car made this Mazda an absolute joy to drive in any season under any condition. The steering was crisp and communicative, it had great poise through the corners and more grip than should be legally allowed. With power to spare this really was a race car thinly disguised as a road going car. Quickly the 323 GTX became the first choice of amateur rally driver at the time and good potions of the GTX's over the years have been made into race cars. This makes the GTX and exceptionally rare sight on the roads today.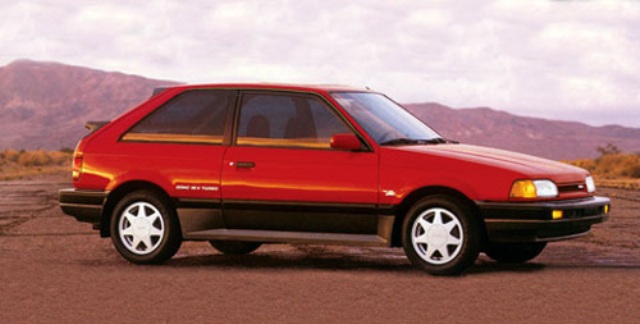 Although the 323 GTX wasn't a sales success, it was a fantastic hot hatch and it paved the way for other turbocharged all wheel drivers such as the Mitsubishi Eclipse, EVO and Subaru WRX. It was a glimpse into the future and for that it deserves to be considered to be one of the all time great hot hatches.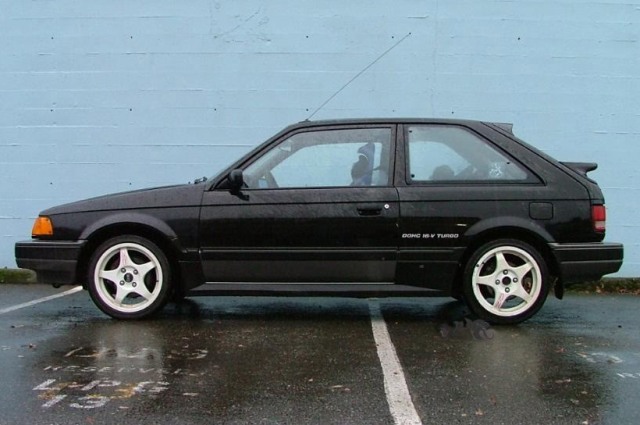 ---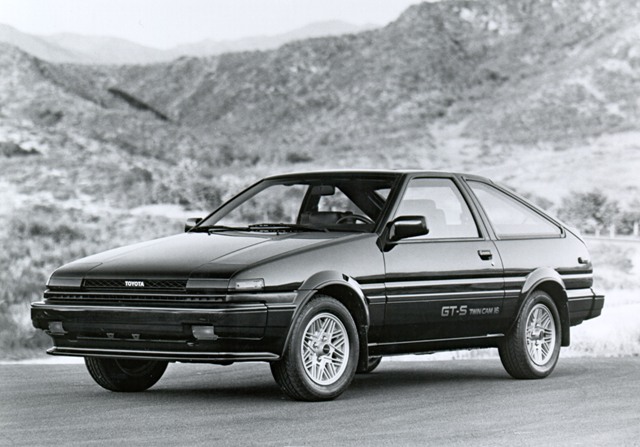 Toyota had quite the contrast of vehicles in the Corolla lineup during the mid 1980's. In 1984 the line up of sedans and hatchbacks switched to a front wheel drive layout from the traditional rear wheel drive set up. However one body style was an exception. For whatever reason, the SR-5 and GT-S models stuck to the previous generation's rear wheel drive layout. The AE86 was so different that virtually no parts are shared with its front wheel drive brothers and sisters. Why this car even exists is a mystery to me but I am so glad that it does. When the Corolla GT-S was a new car many car experts viewed it as an outdated, cramped, rear driver whose day had come and gone. No one knew it then, but the AE86 would become a sought after legend. There has not been a small, light, rear wheel drive, affordable car with this much fun made since, and it truly was the last of its kind.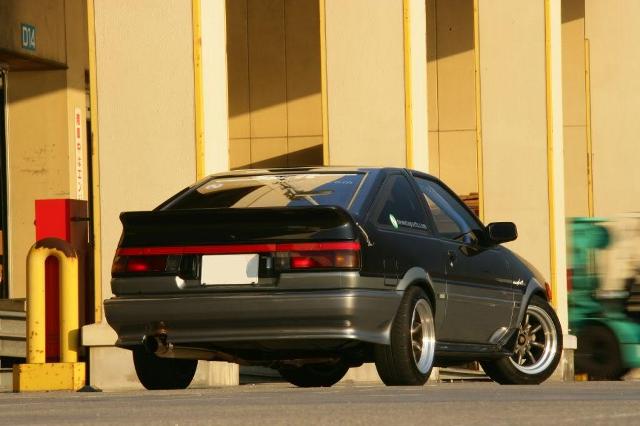 Toyota had a few tricks up its sleeve for the old Corolla, tricks that would make the car a legend in automotive circles and a cult classic. Giving the body a sleek redesign with then fashionable pop up head lamps and a refreshed interior was a start. This Corolla looked ready to run, it looked better than any Corolla deserved to look, dare I say it was almost sexy. The styling bordered more towards a sports liftback than economy car. This definitely did not look like your granny's Corolla and it sure didn't drive like it either. There was plenty of go to back up the show.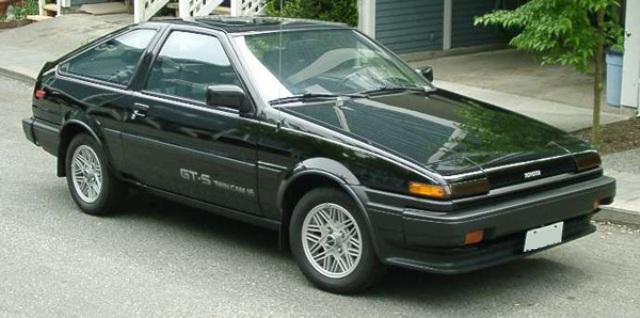 What really made this car special was what was underneath the sheet metal. Toyota stuffed a brand new wonder motor under the hood. Something very special that had no business being there. It was the engine that changed everything in the small performance car world. The 1.6 litre twin-cam 16 valve 4AGE engine was Toyota's first engine of this type. An engine that produces 112bhp may not sound impressive today but back in 1984 a Mustang could barely pump out 175bhp from its 5.0 litre V8. To put this in perspective Porsche wasn't even using engines of this type just yet. This was exotic stuff in an economy hot hatch and it was one sweet power plant. The 4AGE would eagerly spin up to its dizzying red line all day long without self destructing. The 4AGE is a peach of an engine and went on to be used by Toyota in the MR-2 sports car and the Corolla FX16 GT-S, the Corolla AE86 GT-S's front wheel drive brother.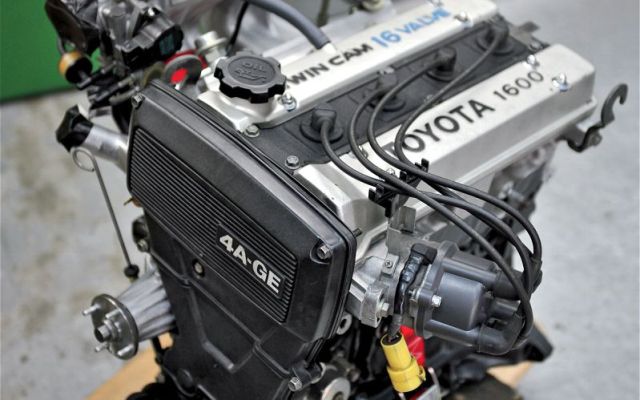 What made this Corolla a legend wasn't the engine, sure it was a great contribution, but the GT-S's calling card is it's the handling. This lightweight 2300lbs corner carver was precisely balanced with quick steering that enabled the driver to point this little piece of hatchback heaven with laser-like precision. Being rear wheel drive allowed the driver to explore some of its gun-ho handling characteristics like hanging out the tail in a good old-fashioned power slide. By no means was the AE86 sophisticated in the suspension department. Struts and lower control arms with an anti roll bar kept things in check up front and a four link live axel with another anti roll bar kept the rear planted. The GT-S parts worked together to give the driver the ultimate feeling of precision and control. This wasn't a Corolla; the engine was too free revving, the chassis to well balanced, it was fun, it had personality, it had to be an Alfa GTV in Japanese kimono.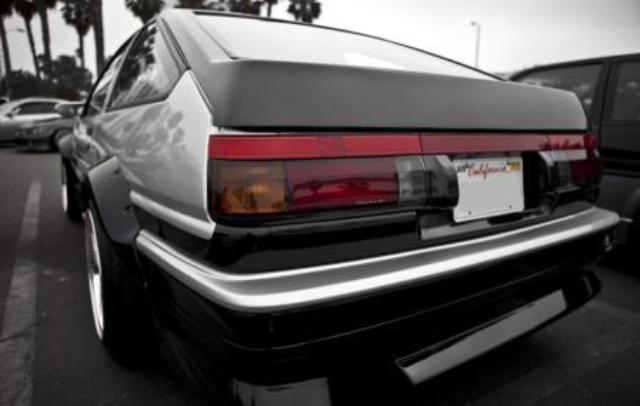 The AE86 handled so well that it quickly became the choice for the Japanese street racers who would fly down tightly curved mountain roads late at night. In suicide fashion with their tails hanging out at extreme angles, these hooligans would come out night after night practicing car control. This is the land where "drifting" was born and the AE86 was the weapon of choice for the thrill seekers who piloted them. It was on these mountain roads late at night that the Corolla AE86 became a legend. The AE86 became sought after by drifters, weekend racers and auto crossers around the globe. Even today a clean and straight Corolla GT-S can command a decent buck for the seller.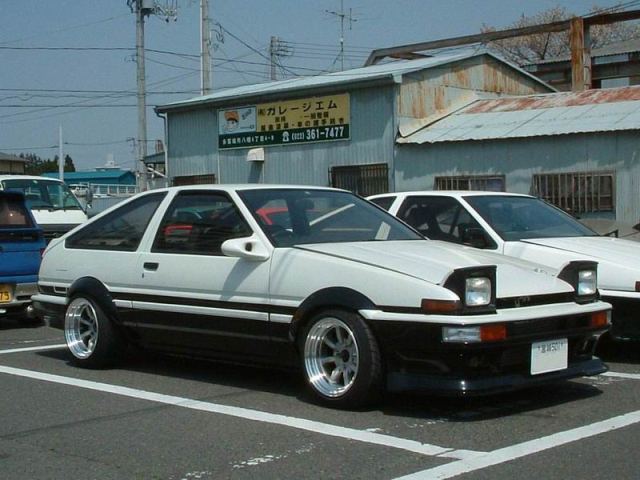 No other car was like it at the time and there hasn't been one like it since. It was a different thrill from the Volkswagen GTI's of the world, part hooligan and part scalpel; guaranteed to warm your hart and tickle your senses even though you know the front drive hatches have more room and are more modern and practical. However, you just don't care because you are driving something special that marked the end of an era for the lightweight, compact rear wheel drive car.
---
Never driven a GTI? You call yourself an auto enthusiast? Well you have no idea what a great car is until you drive a GTI. Oh you may think you know, but really you don't. Take your automatic transmission Audi sitting in your garage and burn it because it can't even come close to the driving experience offered in this little VW. This car is truly epic in every sense. If you have a chance to drive one, book a few days off because it will take you that long to come back home from your drive and come down from your high. Sure there are faster more comfortable cars out there, but none can match the sheer pleasure you will have driving this awesome piece of engineering. I'll admit I covet this car with all my soul. In fact I adore this car so much it is on my list of Ten Vehicles I'd Love to Own.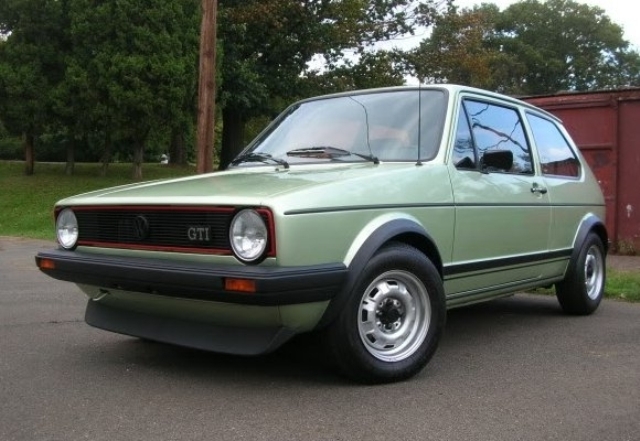 Not only is the GTI a sensational performer, it was the genesis of the hot hatchback and was the benchmark for all others at the time. That is why I find it completely baffling that this car nearly didn't make it to production. Volkswagen's marketing department in the mid-seventies thought that a performance version of the economical Golf/Rabbit would collect dust on dealer's lots and ending up becoming a complete waste of time and energy. This was coming from the same people who were accustomed to selling all of us the rather dismal performing and thoroughly outdated Beetle. For once in the auto industry good judgment finally prevailed and the GTI was introduced in Germany in limited numbers. Thankfully those marketers were wrong. Quickly the GTI was a runaway success in Germany and soon Golf GTI's were tearing up and down the Autobahn ripping past Porsches and BMW's. Soon word spread about this hatchback and slowly GTI's were made available in other markets besides Germany. Unfortunately, it wasn't until 1983 that VW officially sold the GTI in North America, but it sure was worth the wait.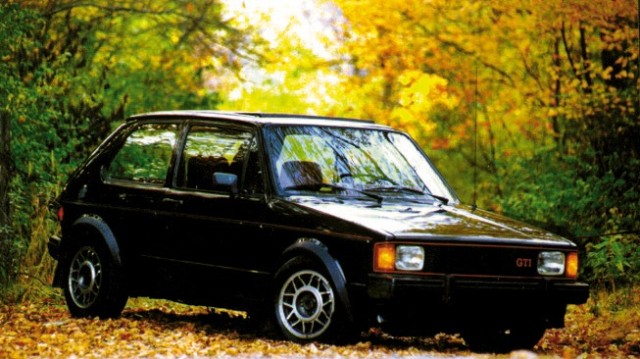 Conceptually the GTI is very simple. Tighten up the suspension, lower it just a bit; install fuel injection and a hotter cam to the engine, throw in a close ratio 5 speed gearbox and keep everything else very simple, basic and subtle. Top it off with some lipstick and eyeliner to the body work, a pair of bolstered seats, a thick steering wheel and a golf ball shift knob and there you have it. Elegantly simple yet exceptionally effective in its element, the GTI set new standards not only for small sporty cars but for pure sports cars as well. How Volkswagen was able to produce such a car at the time completely staggers me. Up until the Golf/Rabbit Volkswagen was producing rear engine, air cooled vehicles whose design dated back to the 1930's. The Golf/Rabbit was a water cooled economy car that revolutionized the industry by making front wheel drive mainstream and having a practical body design that is still being copied today. Then a couple of years later VW introduces a knock-out performance version with the GTI. VW was making up for some lost time and then some it seemed.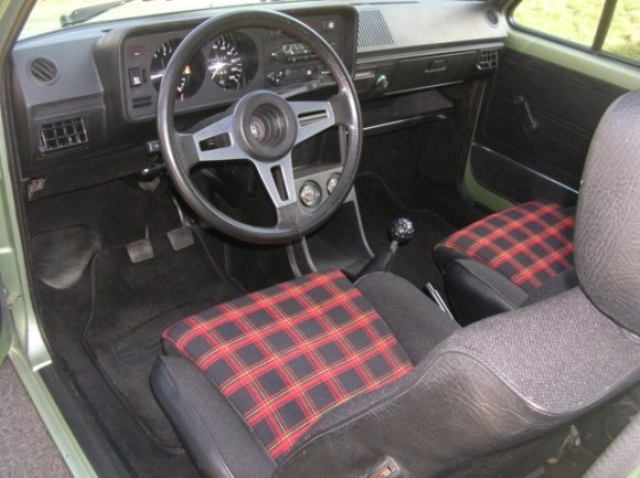 Finally Volkswagen produced a vehicle that ticked your senses when driven and the harder you drove the better the sensations. The handling is simply divine, dive into a corner hard and the GTI bites in and rotates nicely and obediently all while lifting its outside rear wheel. Cornering on three wheels may look rather dramatic; however the car feels perfectly controlled and balanced. The crisp, commutative rack and pinion steering will plaster a smile on your face and is non-assisted, just as god intended. Like a great movie, delightful handling is nothing without a great sound track and the 1.8 litre engine makes all the right sounds; popping and growling on the over run of every shift just adds another dimension to the experience. There is enough power to get you both into and out of trouble at will, but not enough to overwhelm. Rest assured you'll still have to work your way through the close ratio 5 speed gear box to get the most out of the car, but that of course is all part of the charm.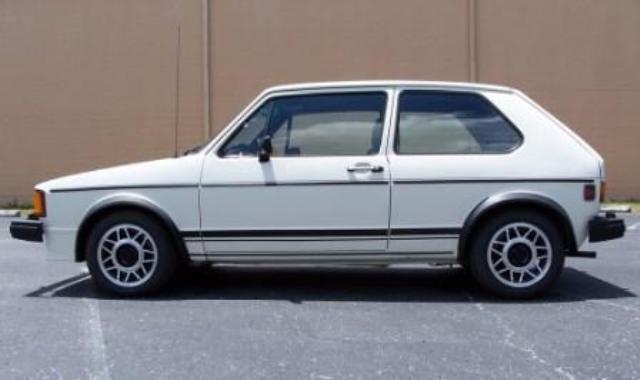 To fall in love with a GTI from this era is to drive one. Subjectively it is a very good performing car for the time. Today most everything made will outperform it if you strictly look at the numbers. It is the non-subjective experience that will pull at your heart strings, the sounds the engine makes going through the gears, the feel through the steering as the tires grip through a corner; all the things you can't measure. The GTI has a soul, a personality that screams out "Drive me! Have fun with me! Play with me!" When was the last time an Audi gave you those feelings?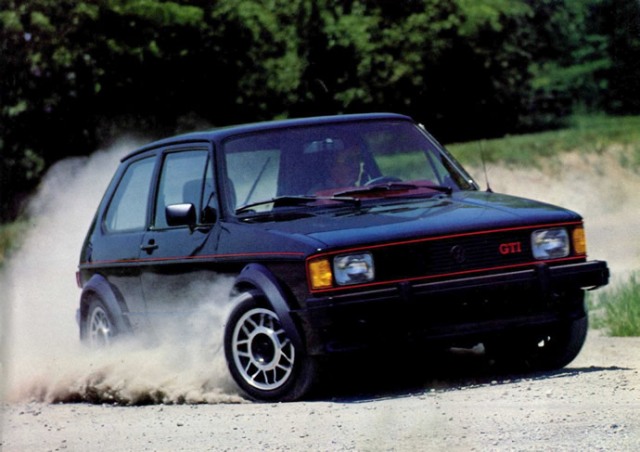 ---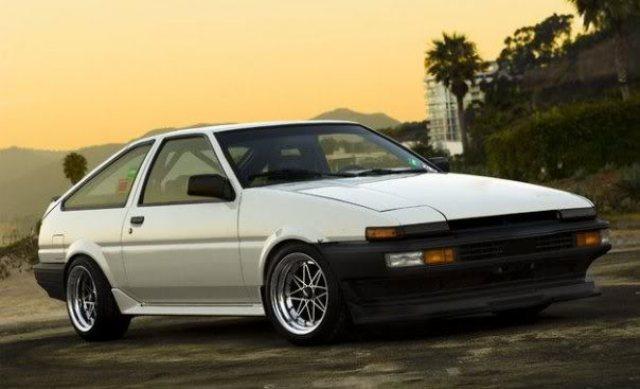 The best driving experiences I have had are at the wheel of a hot hatchback. That can be a bold statement considering all the wonderful vehicles that have been available during the last hundred or so years. Over my lifetime I have always had an affinity for vehicles that ooze with driving pleasure, tickling your senses as you drive down a curvy road on a Sunday. Never have I coveted a vehicle because of a badge on the hood or ornament on a grill. For example a Lamborghini means nothing to me, driving one is akin to riding around in a golf cart and I scoff at their owners since these cars are bought more as an object of status rather than a pure driving machine. I am what would be described as a driving purist, and a proper pocket rocket is one of the purest forms of automotive driving pleasure, I kid you not.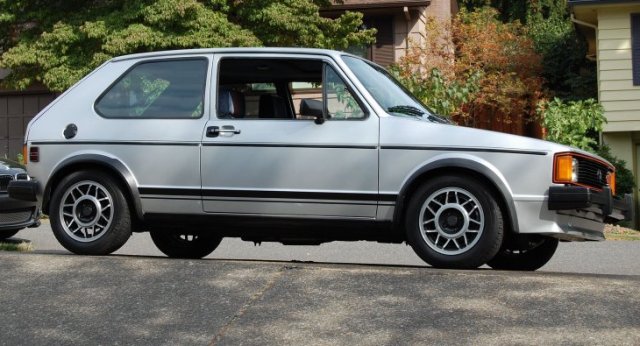 Sure a 400BHP car can be fun; I do own a Cobra after all. Yet still it's no match to a GTI for smiles per mile. Where the Cobra is a devastatingly fast car on any track on any day, it has twice the power it needs for the street and consequently too easy to drive too fast and a bit of a pain around town to be quite honest. This can make a powerful car almost boring. Step on the throttle just a little more then you normally would and suddenly you say "Oh I'm going just way too fast now." The whole experience is over just too prematurely.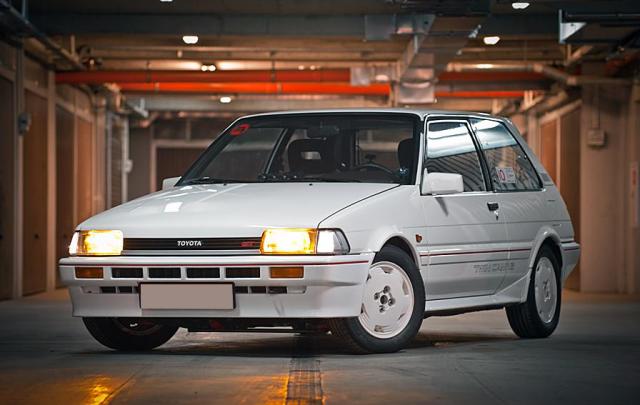 Driving a hot hatch is more involved and therefore more rewarding. You need to squeeze the throttle more and row through the gears to wring the power from the engine. You get to learn, use and perfect advanced driving skills in order to keep momentum through a corner and out to a straight patch of road, all this and still being able to keep somewhat in the legal limits of the law. Being more involved means being more rewarding to drive.
This morning I opened up the latest issue of Road & Track magazine and there just happened to be a short blurb with the title "5 Questions with Carroll Shelby". Question 3 was "Which is your favorite Shelby?"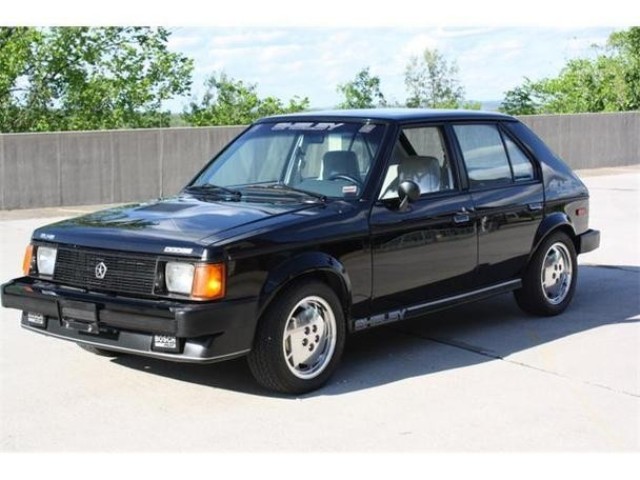 His response may surprise you. "I had a lot of fun building pocket rockets. Every publication in the country said, "What the hell is Shelby doing, building these little-old Chargers and stuff?" But I was having more fun with the pocket rockets, the GLH and things like that."
Now that's an endorsement!
---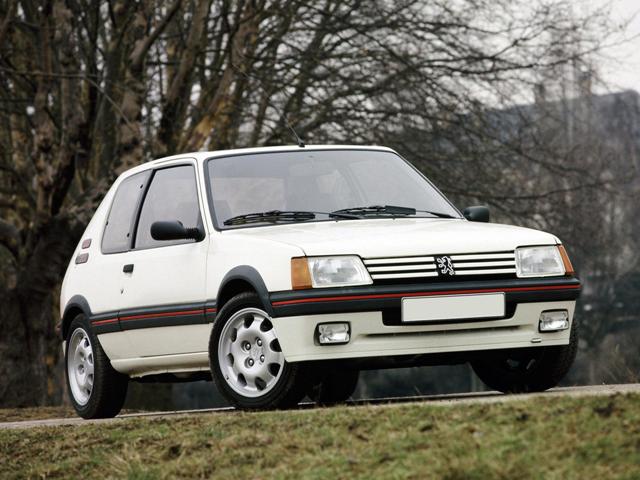 The Peugeot 205 GTI is considered to be one for greatest hot hatches ever made, if not the best. I agree, and I usually loathe French cars. French cars are traditionally too soft, too wacky, too fragile, too "French" really. Somehow the 205 GTI is different, as if the people at Peugeot took a Volkswagen GTI and made it better, it's almost inconceivable… The 205 was smaller and lighter than the Golf and therefore handled better. The 1.9 version was more powerful and faster than the Golf. To add insult to injury it was better looking than the Golf as well. Perhaps Peugeot just got lucky since they have not produced any small car as fantastic as the 205 GTI.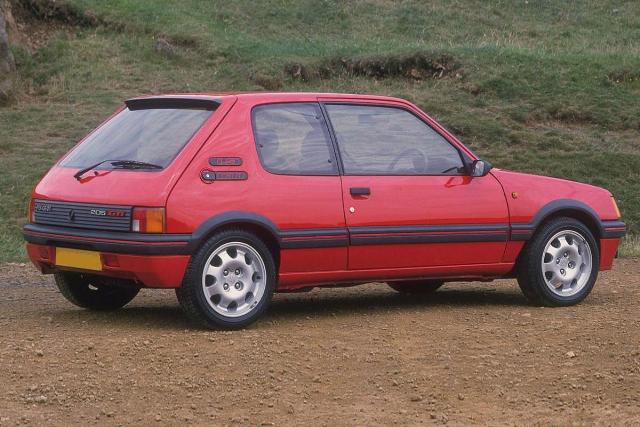 Surprisingly the 205 line was never offered in North America, something of a mistake in my opinion. Peugeot always had struggled in this market and was attempting to be more of an up market vehicle line so the little 205 was viewed as not fitting into the proper image, which was the logic of Peugeot management anyway. But Peugeot never really had an image here and the 205 could have been the vehicle that consumers would have noticed and perhaps bought. Besides the 205 was such a great car and became so popular in Europe that it saved the company when it was in financial trouble. Perhaps that could have been the same out come here in North America as well. Unfortunately we will never know since Peugeot raised the white flag and retreated back to France in 1991.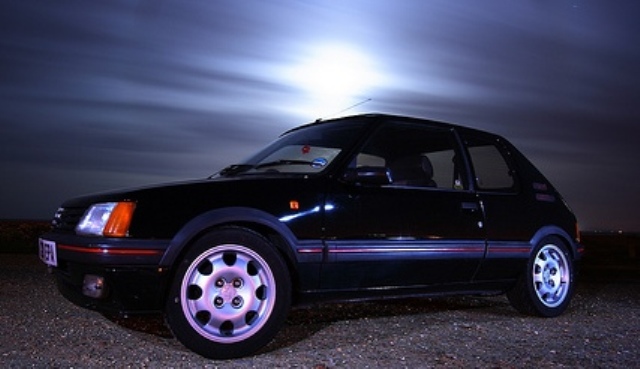 Everything about this little Peugeot is loveable. It looks aggressive with wide wheels and tires and flared wheel arches. A black rub molding with red pin stripe runs around the entire circumference of the car separating the upper and low halves. There is also a sliding glass roof panel that also adds to the fun. The interior is much more inviting then the Golf GTI's with the dash and door panels being black and a contrasting colour, usually red, used for carpeting, seat inserts and stitching. Although simple the interior has an air of freshness and fun rather than dark and stoic. Everything is easy to use and controls are logically placed with instruments easy to read. All in all the 205 GTI not only looks nice but is a very nice car to be in.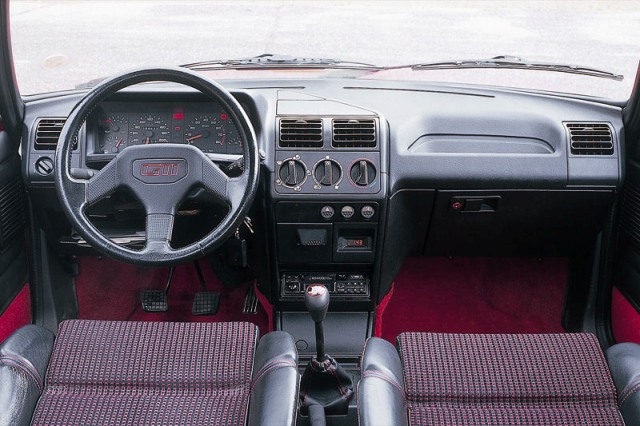 With the 1.9 litre engine and about 130BHP the light weight 205 GTI is very peppy and sounds sensational when you go through the gears. Four wheel independent suspension with a unique torsion bar set up at the rear get the car through the corners with aplomb. Disc brakes at all four wheels on the 1.9 versions bring the car to a quick stop. The 205 GTI weighs in at around 1950lbs making it a light weight in the class.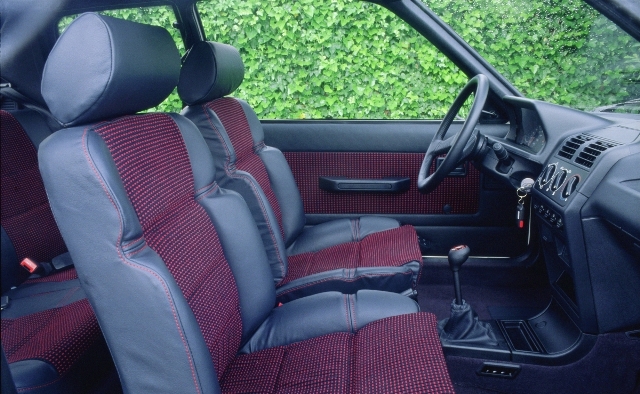 Many years ago I was fortunate enough to drive a Peugeot 205 GTI, in Japan of all places; it is a ride I'll never forget. As it turns out Japan is the perfect venue for wringing out the 205 GTI. The tight twisty roads bring out the best in this car. Let me tell you this car is a real corner carver, a complete blast to drive. The handling is more akin to a rear wheel drive car rather than a front driver. The steering communicates road feel as if it is hard wired to your senses. At the limit the car can be a bit twitchy with the rear end of the car trying to come around and sending the less aware driver into a spin. Once mastered though the 205 GTI has got to be one of the best cornering cars I have ever driven. You just plant your foot down on the accelerator, point the steering wheel and go! The 205 GTI shoots from corner to corner with an enthusiasm and speed that make Ferrari and Lamborghini drivers envious.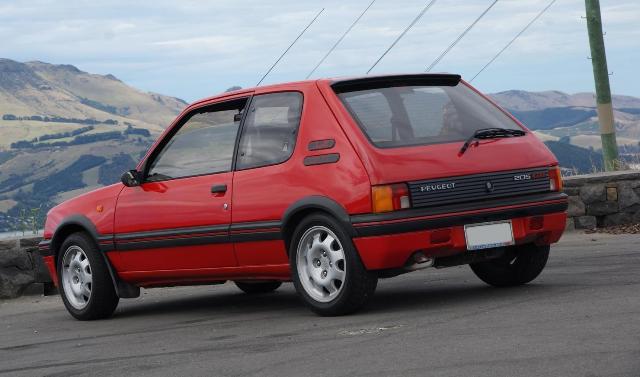 Words can not convey how much I loved driving the Peugeot 205 GTI; it truly was a sensational experience, one I hope to repeat one day. The keys had to be pried from my hands when I eventually came back, I loved it that much. One day if I ever had the means I would love to buy a 205 GTI and a Golf/Rabbit GTI. But that could be a bad thing as I would never be seen again as I would perpetually be out driving my GTI's. Endless fun, and that is why I love this genre of vehicle so much.