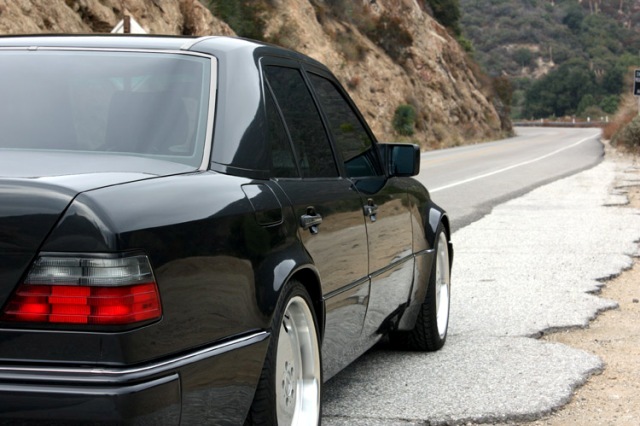 Written by James Dolan
Sometimes a good road trip is good for the soul. It's an opportunity to get away and clear one's mind of the stresses of everyday life, explore places you have never been and experience new adventures. Last August Heather and I decided we were over due for a quick getaway so we packed up the car and headed off to New Hampshire for a few days do some sales tax free shopping and see the sights. The drive would take us through Vermont and most of the way through New Hampshire along twisty two lane roads. The trip would take us approximately six hours to get to our over night destination, not too far, but just far enough.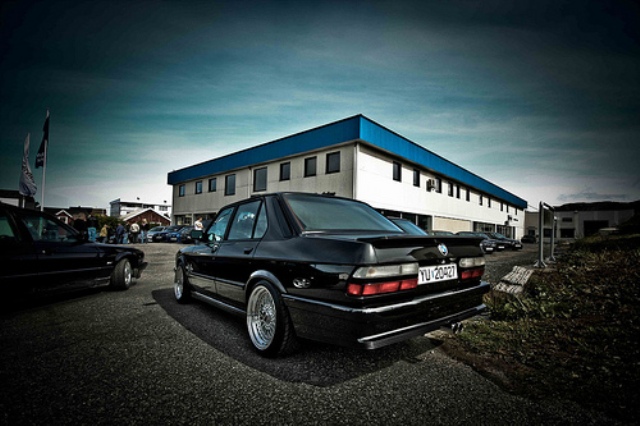 This lead us to the inevitable debate of which car we should take. This can be a contentious issue with us as I always gravitate towards the fun, hard riding and fuel guzzling cars parked in our garage. Heather will almost always choose the comfort and practicality of the sedans parked in our driveway. This made me realize that we don't have a proper sports sedan that we could take on such journeys, a car that would satisfy us both.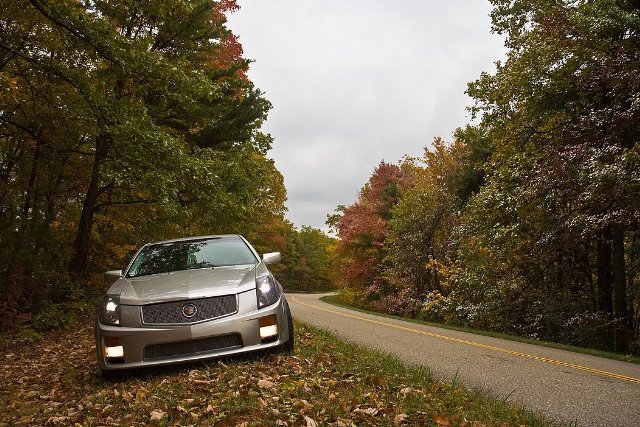 Great sports sedans are a fantastic combination of performance and practicality all rolled into one handsome package. They are cars with enough sporting potential to be entertaining to drive yet you can still carry passengers in comfort with enough room in the trunk for luggage and seemingly endless amounts of shopping bags. This got me thinking about what sports sedans I would like to drive on the trip and would love to own.
Here is my list in no particular order.
---
1989-1995 Ford Taurus SHO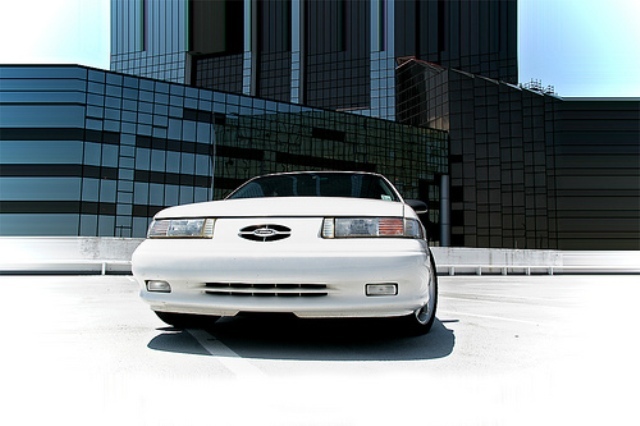 The first generation Ford Taurus SHO is unquestionably my favourite American sedan ever produced. Subtly is the SHO's calling card. For those not in the know this four door sedan could be passed off as a garden variety Ford Taurus; the proverbial automotive wet dream of fleet purchasers and families for just over 20 years. However, once behind the wheel and rolling down the road this Taurus is anything but a sedate sedan. When introduced the SHO performed like nothing ever seen from Detroit. Not only was power in abundance but it could actually go around corners in a manor that would make some European cars jealous. Chrysler may use the tag line "Imported from Detroit" these days to give the impression that their cars have a cache but I think this tagline is much more suitable describing the first generation SHO. It really is that good.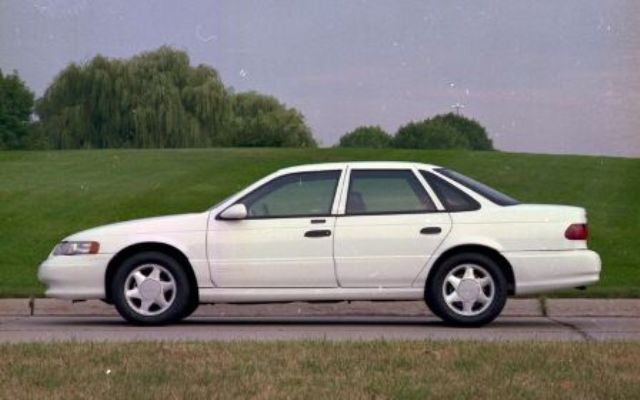 Hiding under the hood is a seductive twin cam 32 valve Yamaha V6 engine that is an engineering masterpiece. If ever there was an award for most beautiful engine produced the SHO V6 would most certainly be a finalist in the competition. The unequal length intake runners are simply a work of art, something never seen on a mass produced car before. Nothing this side of an Alfa-Romeo V6 looks as pretty or makes a more melodious sound as this engine, it's simply epic. The engine's aesthetic appeal was just a consequence of clever engineering. That pretty intake set up allowed more air to be introduced into the cylinders and there for more power to be produced. Although today a 3.0 litre V6 producing 220 horsepower may sound like a let down, back in the day this power output was simply amazing. As a matter of fact in the proper hands a well driven SHO can out accelerate a 5.0 litre V8 Mustang GT of the same vintage, pretty impressive if you ask me. For comparison the more mundane Taurus GL and LX 3.0 and 3.8 litre V6's produced a mundane 140 horsepower.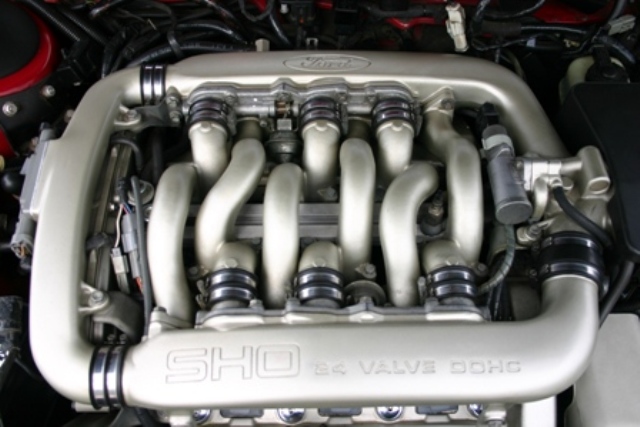 Ford could have just tossed in that epic Yamaha V6 into the already reasonably competent Taurus and be done with it, but thankfully the SHO was engineered as a complete package. Stiffer and shorter springs brought the SHO closer to the ground, lowering its centre of gravity. The struts and bushings were massaged and endless hours and miles were spent tuning everything to near perfection. The handling of the SHO is so sure and neutral that you could be easily fooled into believing that this car is rear wheel drive. That is until you get really hard on the throttle and the tell tail signs of torque steer tugs at the steering wheel in your hands. Besides the mild torque steer the SHO is capable with keeping up with much more expensive vehicles on a tight twisty road, something almost unheard of in a vehicle engineered in Detroit at the time.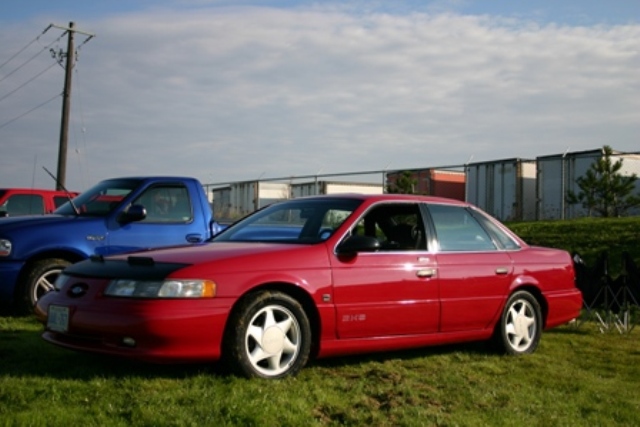 Every time I get behind the wheel of an SHO I can't help but have a stupid grin plastered on my face. Open the door and you are greeted by heavily bolstered sport bucket seats that wrap around your body. Other than having a clutch pedal, a manual gear lever that sprouts from the centre console and a set of gauges with markings hinting at the performance potential, you would have a hard time distinguishing the SHO from any other higher line Taurus and that isn't necessarily a bad thing. The first generation Taurus had a revolutionary interior design for an American vehicle in the mid eighties. Mixing Japanese ergonomics for controls that fall easily to hand with European like flowing design the SHO interior was a very inviting place to be.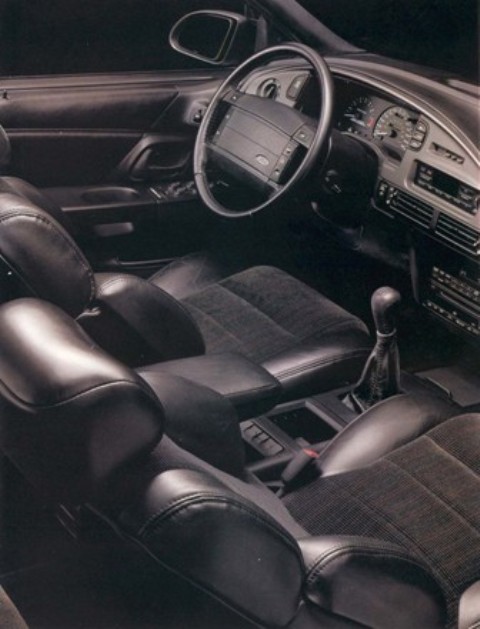 Twist the key and the motor fires right up. Just from the exhaust note you know this isn't your average American car. No V8 burble here, the SHO signs a sweet song that only a highly tuned multivalve V6 can sign. There is plenty of power to on tap, enough to be considered entertaining. Teamed with a slick shifting Mazda manual transmission driving this sleeper is shear joy with every movement of the gear leaver and prod of the accelerator pedal. Handling is graceful with plenty of grip and the ride is controlled and solid but far from being harsh.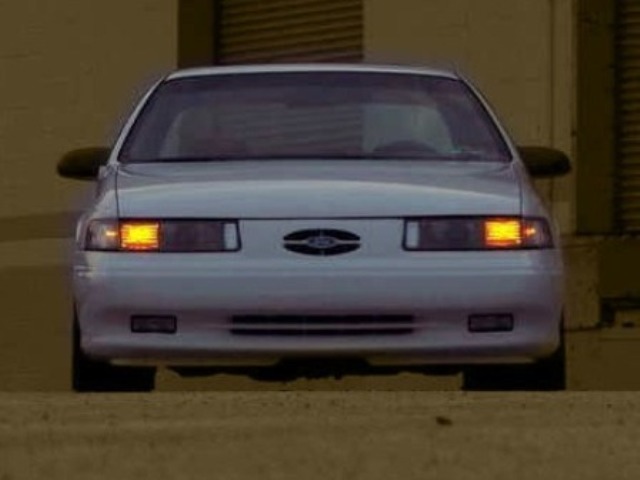 Overall the SHO is a sensational sport sedan combining Japanese drive train engineering with European driving dynamics all packed into one of the greatest American sedans ever to com out of Detroit. The SHO is sports/touring sedan with very few compromises.
---
1991-1994 Mercedes-Benz 500E
"Iron fist in a velvet glove" is the best way to describe the Mercedes-Benz 500E. Take a sedate Mercedes-Benz mid-sized sedan and toss in the 5.0 litre V8 drive-train and brakes complete with 4 piston calipers from a 500SL. Then massage the suspension, lower the car by almost an inch, add flared fenders, side skirts, front air-dam, wide tires, and the 500E is a true wolf in sheep's clothing. At first glance the 500E looks like just about the same as every W124 E-Class Mercedes produced from 1985 to 1995 and that is what is so wonderful about the 500E, it's almost anonymous in any parking lot. Park a 500E next to a lesser W124 chassis Mercedes-Benz and only then the differences become apparent.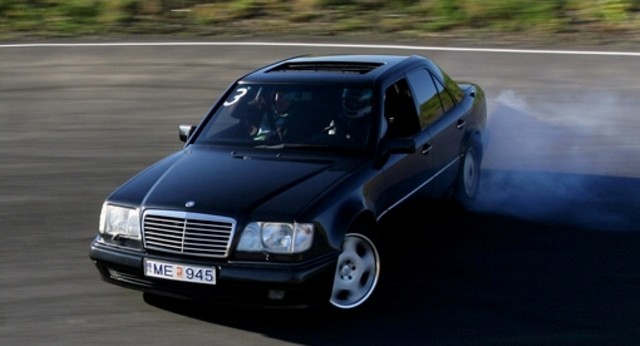 Each 500E was hand built by the crafts people at Porsche. They dropped in the engine, massaged the fenders and added a bit of magic to this very special car. In fact Porsche played a major role in creating the 500E. Porsche had vast experience with engineering and producing low production, high performance vehicles so the partnership between Mercedes-Benz and Porsche almost seemed natural. The body was assembled by Porsche then shipped by truck back to Mercedes-Benz for painting. When the paint process was complete the vehicles where shipped back to Porsche once again for final assembly. So much time and effort was put into the car by Porsche that there is a 1995 E500 on display at the new Porsche Museum in Zuffenhausen, Germany.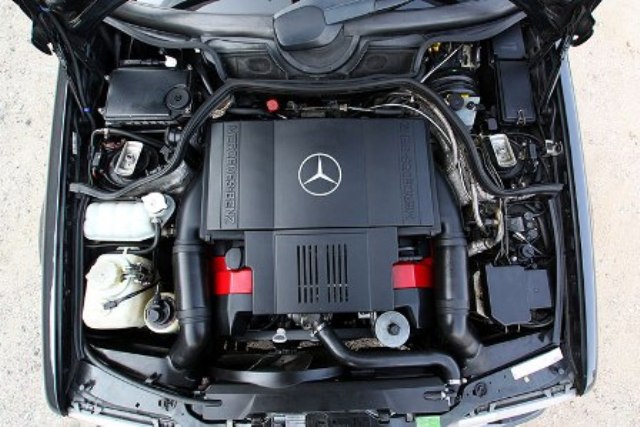 The 500E was Mercedes first true super sedan that encompassed mind bending acceleration and sure footed grip but it still retained all the traits that make a Benz of era such a wonderful car. With obsessive built quality and vault like rigidity, conservative good looks and a ride that is just as pleasant as normal Benz, there isn't much not to like about the 500E. Sure the 500E still possesses all the typical quirks of a Mercedes of that vintage, having slow steering and throttle response that is lazier then a fat politician. But mash the go pedal down hard, keep your foot down and the 500E pulls very hard and just keeps going. As speed builds the car feels better and better and it isn't until you look down at the speedometer that you realize that you are travelling well above the posted speed limit.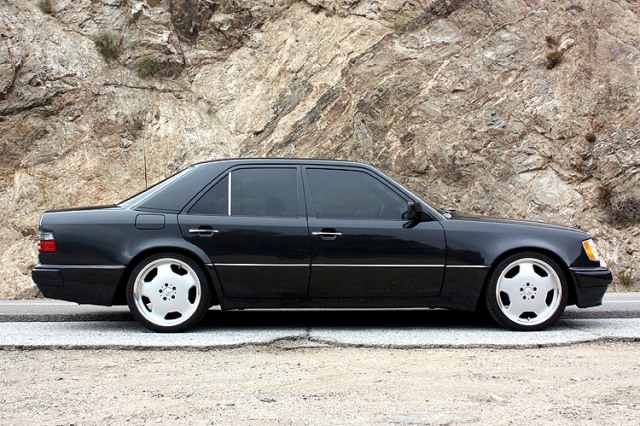 Although the 500E was only around for a few short years and was produced in very limited numbers it did usher in a new area for Mercedes-Benz where performance did matter and could co-exist with luxury and ultimate quality. Not long after the 500E Mercedes-Benz purchased the tuning company AMG, a company famous for turning an average Mercedes in to supercar eating road machines. However I still think that Mercedes first effort at a super sedan with the 500E is it finest example.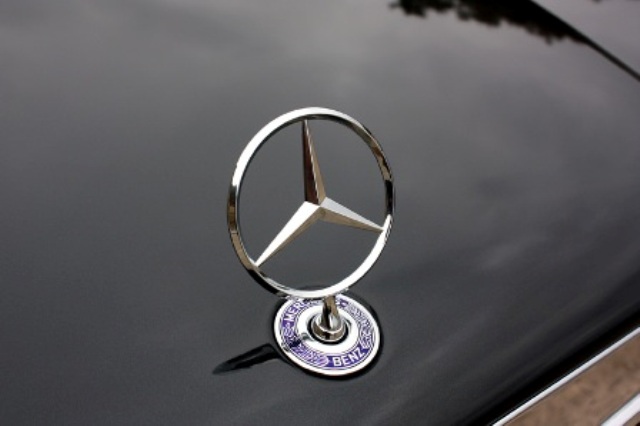 ---
2001-2005 Lexus IS 300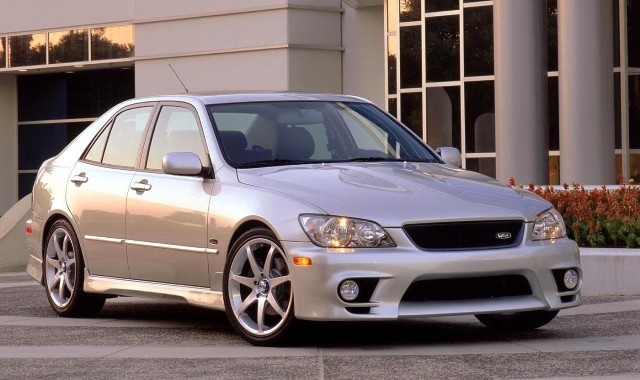 They say you shouldn't judge a book by its cover and the Lexus IS 300 is the automotive equivalent of that analogy. Reading this you more than likely have the preconceived notion that a Lexus has no place on this list, but then again you more then likely haven't driven an IS 300. Yes Lexus is normally associated with luxurious, reliable, impeccably built sedans and SUV's; however Lexus has dabbled with performance vehicles in the past and the 2001-2005 IS 300 is the best all rounder of the bunch.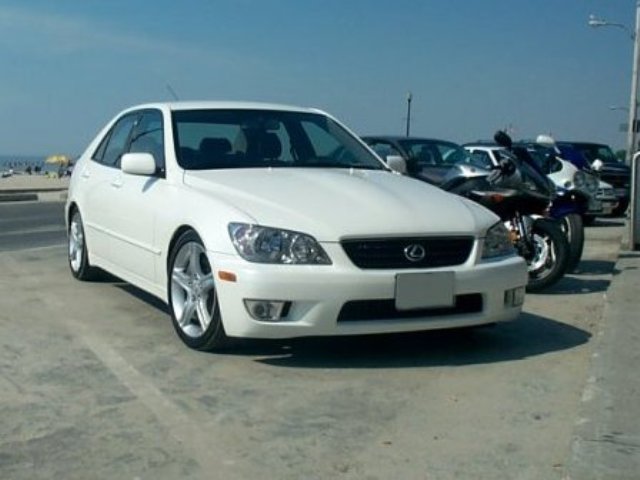 Conceived to compete with BMW's 3 series line-up the IS 300 was designed as a true sports sedan from the beginning. This small Lexus is in actual fact a rebadged Japanese market Toyota Altezza and that is a good thing. The chief engineer of the IS 300/Altezza was Nobuaki Katayama and he is the same man who worked as an engineer on the legendary Corolla AE86, the Lexus SC300/400 and was chief engineer of the last generation Supra. Mr. Katayama was also heavily involved with Toyota's Motorsport division in Europe assisting with World Rally Championship, Sports Car World Championship, and Le Mans racing efforts. So the man should have some knowledge about how to make a great performance car.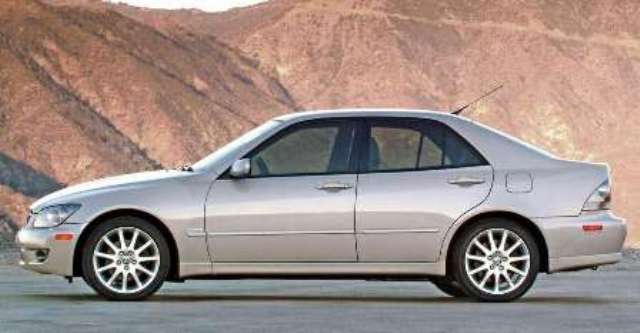 The IS 300 was designed as smaller more compact Lexus with driving dynamics leaning towards performance rather than luxury and the Altezza was the perfect starting point. The philosophy behind the Altezza was to produce a sedan that made the driver feel more involved, more in control and enhance the driving experience. When released in 1998 the Altezza won the prestigious Japanese "Car of the Year" award. Naturally work quickly began on the Altezza's transformation into a Lexus.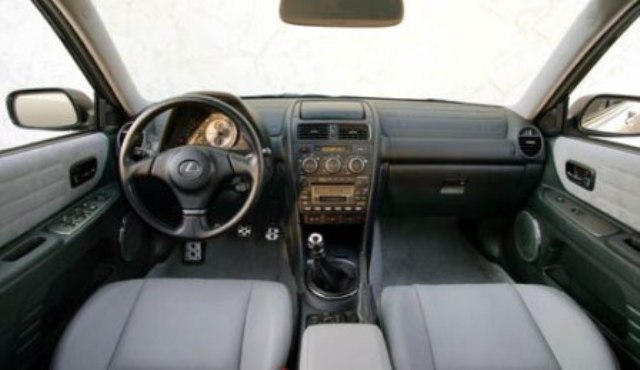 Lexus made relatively few changes to the vehicle when converting it to Lexus specification for North America. While the diminutive rear wheel drive sedan kept most of the excellent components of the Altezza there was one major change and that was under the hood. Powering the Lexus IS 300 was Toyota's virtually indestructible 3.0 litre twin cam 24 valve inline-6 with variable valve timing and 215 horsepower. This has to be one of the sweetest engines ever produced, virtually silent at idle, turbine smooth throughout the rev range and has enough torque to pull like a freight train. Most enthusiasts covet a BMW inline 6, not me, I truly adore this engine.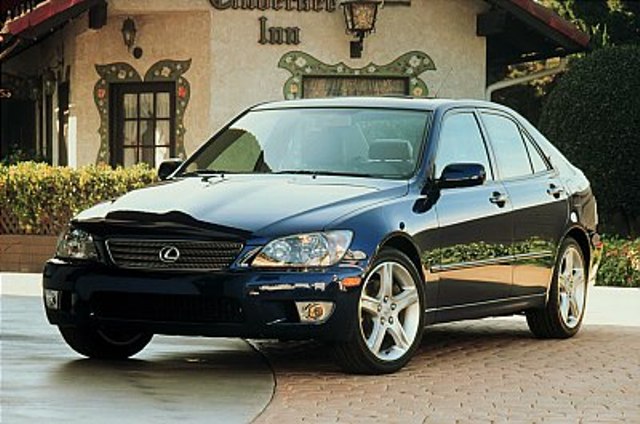 When the IS300 was introduced in 2000 the only available transmission was a 5-speed automatic that could be shifted manually when in e-shift mode. Although the automatic is a fabulous transmission, it was a disappointment that a manual transmission wasn't offered. That disappointment was short lived when a year later the 5-speed manual transmission was offered much to the delight of 3 pedal car enthusiasts such as my self. The reason for the delay was because the manual transmission that bolted up to the 3.0 litre engine didn't quite fit into the transmission tunnel of the small Lexus. With a bit of messaging the engineers where eventually able to squeeze the transmission in and life was grand once again.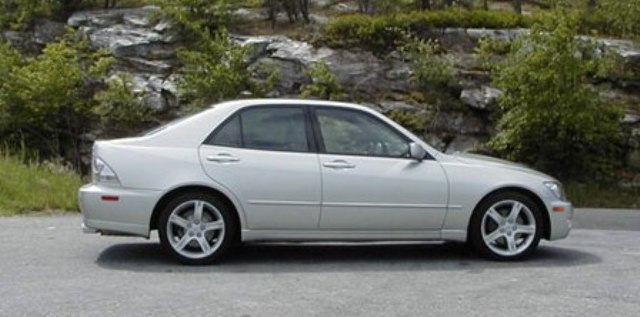 Driving the IS 300 makes you realize that Toyota/Lexus are full capable of producing sensational driving machine. The first time behind the wheel of an IS 300 I was surprised by how spectacular the felt while going down the road. The IS as a certain eagerness about it, always feeling ready to carve up a few corners or your favourite highway on/off ramp. This handling prowess is thanks to a double wish bone suspension system derived from the Lexus GS series, a fine handling car in its own right. Steering is sharp and commutative giving the driver constant, but not intrusive feel of road and tire grip. The only real fly in the ointment I would have is the shift quality isn't what I would expect in an enthusiast orientated vehicle. The 5-speed manual transmission shifts like truck transmission and it wouldn't surprise me if it did come straight out of a Toyota Tacoma. My other small gripe with the car is with the unique chronograph style gauge cluster. Although it's very pretty to look at and a conversation piece with your gear head buddies, it can be hard to read at a glace. Not the best layout for a sports sedan.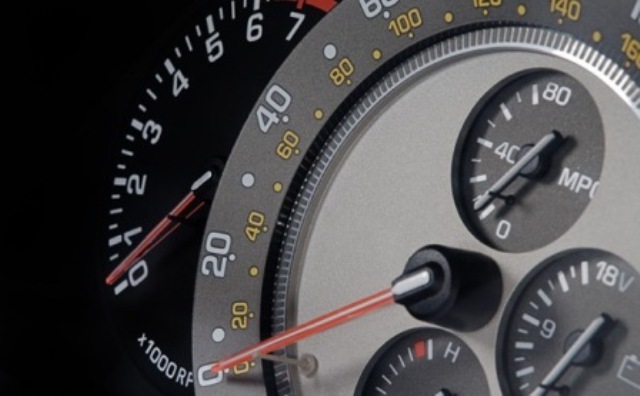 The IS 300 is a remarkable sports sedan. Sure its diminutive size gives it a smallish back seat and tight interior and the manual transmission shift feel is a bit more Baja truck than silky smooth, it's still an amazing ride. There is a high level of comfort that only a Lexus can provide, plus with that eager engine and spectacular suspension grip the Lexus IS 300 is a car I could never tire of driving. Don't let the Lexus badge fool you; it is just as good, perhaps better than a BMW 3 series of the same vintage.
---
1988 BMW M5 E28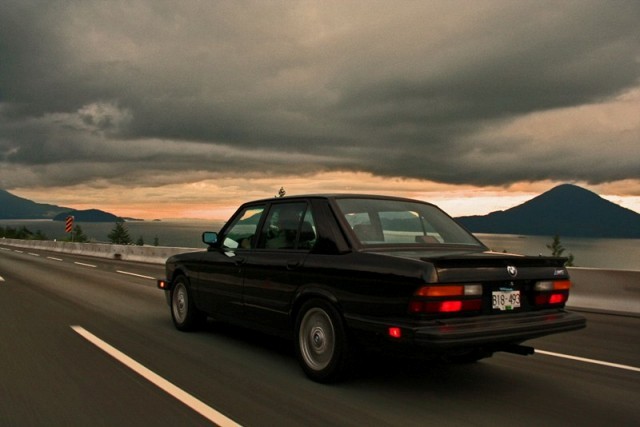 Twenty years ago I had the pleasure of driving a BMW for the very first time. That particular car was a 1984 528e and ever since that day one of my favourite BMW's has been the E28 5-series produced from 1982 to 1988. Now mind you that '84 528e was no powerhouse, far from it. With an engine that was tuned more for economy than performance the 528e offered less then thrilling acceleration from it's 2.7 litre six. However despite the lack of power that light blue 5-series BMW gave me a glimpse of the potential this often forgotten 5 series had.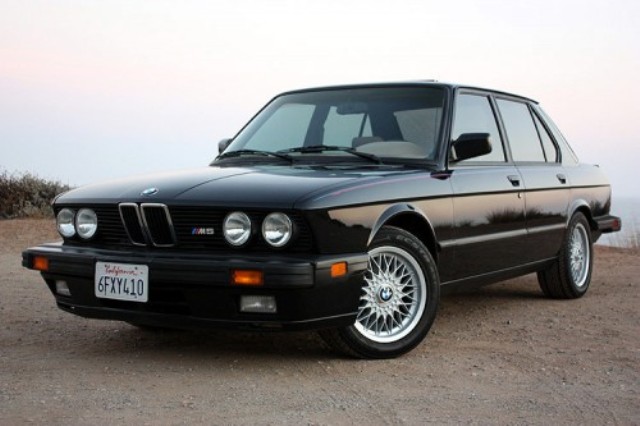 Since that drive nearly twenty years go I have driven every generation of 5 series BMW produced. Although each 5-series I have driven has had more power than that 528e the new cars just can't match the driving pleasure of the car I drove way back then. Perhaps I'm being a tad nostalgic, but each generation of 5 series has grown in size, weight and power while the driving experience slowly suffered due to the bloat. In fact a couple of years ago when I drove a new 530xi, I came away somewhat disappointed. Sure it was a technological tour-de-force, handled well enough and had enough power to thrust you into the back of your seat, but it just felt as if it was missing something, the modern car just didn't feel as eager as if it had hit middle age. I began reminiscing about that 1984 528e, wishing that it had more power and that the new 530xi had the personality of the older car. Then, just as a slight pang of depression begun to loom I recalled that BMW did make a hot version of the E28 that I miss so much, the 1988 M5.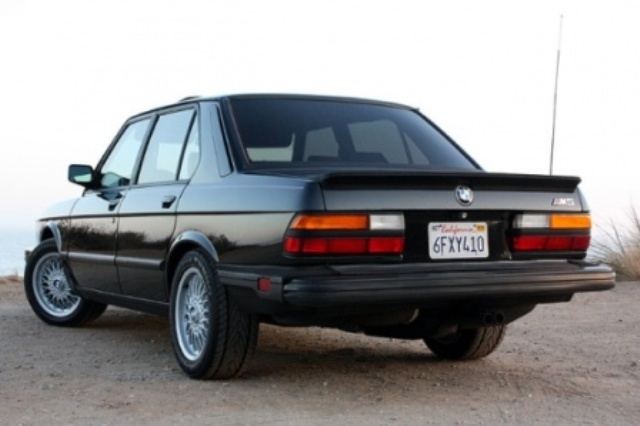 The E28 M5 was produced only for the 1988 model year in North America. At the time the M5 was one of the fastest production sedans in the world. This was also the first generation M5 and production of ths special car was very limited. All M5's wore deep black paint and blacked-out trim, a new front air dam and a small M-Technic rear spoiler. The subtle exterior enhancements made the car look absolutely sinister.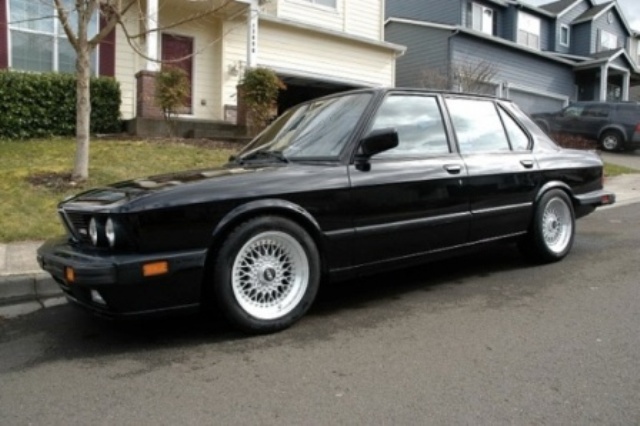 Thankfully the M5 was much more than just a paint and trim package. BMW dropped in the engine from their very first M-series car, the exotic M1. The 3.5 litre 24 valve inline 6 featured six individual throttle butterflies and intake trumpets fed by a cast aluminum intake plenum. When installed in the M5 this engine produced 256 horsepower and 243 pound-feet of torque and came only with a five-speed manual gearbox.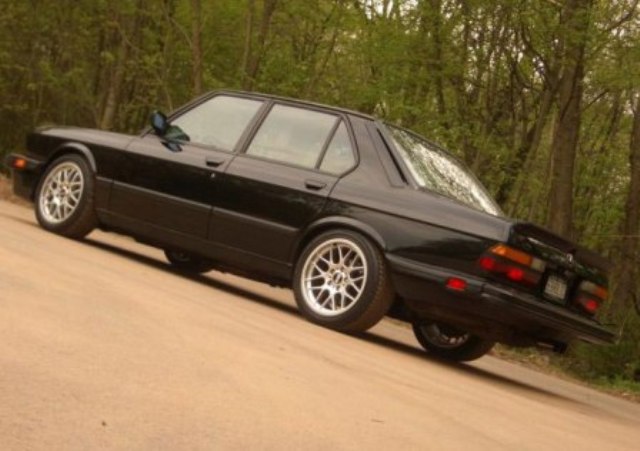 The suspension was tuned by BMW Motorsport and included an automatic load leveling system, thicker anti-roll bars and heavier springs. The brakes were upgraded with 4 piston calipers, larger vented rotors and equipped with ABS. Attractive cross-spoke BBS alloy wheels with a 16" diameter that wore 225/50R16 tires finished off the car very nicely.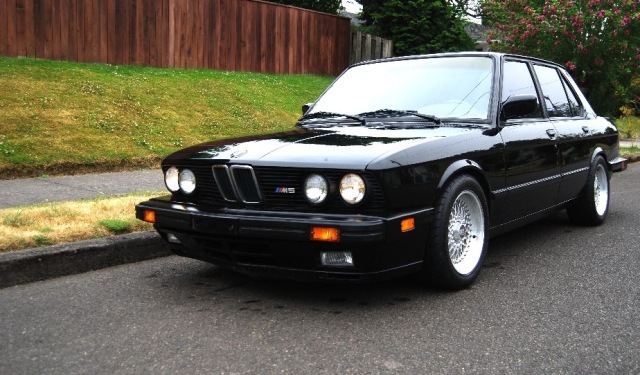 The M5 offers a roomy and comfortable interior finished in either tan leather as standard or black leather for us lucky Canadians. Other than the M-style 3 spoke steering wheel, shift knob and power operated sports seats the interior is pretty much standard vintage BMW 5-series. With thin roof pillars, expansive greenhouse area and upright seating position the driver has a commanding view of the road in a M5. Apart from some questionable ergonomics that is shared with just about every German car from that era, the interior of the 1988 BMW M5 is just about the perfect place to spend time during a road trip or weekend get away.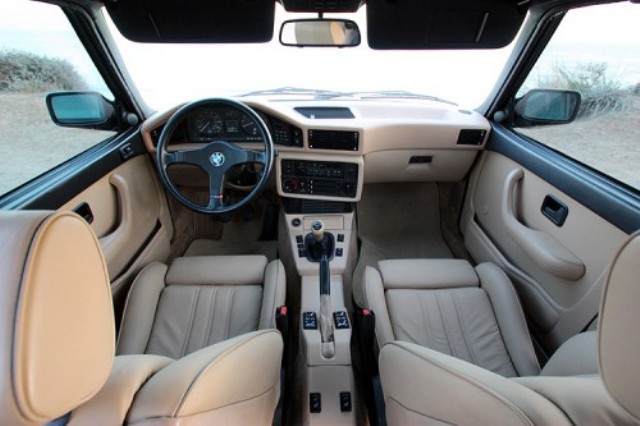 Although a modern 5-series BMW will easily pull away from a vintage M5, I can guarantee that the driver of the later car won't be having nearly is much fun. The first generation M5 has more than enough power and buttoned down handling characteristics to quell any complaints I might have had with that 528e I drove so many years ago. Best of all it has oodles of character that the latest BMW's are sorely lacking.
---
2005-2007 Cadillac CTS-V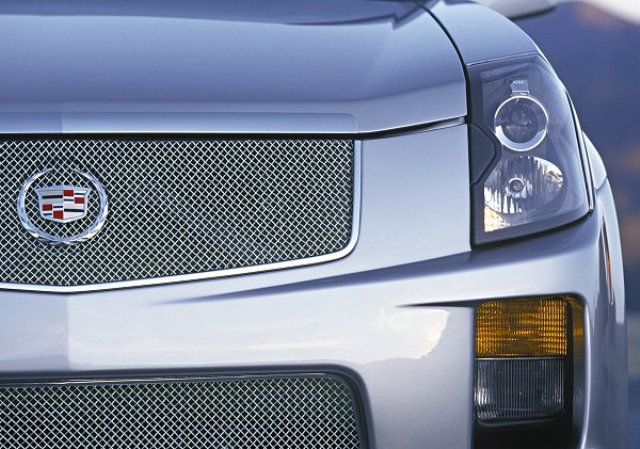 Not all that long ago if someone told me that I would have a Cadillac on a list of vehicles that I would gladly own I would have laughed at them and would have silently questioned their mental faculties. Cadillac products of the past thirty years have been hateful vehicles. They don't drive particularly well, typically the handling characteristics have been heavily biased towards a floaty quality that only the elderly or a ships captain could love. Styling hasn't been all that inspiring either, with the exception of the XLR perhaps. Also quality has been down right pathetic, does anyone have fond memories of the diesel or the dreadful pre-Northstar V8's of the 80's? To add insult to injury the typical Cadillac buyer were mobsters, pimps, gangsters, and the elderly in Florida or funeral directors. Although the Escalade seemed to have carved out its own niche attracting power tripping business people with inferiority complexes. Cadillac vehicles were not something that I was inspired to own, ever.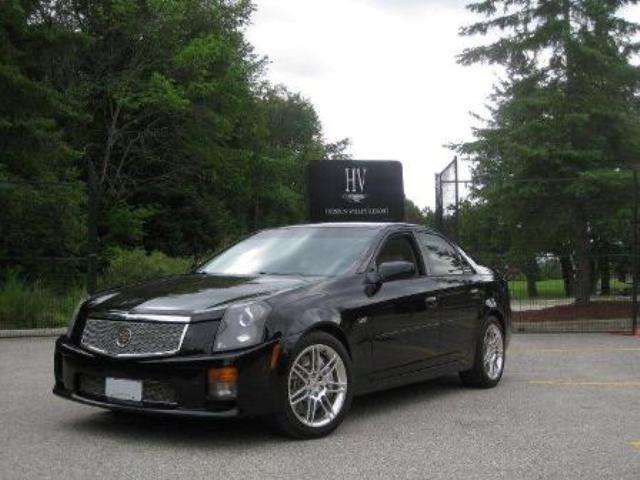 My personal opinions of the brand may seem extreme, but the company has fought hard to earn its less than stellar reputation in my mind. After years of unfulfilled promises of "best in class" quality, "world class" coupes and convertibles and the unforgivable "sport sedans" the Cimarron and Catera, Cadillac's marketing department has left me jaded towards the brand. So when the company introduced the new CTS-V with its "art and science" design philosophy my natural reaction was "Oh boy here we go again."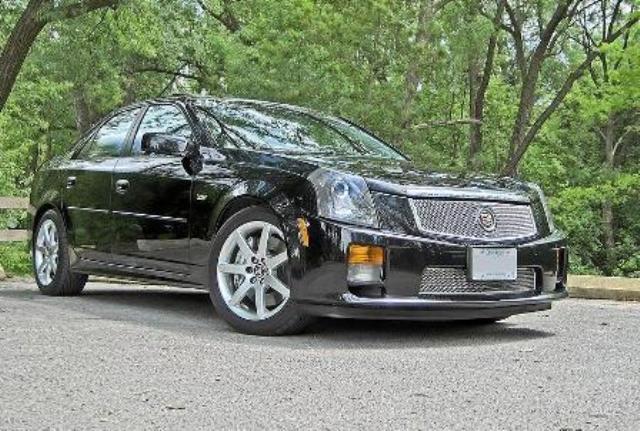 Thankfully the CTS-V isn't like Cadillac's of the past. The CTS-V is a wild child, proudly displaying its middle finger for all to see, thundering past gawking on lookers shrouding them in clouds of tire smoke, deafening them with its thundering V8. The CTS-V is the sports sedan that Cadillac has been promising enthusiast for years but was sadly unable to deliver. Perhaps this little rebel will change my view of the brand?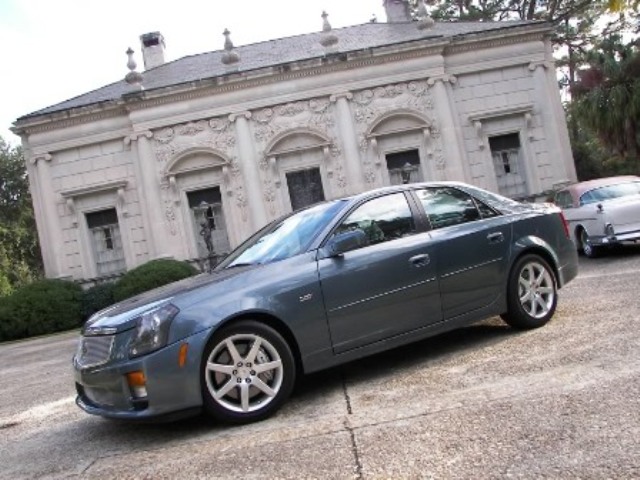 On paper the CTS-V is a masterpiece. GM engineers wedged a Corvette V8 engine mated to a 6-speed manual gearbox into the engine compartment of the already sporty CTS sedan. Not just any old V8 was tossed into the CTS-V. The engine chosen for the little hot rod Caddy was none other than the 5.7 litre pushrod 400hp LS6 from the Corvette Z06. The LS6 is a high-output, hyperactive power plant that is very capable of producing an abundance of pavement pounding, tire torturing horsepower and torque. Not the typical engine you would find under the hood of you typical Caddy. In 2006 the LS6 was replaced with the 6.0 litre LS2 series engine that produced the same horsepower as the previous LS6.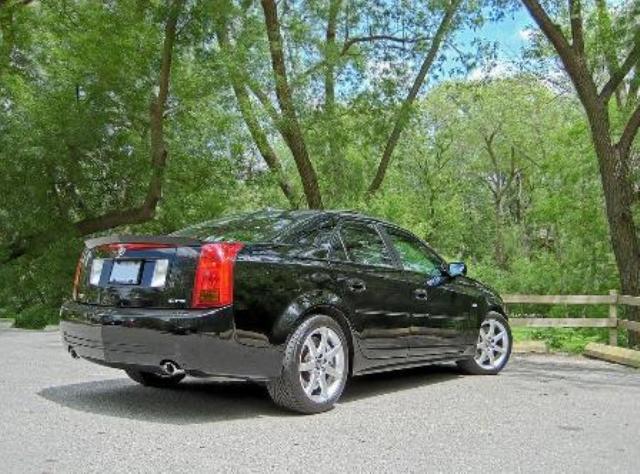 Bolted to the pushrod V8 is a six speed Tremec T-56 manual transmission that is unfortunately saddled with GM's infuriating skip-shift feature. For those not in the know skip-shift has a solenoid preventing the shifter from engaging second and third gears, forcing the driver to shift from first to fourth gear. This solenoid is computer controlled and under certain throttle or speed conditions the system is deactivated and transmission can be shifted through the gears like any other gearbox. The intention of this system was to aid fuel economy; however I would guess that most CTS-V owners have disabled the system soon after taking delivery.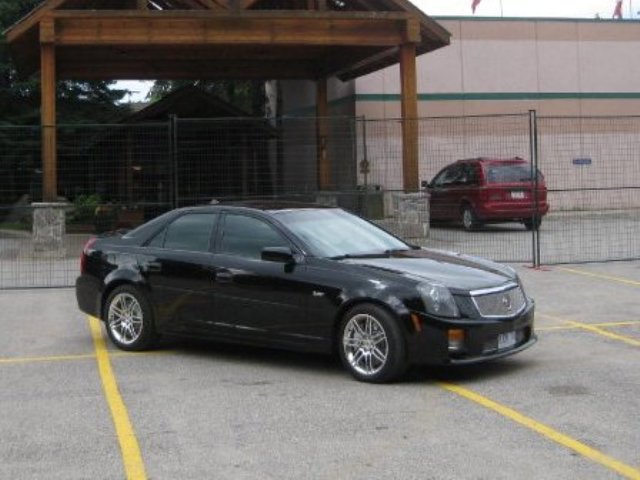 In the past simply dropping a V8 into a small sedan would have been enough work for the people at GM. Thankfully the engineers and product planners went a little berserk with the CTS-V. The fully independent suspension of the CTS was completely reworked. Larger anti-roll bars were specified along with larger recalibrated dampers and spring rates were significantly increased. For added traction the CTS-V was outfitted with a Getrag limited slip differential allowing hooligans to lay down two steamy strips of black rubber on the pavement if so desired. Brakes are 4 piston Brembo calipers clamping down on massive rotors at all four corners of the car. Tucked in to the wheel wells are a gigantic set of 18 inch wheels and tires measuring 245/45R18. Cadillac went to great lengths to get the CTS-V right they even took the CTS-V all the way to the Nuerburgring in Germany to tune the chassis to near perfection. But did they succeed?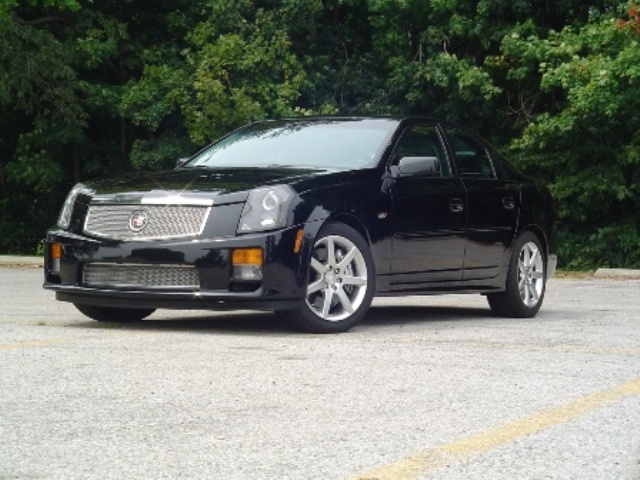 Dynamically the CTS-V is spectacular. There is more than enough asphalt ripping power to make even hard core horsepower junkies drunk with an adrenalin rush. Plant your foot firmly on the throttle and the CTS-V will push you firmly back against the seat with rocket like acceleration all the while belting out a V8 exhaust note that makes the BMW marketing department jealous. The CTS-V is a serious car with serious amounts of thrust. Even at idle there is a hint of the performance potential with a slight idle bobble, the result of the high overlap camshaft.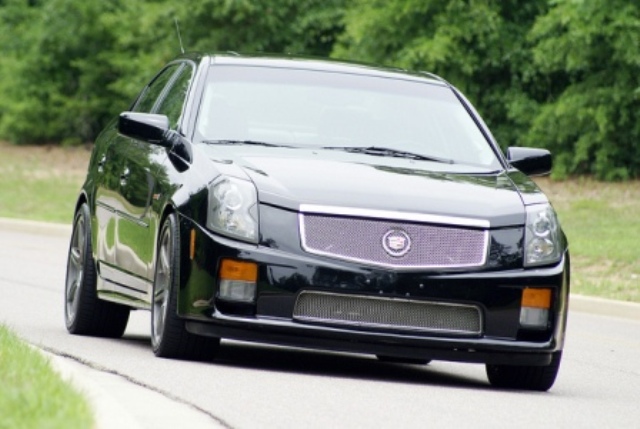 Throw the CTS-V into some corners and immediately the driver will be impressed with the nearly endless amounts of grip. Better yet the handling and feel of the car inspires confidence. Steering feel is tight and not too light. Never are there signs that the car will suddenly come around to bite you. The V just takes set in a corner and grips, and then grips some more. In fact the CTS-V has epic amounts of grip. Cornering forces are so high that Cadillac even installed a G-meter into the odometer display to show the driver just how much cornering forces are being achieved. Although this is a cool gimmick, I find it a little pointless since this vehicle has so much grip that the driver should really be paying attention to where the car is pointed rather than beating their high score on the G-meter.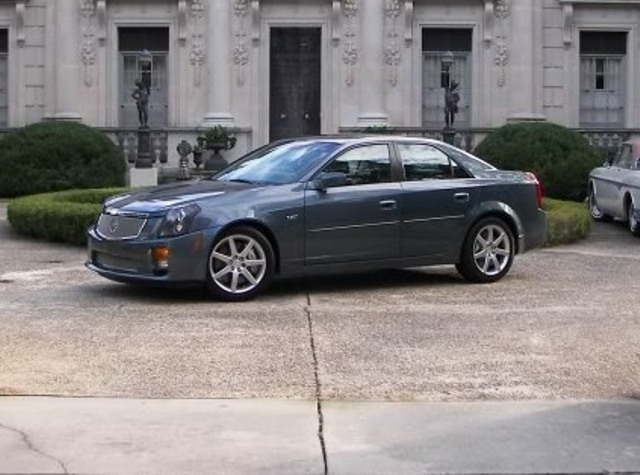 Equally as impressive to the handing characteristics is the ride quality of the car. Usually a vehicle that can tear up the pavement on a handling course will rattle your fillings out and torture your kidneys in normal drive conditions. While it may not be buttery smooth, the suspension of CTS-V isn't extremely harsh either. The only time the passengers will suffer any discomfort in the CTS-V would be when the driver decides to be a little too enthusiastic with the throttle and through the corners. Keep your driving reasonable and this is a performance sedan you could easily live with every day or enjoy long trips.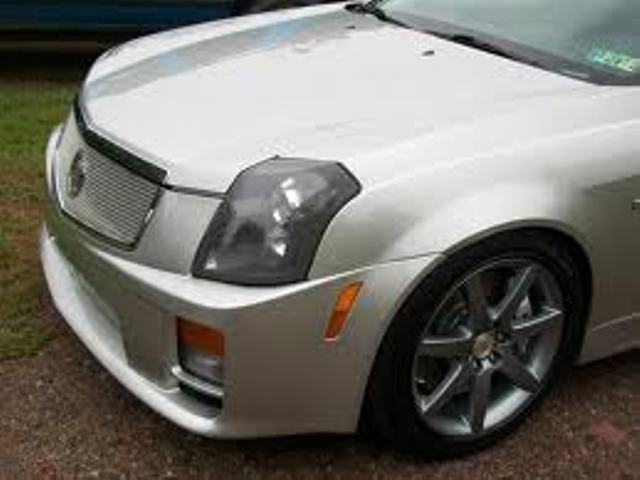 Not everything is perfect with the CTS-V. The quality of materials and build quality is mediocre at best. Panel gaps on the body are poor; the fit of the plastic bumpers is almost embarrassing. Open the door, peer inside and you will notice that the interior is particularly craptacular. There are acres of hard, cheap plastic that could only make the chairman of an international plastics conglomerate giddy. The plastic panels have a deep engrained, gnarly finish that just amplifies the cheap materials used. It doesn't help that this finish also traps dirt and grime and is difficult to clean which just exasperates the issue. Stylistically though the interior is fine; I just wish better materials were used.
Overall the CTS-V is a sensational car. It ticks all the right boxes that make a proper sport sedan. Performance and handling wise the CTS-V can be an adrenalin rush when pushed hard, but dial it back and drive like a responsible citizen and settles right down. If the low rent interior bothers you go buy a Lexus or Audi, besides a fluffy interior isn't what the CTS-V is all about and it probably isn't the car for you anyways. However if you want a car that flies in the face of convention and will plaster a silly grin on your face, this middle finger wheedling, mental little Cadillac is definitely the car for you. Now all I have to do is find my check book…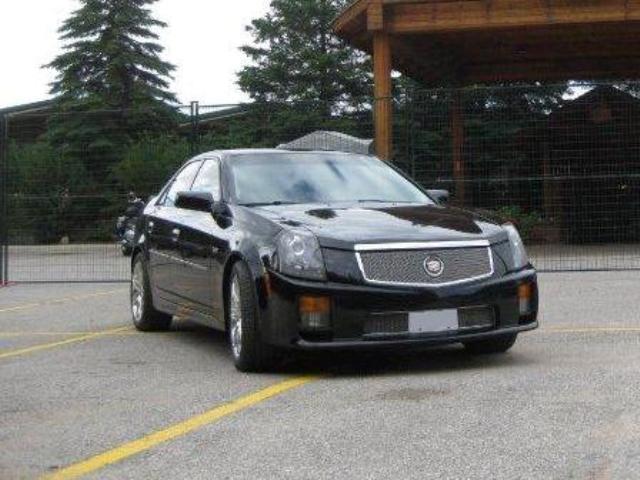 ---
Conclusion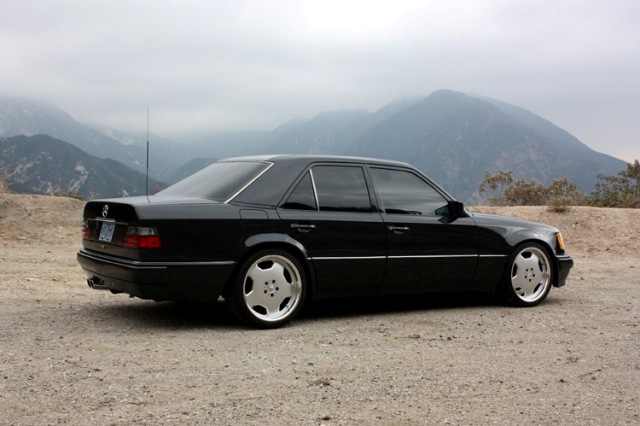 Each of these sport sedans has their own distinct personality and driving characteristics. For me to choose one favourite out of the group would be nearly impossible. I would be proud to have any one of these vehicles taking up real estate in my garage or driveway. Most people could rightfully argue that a modern family sedan could easily out perform just about every car on this list and they would be correct, with the exception of the CTS-V of course. However there isn't a modern family sedan sold today that can give the driver as much pleasure whisking you to your weekend destination as these sedans do. People often forget that a weekend getaway isn't just about the destination, it's also about the miles covered between two points that often brings us the best memories and for that portion of the adventure I'd take anyone of these cars every time.