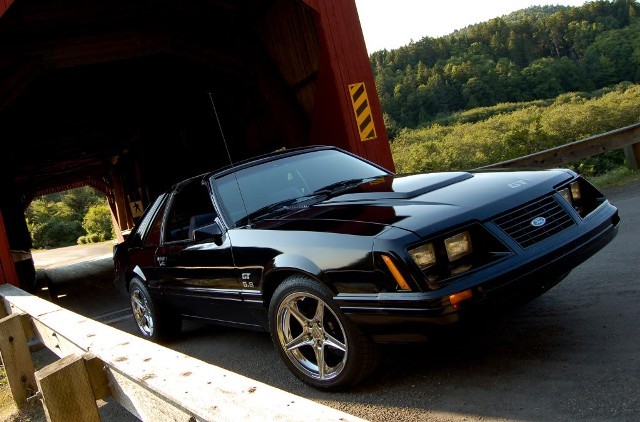 Written by James Dolan
Mustangs from 1983 through 1986 received many excellent technological changes that not only improved drivability and reliability but also received a marked increase in power. Advanced computer controls and fuel injection were introduced and the cars were improved, refined and honed into some of the most capable road cars of the 1980's.
This was also the time when the pony car wars really started to heat up between Ford and General Motors. Every model year each manufacturer would attempt to out maneuver the other with new models, more horsepower and better handling all to the delight of the motoring press and pony car fans. And each year enthusiast magazines would pit each car against the other in an attempt determine which one was best and most often than not the outcome would be determined by which camp their loyalties lay.
The healthy and at times heated competition between the two manufacturers would result in some of the best performance cars to come out of Detroit up to that point. It didn't matter if you are a Camaro/Firebird enthusiast or Mustang fanatic, either car would plaster a silly grin on the face of the lucky driver. In the end it was enthusiasts who benefitted the most.
1983 Mustang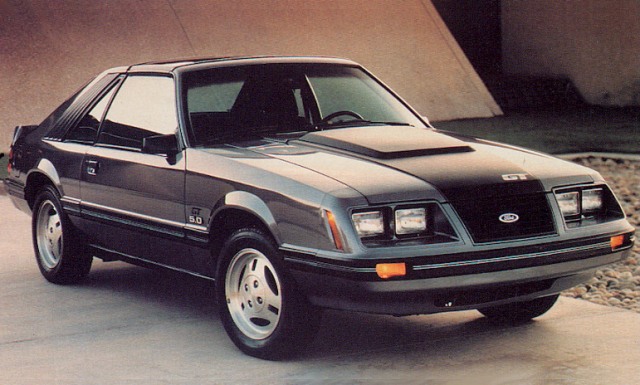 1983 Mustang GT
The Mustang received a flurry of changes for 1983. These were the most extensive revisions to the Fox Body Mustang since its introduction in 1979. Designers gave the car a nose job by replacing the front fascia with a new more aerodynamic piece that reduced drag by 2.5-percent. Between the headlamps was a narrower horizontal-bar grille with a Ford blue oval emblem in the centre. A new set of handsome wrap around taillights that stretched all the way to the license plate set off the rear. As with all Ford cars for 1983 a new Ford logo was affixed to the decklid of all models.
Inside, the changes to the Mustang were much more reserved. The font on the instruments was changed to a more legible typeface, hatchbacks now had a roller-style cargo privacy cover as standard equipment and the seat and door trim were revised. Due to slow demand the expensive Recaro seat option was dropped; however Ford replaced them with their own, affordable version manufactured by Lear-Siegler. These new seats were available in cloth or leather and few people noticed a difference besides the price.
Nineteen eighty-three also brought about changes to the engine bay. The 2.3-litre four returned for yet another year as the base engine but with some revisions to reduce emissions and improve drivability. Ford's long serving 3.3-litre straight-six and disappointing 4.2-litre V-8 were finally put out to pasture and replaced with the company's all new 3.8-litre "Essex" V-6 that had made its debut in other models the previous model year. The 3.8-litre was a 90-degree overhead-valve V-6 built at the Essex engine plant in Windsor, Ontario, Canada. This engine is essentially a reverse engineered Buick V-6 and shares many features and specifications with the G.M. engine including an external oil pump and similar displacement. One area that differentiated the two engines was Ford's use of aluminum cylinder heads to save weight as opposed to the cast iron heads that Buick used at the time. Fed by a two-barrel Motorcraft 2150 carburetor, the 3.8 was able to produce 105-horsepower and 181 pound-feet of torque, a marked improvement over the ancient 3.3-litre six. While the smooth running straight-six might have been missed by some the Essex V-6 would prove to be one of Ford's longest serving engine series and was the last overhead valve engine design Ford produced when production ended in 2007.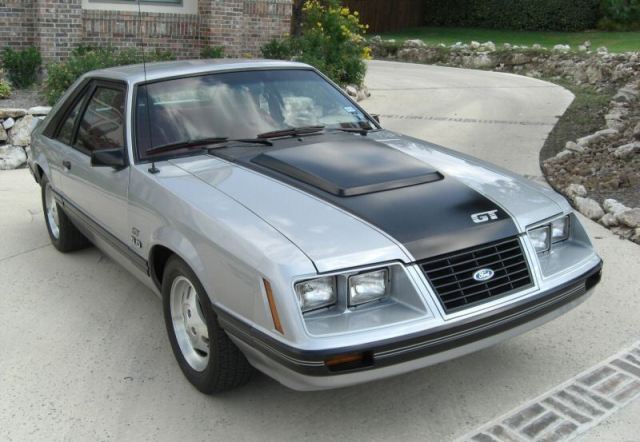 1983 Mustang GT
Leading Ford's charge in the pony car wars was the 5.0-litre H.O. V-8 with yet another increase in power to 175-horsepower. This gain was attributed to a revised cam, freer flowing exhaust and four-barrel 600-cfm Holley carburetor. Not since 1973 had Ford offered a four-barrel carburetor in a Mustang and to every Mustang fanatic this was a welcome if not overdue change of fortune. Teamed to the 5.0 was a new Borg-Warner T-5 close ratio 5-speed manual transmission that was coincidentally offered in the Camaro and Firebird twins as well. The T-5 was a major improvement over the Single Rail Overdrive 4-speed that had excessively wide gear spacing and wasn't in tune with the 5.0-litre's performance pretentions.
Mid-year brought about the reintroduction of turbo power to the Mustang line but this time it was a better executed effort. Thoroughly revised, the turbocharged 2.3-litre "Lima" four was a technological tour-de-force. Compression was lowered from 9.0:1 to 8.0:1 by using forged-aluminum pistons. Other improvements included a lighter flywheel, engine mounted oil cooler and unique valves made of a special alloy that could better resist the increased temperatures produced by the turbocharged engine. Also new was a Bosch electronic port fuel injection system controlled by an advanced computer system. In the early 80's Ford Motor Company was a leader in automotive computerized engine controls and Ford used its latest electronic engine control system (EEC-IV) on the turbo Mustang to monitor and/or adjust engine idle speed, fuel enrichment, injector timing and various emissions controls.
A "blow through" turbocharger was mounted on the exhaust side of the engine and was positioned upstream from the injectors and throttle plate. This arraignment was said to give the driver a quick, crisp throttle response. With 10 pounds of boost from the turbocharger and running on the recommended premium fuel the turbo 2.3 could produce 145-horsepower. Most importantly the engine produced this power without any of the drivability and reliability issues that plagued Ford's first Ill-fated attempt at turbocharging. Because of its focus on performance the 2.3-litre turbo was only available in the GT model with the T-5 manual transmission and air conditioning was not available. The turbo might have been a technological triumph but with late availability and a $250 premium over a V-8 powered GT the Mustang GT Turbo only found 483 new homes.
1983 Mustang Convertible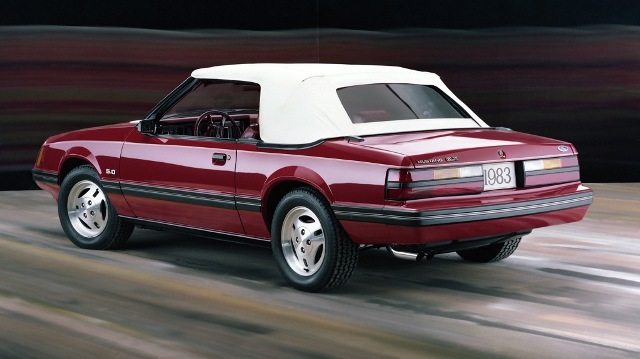 1983 Ford Mustang GLX Convertible
Sun lovers could finally rejoice in 1983 with the reintroduction of the convertible Mustang to the line-up after a ten year hiatus. The convertible disappeared when fear arose that new government safety regulations would outlaw the body style. Almost overnight topless cars vanished from the showrooms of the big three manufacturers. However ever since the drop top Mustang had disappeared in 1973 a number of aftermarket companies were converting coupes into convertibles to satisfy demand. When it was clear that the convertible would not be regulated into oblivion auto manufacturers were more than willing to supply a pent up demand and Ford wasn't going to be left behind when General Motors and Chrysler started selling topless cars once again in 1983. The Mustang was the natural choice for Ford to reintroduce their customers to the joys of soft top automobiles.
With the exception of the convertible top, all Mustang convertibles were produced in-house at the Dearborn plant. This was done so that Ford could keep tight control on quality. Convertibles started life as notchback coupes that were sent to a small area in the manufacturing plant where they were converted. Workers cut off the roof and reinforced the A-pillars, cowl and quarter panel areas. For added measure side members were added just above the rocker panels, a thicker taillight panel was installed and a cross member was added between the rear wheel arches. Topping off the conversion was a power operated top with a glass rear window installed by Cars & Concepts who were experts in the area of convertible top installations.
The end result was a seamless conversion that looked as if Ford had designed the car to be a convertible from the onset. Initially the convertible was only available in GLX trim with a steep base price of over $12,000 and then released a GT model priced at about $13,500 in mid-year. Ford had estimated that they might sell approximately 7,000 ragtops in 1983 however this was a gross underestimation as 23,438 eager customers happily parted with their hard earned cash for the privilege of open air motoring.
1984 Mustang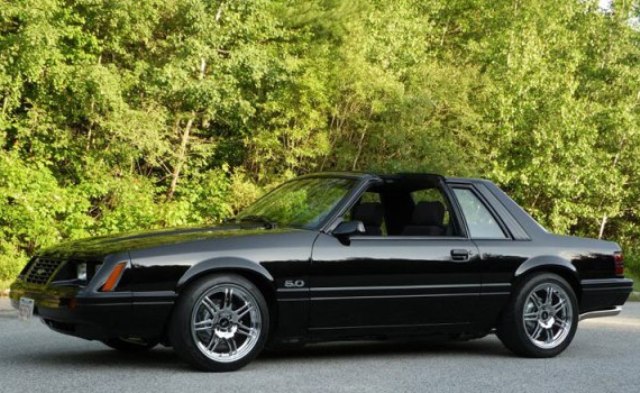 1984 Ford Mustang Coupe wearing aftermarket chrome wheels.
Little changed in the Mustang line for 1984, the base model L carried forward and was now available as a hatchback along side the notchback. The GL and GLX models were consolidated in to one line, the LX. Apart from some sprucing up of the interior and the Essex V-6 being made standard in the convertible there were few notable changes to the garden variety Mustang. The 5.0 GT and GT Turbo carried on pretty much unchanged as well.
Engines were all pretty much carryovers with a few notable improvements. All engines were now controlled by Ford's excellent EEC-IV engine management system giving drivers better drivability and lowering emissions with better controls. Electronic throttle body fuel injection was added to the 3.8-litre Essex V-6 and this bumped output to 120-horsepower; however this engine was now only available with the three-speed Select Shift automatic.
The king of the hill was still the carbureted 175-horsepower 5.0-litre H.O. V-8; however an electronic throttle body fuel injected version of the V-8 with 165-horsepower was now available for those who wanted a V-8 with automatic transmission. This engine was available with either a three-speed or a four-speed overdrive automatic transmission. The sophisticated and economical turbo-four made a comeback for 1984 without any revisions since it had only been on the market since the middle of 1983.
Nineteen eighty-four might appear to be a dull year for the Mustang it was anything but. Ford wanted a platform to showcase their advanced technology, knowledge in aerodynamics and the abilities of their recently formed Special Vehicle Operations department with the absolutely epic Mustang SVO. The Mustang was also about to celebrate its 20th anniversary and this called for a special model of its own. With these two new models 1984 proved to be much more exciting than expected.
1984 20th Anniversary G.T.350 Mustang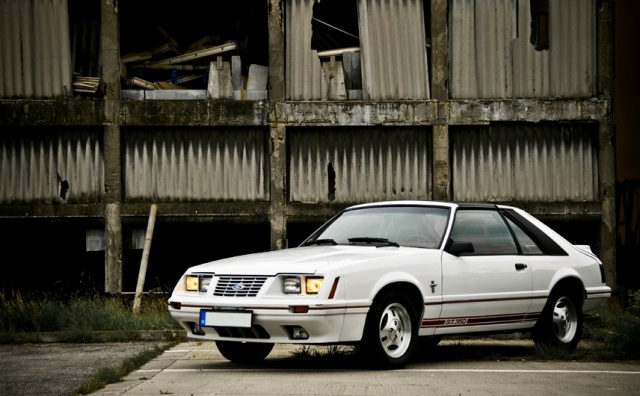 1984 Ford Mustang 20th Anniversary Edition
To commemorate the 20th anniversary of the Mustang, Ford devised a limited edition package that would be available on GT models. The package consisted of Oxford White paint with painted grille and body side moldings; Crayon Red interior with matching GT350 exterior side stripes; sport seats and a dash plaque. This anniversary package could be had on hatchbacks or convertibles with either a V-8 or four-cylinder turbo engines. The top on convertibles was white while the tonneau cover was Crayon Red to match the interior. Production began in March 1984 and Ford designated these cars as 1984.5 cars just like the original car twenty years earlier. Ford produced 5,260 of these anniversary package "GT350" Mustangs in 1984 and other than the color and trim there wasn't really anything special about the cars. However one person took notice and didn't like what he saw.
In short order Carroll Shelby hit Ford with a copyright infringement lawsuit. Shelby claimed that he owned the "GT350" moniker and had been promised by Ford that they would not use the designation without his permission. Coincidently, Carroll had hooked up with his old friend Lee Iacocca who was now at Chrysler and was working on some projects with him. Was Shelby's lawsuit a way to get a shot at Ford Motor Company who had dumped his friend Lee back in the late '70's? We may never know. Eventually the lawsuit was settled out of court. It was said later that the lawsuit was attributed to a "misunderstanding". There were no such misunderstandings involving Ford's other special car for 1984, the SVO.
1984 Mustang SVO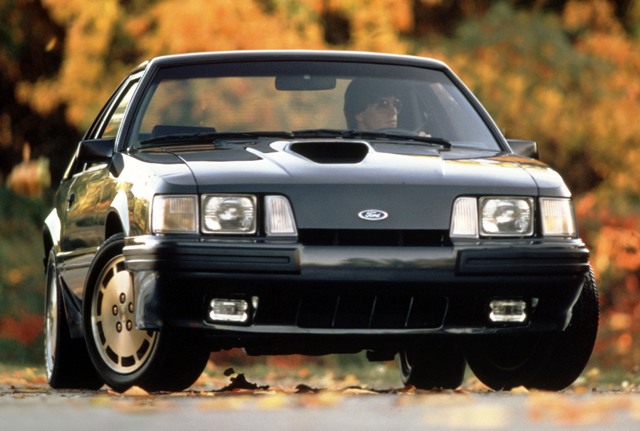 1984 Ford Mustang SVO
Forget all your preconceived notions that you may have about a Mustang when you think about an SVO. Think that there is no replacement for displacement? Forget it. Think that the only thing that a Mustang is good for is going fast in a straight line? Forget that too. Think that all Mustangs suffer from poor braking performance? Not true. Think that a Mustang is an unsophisticated muscle car that only a backwoods red neck could love? Definitely forget that too! The SVO at the time was one of the best all-round American performance cars ever made.
The Mustang SVO story began in September of 1980 when Ford Motor Company president Donald Peterson formed the Special Vehicle Operations department. Ford's image as a manufacturer of performance vehicles had suffered greatly in the 1970 and early '80's. The results from fuel shortages and the advent of ever-stringent emissions and safety regulations had decimated Ford's ability to build high-powered vehicles. Ford's vehicles, in particular the Mustang, had suffered greatly during this period. They needed to get back into the game but they needed to do so in a responsible way with vehicles that could be efficient on fuel, meet or exceed government standards yet still thrill drivers. Thus the mission of SVO was to oversee both the company's racing program and the production of limited-edition, high-performance production cars. Michael Kranefuss was brought over from Europe where he was competition director for Ford to run SVO. The department's first task was to develop a world class sports car that could compete with the best entry level sports cars that Europe had to offer and their first kick at the can would be the Mustang.
In order for the SVO to be an excellent all-round sports car the SVO team knew from early on that only a light weight engine would do in order to reduce front end weight and improve balance. This meant that using the 5.0-litre V-8 would be out of the question; however they realized that the car would require similar power that was produced by the 5.0. Using the 2.3-litre turbo from the 1983 Mustang GT Turbo as a starting point the engineers went to work massaging more power from the little engine. An air-to-air intercooler was added to reduce intake air temperatures that had risen from being compressed by the turbocharger. Cooler air is denser and allows more volume to enter into the combustion chamber thus allowing the engine to produce more power. This was the first use of air-to-air intercooler technology in an American production car. Boost pressure from the AiResearch turbocharger was controlled by the world's first electronic adjustable boost-control system that could vary boost to a maximum induction pressure of 14 pounds per square inch when premium fuel was used. This is believed to the highest boost pressure of any production engine to that point. Another novel feature was a rocker switch on the console that would change the algorithm mapping of computer to enable the SVO to run on either regular (reducing performance) or premium fuel. With these changes the SVO produced an advertised 175-horspower and 210 foot pounds of torque.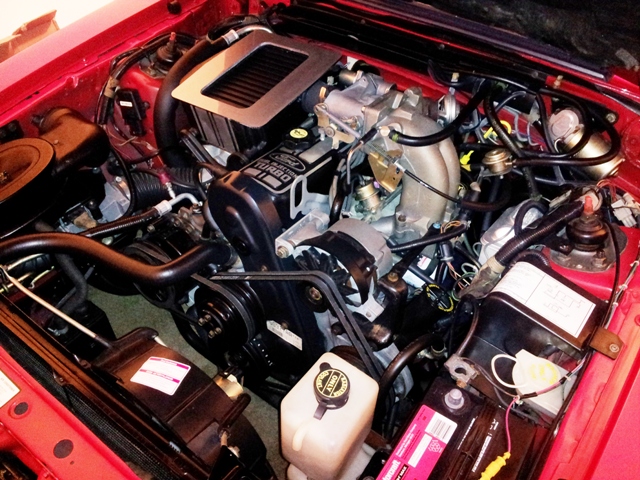 The engine in the 1984 SVO was a masterful piece of engineering.
Coupled to the SVO turbo four was a close ratio Borg Warner T-5 transmission and a Daikin clutch that could handle the increased power. Gears were selected through a special Hurst short-throw linkage that incorporated rubber isolated bushings for improved shift feel. Transmitting the power to the ground was Ford's 7.5-inch limited-slip Traction-Loc differential with a 3.45:1 gear ratio that along with the transmission provided the ideal compromise between acceleration and low engine speed at higher velocities during long distance, high-speed cruising.
From its inception the SVO was engineered to be a world class handling sports car. Higher rate springs and stiffer suspension bushing were installed and about of inch of suspension travel was added to help aid ride comfort. Sensational but expensive adjustable Koni shocks were used at each corner and thicker roll bars installed both in the front and rear. TRW supplied a special power rack and pinion with quick constant-ratio gearing and high effort valving that gave the SVO sensational on centre steering feel. Early cars were equipped with the same rubber coated traction bars that were installed on the GT however all SVOs produced after December 1983 received Ford's new "Quadra-Shock" rear suspension that incorporated an extra set of shocks horizontally mounted between the axle and body structure. This system worked so well that it was installed on every performance orientated Mustang for the next twenty years.
For the first time in Mustang's history stopping power was provided by a set of large four wheel disc brakes. These brakes were adapted from another Fox body vehicle, the Lincoln Continental. Front discs were 10.92-inches in diameter and the rear discs were even larger at 11.25-inches across. As a consequence of the brake upgrade the SVO had five bolt hubs and axles instead of the four pattern used on lesser Mustangs. These fade resistant brakes provided enough clamping force to bring the SVO to a halt from sixty miles an hour in a scant distance of 158-feet.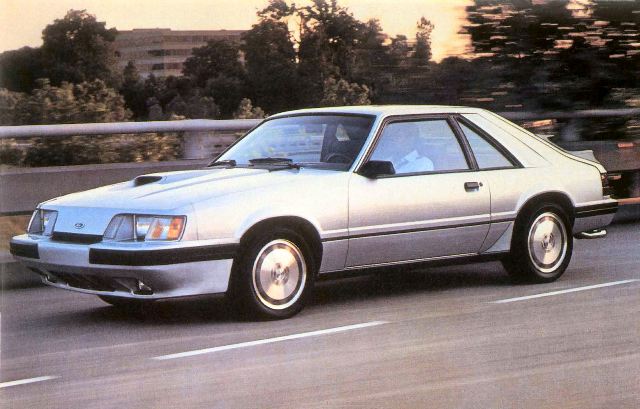 1984 Ford Mustang SVO
A trick suspension and powerful braking system are nothing without proper tire grip. The SVO sat on meaty 225/50VR16 Goodyear NCT tires that were mounted on unique 16x7 inch five bolt pattern aluminum wheels. The NCT's were good but SVO engineers really wanted to use Goodyear's new revolutionary unidirectional Eagle GT50 "Gatorback" tires that were used on the 1984 Corvette. Later cars produced in 1984 did receive the "Gatorback" once Goodyear designed a set especially for the SVO.
Inside, the SVO saw a bevy of functional changes and upgrades over the standard production Mustangs. To aid heel and toe down shifting the pedals on the SVO were reconfigured, bringing the clutch, brake and throttle pedals closer together. A dead pedal was added to the left of pedal cluster for drives to have a place to brace themselves in order to stay in position during aggressive cornering maneuvers. The front seat passenger wasn't ignored as they received their own roof mounted grab handle to stabilize themselves as well. Leather adorned the handbrake lever as well as the gear knob and boot that also had the Hurst insignia embossed in them. The tilt steering wheel was leather wrapped and had its own unique horn pad with the Ford and SVO logos embossed in the centre. A comprehensive set of gauges faced the driver with oil pressure, engine temperature, fuel level, 18-psi boost gauge , a 8,000 RPM tachometer and a 140 mile an hour speedometer (although it was only marked up to 85 miles an hour to satisfy American regulations) all standard. The multi-adjustable Recaro inspired sport seats made by Lear-Siegler were available in cloth or optional leather and had thick thigh and side supports and adjustable knee bolsters. A hand operated pump was used to inflate or deflate a bladder located in the seatback to increase or decrease the lumbar support of the seat. All SVO's came with a charcoal interior and a limited number of options that included a sunroof, air conditioning and leather upholstery.
The exterior of the SVO was given many distinctive features to set its self apart from other Mustangs. The nose of the car was completely restyled with a grille-less front end. A new front bumper was fashioned devoid of the integral turn signal lamps and now sported a 2 piece split wrap around molding rather than the continuous one piece molding of the regular Mustang. Stylists wanted to use new composite aerodynamic headlamps in place of the quad sealed beam units on standard Mustangs however the regulations that were to allow the use of these headlamps were not implemented in time for production and the SVO had the make due with dual sealed beam lamps. On the outer side of the headlamps were wraparound flush mounted turn signal/parking lamps and on the inboard side of the headlamps were flush mounted, forward facing parking lamps.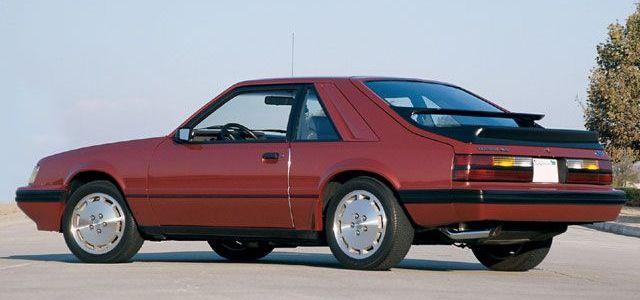 1984 Ford Mustang SVO
The hood was also a new piece that extended down stopping just short a few inches above the top of the bumper giving the SVO its unique grille-less appearance. To supply cooling air to the intercooler there was an integral forward facing hood scoop that was offset to the right. Thin body-side moldings ran along the flank of the car between the front and rear wheels and side splats were affixed to the quarter panel just below the body side molding just ahead of the rear wheels to help deflect air around the rear tires. Even the sail panels located just aft of the rear quarter windows were revised with a new sleeker look. At the rear was a very cool looking bi-plane spoiler and this was perhaps the most distinctive feature of the SVO. Not as obvious as the in your face spoiler were SVO specific dark gray tail lamps. With all its distinctive exterior elements no one could mistake the SVO for a standard issue Mustang.
The Mustang SVO was an epic performer in just about every aspect. Journalists heaped praise on the car glorifying it as a viable competitor against sports coupes from Japan and Europe. Comparisons were even made with Chevrolet's more expensive and upscale Corvette. Through a corner the Mustang SVO not only had better grip than any Mustang before, it also possessed many qualities not normally associated with an American car such as crisp and responsive turn-in into a corner and communicative steering with excellent road feel. The large four-wheel disc brakes demonstrated short fade free stops that could never be achieved in the standard Mustang.
But the SVO was much more than just awesome performance numbers on paper, more importantly it just felt right when driven enthusiastically. All the elements of the SVO from the excellent steering, smooth shifting transmission, the properly positioned pedals, powerful engine and awesome handling all blended together into a car that was a feast for the senses. Quite simply the car was the well rounded performer that Ford was after and a complete joy to drive as well.
However with all these great attributes going for it, the SVO wasn't a sales success. Ford set what seemed to be a modest goal to sell 10,000 SVO's per year; however only 4,508 SVO's were produced in 1984. One of the challenges that the SVO faced was its price. At $15,970 it was a pricey car and expensive for a Mustang. Compared to a Mustang GT 5.0, the SVO cost about $6,000 more and had similar acceleration.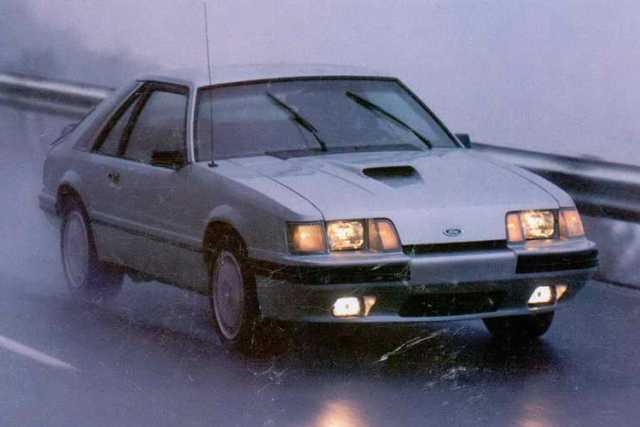 1984 Ford Mustang SVO
The other obstacle was perception. Traditional buyers of performance orientated Mustangs bought the cars because they offered huge kick in the pants acceleration value for the dollar. A Mustang that cost much more money than a GT yet "only" had the same horsepower and acceleration just didn't go over well. It didn't matter that the SVO was a much better car all around that could stop and handle better than any car in its class, they just didn't care. And those potential customers who did cherish a car that emphasized sophistication and driving pleasure just couldn't be conceived that a Mustang or any American car was capable of offering the attributes that make imported cars so desirable.
Finally, the SVO's engine wasn't exactly the poster child of refinement. No matter how sophisticated he SVO may have been, the turbocharged engine was still based on the rough and tumble 2.3-litre four that vibrated and boomed under the hood of the base Mustang. This lack of smoothness probably turned off a few potential buyers who rightfully expected less noise and vibration in a car at the SVO's price point.
Although the Mustang SVO may not have been widely accepted in the marketplace, those who did buy an SVO adored the car. Even today the SVO has a small and devoted following by a community of enthusiasts who care for and cherish these cars. Once you have set aside your preconceived notions of what a Mustang should be and drive an SVO you will be handsomely rewarded with a unique driving experience that few cars of the period can offer.
1985 Mustang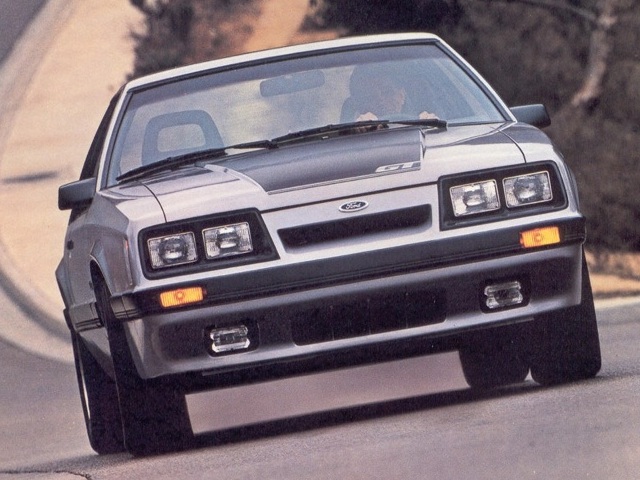 1985 Ford Mustang GT
There was an array of small changes to keep the Mustang competitive against its cross town rivals in 1985. Currency fluctuations of the Japanese yen and European currencies also made the Mustang appealing to enthusiasts who would normally turn their nose up at the car. With its reasonable price and V-8 performance the Mustang was one of the greatest sports car values of its time. Ford understood that in order to stay competitive that the aging Fox body Mustang needed to be kept fresh and up to date.
Once again the front clip was restyled for a new look. The one slot grille installed mimicked the smooth look that the SVO had introduced the year before. The body side moldings that wrapped all the way around the car were revised and GT models received attractive new ten hole 15x7" aluminum wheels and a revised black hood decal. Many cars from the 1980's have suffered with too many busy styling additions that have dated these cars considerably today. However the mid-80's Mustang GT was a simple, clean design that has aged gracefully to my eyes. Inside, changes were few with revised dashboard and door panel trim, a three spoke SVO style steering wheel and the awesome Lear-Siegler seats were now both standard on the GT.
The model line up was simplified with the basement model L series being cancelled. This left the LX series as the entry level car and was the only model that was available in all three body styles; coupe, hatchback and convertible. The GT 5.0 returned and was once again offered as a hatchback or convertible while the GT Turbo hatchback was discontinued. With the elimination of the GT Turbo the SVO was now the only Mustang available with a turbocharged engine.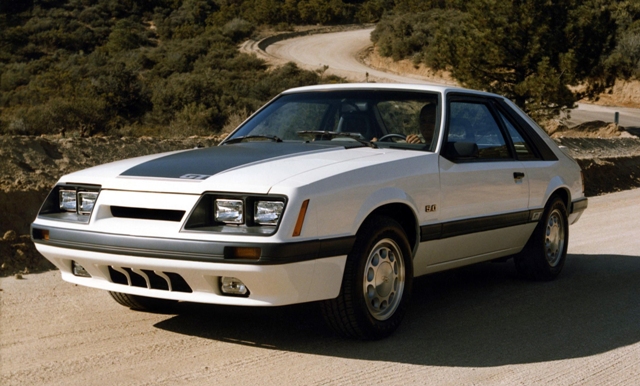 1985 Ford Mustang GT
Engines also carried over with a few revisions. The base 2.3-litre four and optional 3.8-litre EFI V-6 carried over unchanged but it was the 5.0-litre V-8 that received all the attention. Once again V-8 cars equipped with a manual transmission got the carbureted version that now boasted a 35-horsepower increase to 210-horsepower. This power increase was accomplished with the installation of a new high-performance camshaft and low-friction roller tappets. Automatic V-8's were still down on power compared to the manual transmission cars however they also saw an increase of power to 180-horsepower and did come equipped with electronic fuel injection for better drivability.
Suspensions on GT models were improved with a thicker rear anti-sway bar, gas-filled struts up front and gas filled shocks at the rear. Variable rate springs were used front and rear that would become stiffer when compressed thus improving ride characteristics. The largest improvement came with the addition of wide 225/60VR15 Goodyear "Gatorback" tires. Tire technology had surpassed that of the Michelin TRX and therefore the TRX suspension and wheel/tire option was discontinued since it was now considered obsolete. The Goodyear's provided the Mustang GT better bite through the corners and more grip during hard acceleration.
1985 and 1985.5 Mustang SVO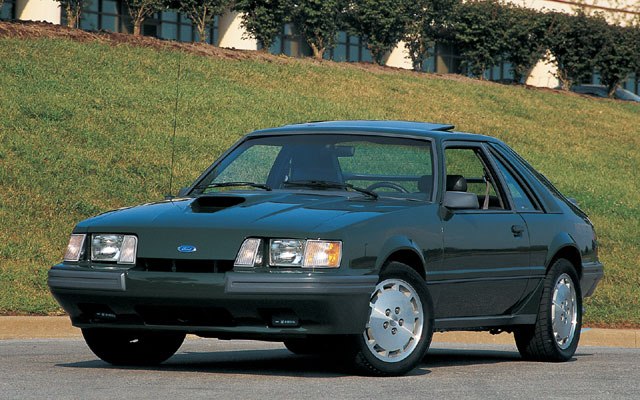 1985 Ford Mustang SVO
With the SVO being an all new addition to the Mustang stable in 1984 there were only a few changes at the beginning of 1985. Transmission and rear axle ratios were changed to better exploit the potential of the turbo engine. Rear spring rates were increased and the rack and pinion ratio was changed to 15.0:1 ratio. To help quell engine vibration new fluid filled engine mounts were used in place of the traditional rubber mounts. Visually the only change to the exterior was a switch from black to charcoal grey trim. Finally a Competition Prep package was offered as an option. This deleted such standard features as the power windows, radio and air conditioning to save weight.
The real excitement came half way through 1985. All SVO's built after April of 1985 received a host of changes and were therefore designated as 1985.5 mid-year models. After a year and a half wait the SVO finally received the flush composite aerodynamic headlamps that it had been designed for. This greatly improved the visual appeal of the SVO. But it was in the engine compartment where the greatest improvements the SVO lay. A new intake manifold was installed and the turbocharger was now water-cooled to improved long term durability and the turbine was revised to allow quicker spool up in order to reduce turbo lag. Boost pressure was increased to 15-psi and higher volume fuel injectors were installed. A hotter camshaft was installed along with a revised exhaust system with dual mufflers and tailpipes improved exhaust flow. These changes combined with a recalibrated EEC-VI microprocessor pushed horsepower up to 205-horsepower and 240-pound-foot of torque.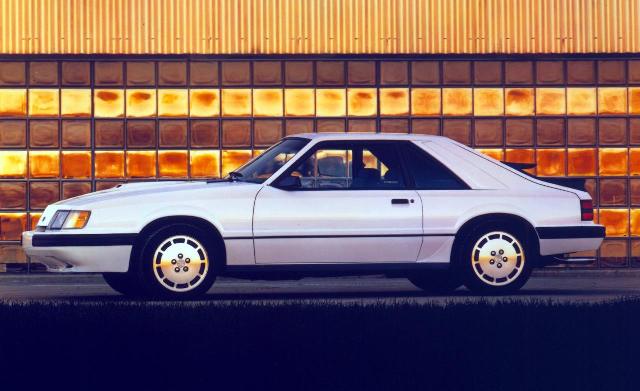 1985.5 Ford Mustang SVO finally recieved flush mounted composite headlamps and a boost in horsepower.
Even with these changes the SVO remained a lame duck as far as sales were concerned. Only 1,515 SVO's were produced in the first half of 1985 while a dismal 439 of the mid-year '85.5 SVO's were produced.
1986 Mustang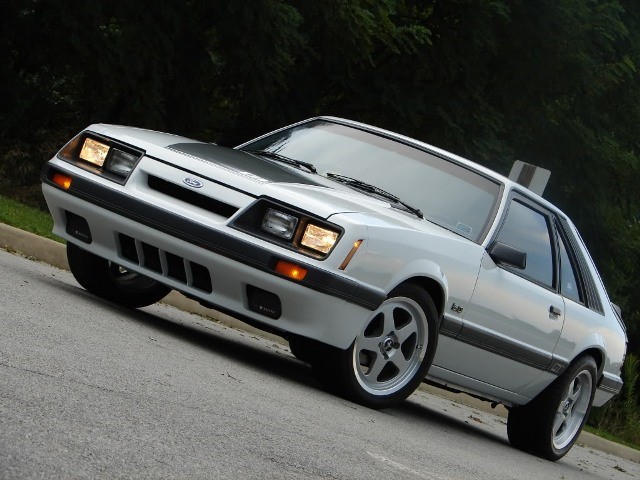 1986 Ford Mustang GT sitting on aftermarket wheels.
After seven years on the market the Fox body Mustang was starting to show its age. However this didn't faze customers as Mustang sales reached nearly 225,000 units proving that in the eyes of many that the Mustang was still relevant and a good value. These sales numbers are even more impressive when you consider how little the Mustang had changed for 1986. Ford had a corporate philosophy during the 1980's that encourage continuous improvement of their vehicles. This German approach to automobile development favors long term use of a given platform and engine technology with incremental changes and upgrades annually. Generally this spreads out development cost over many more years and lowers production costs. This keeps older vehicles competitive and interesting to buyers since new technology is adapted to older designs. It also can result in vehicles with better reliability since most deficiencies are eliminated as they come to light over time.
Alterations for the Mustang might have been few in 1986 however they were still significant. The old tech carburetor on the 5.0-litre H.O. V-8 was eliminated in favor of a thoroughly modern sequential multi-port fuel injection system. This fuel delivery system is appreciably more precise than any carburetor or throttle body fuel injection system could ever hope to be. Each cylinder has its own dedicated fuel injector mounted up stream from the intake valve that is fed air through its own intake port. With a sequential system fuel delivery is controlled by the engine management system to coincide with each cylinder's intake stroke. This is in contrast to other systems that inject fuel to all or multiple cylinders at the same time without precise synchronization to any particular cylinder's intake stroke. With a sequential system less fuel is wasted thus improving both fuel efficiency and emissions.
This engine was available with either a manual or automatic transmission for 1986. This eliminated the complication of having two different fuel delivery systems and states of tune for the V-8. It was rated at 200-horsepower and a stout 285 pound-feet of torque and required that the rear axle be upgraded to handle the extra twist from the engine. To smooth things out engine mounts on V-6 and V-8 Mustangs were upgraded to fluid-filled units. Once again the base four-cylinder engine continued on unchanged.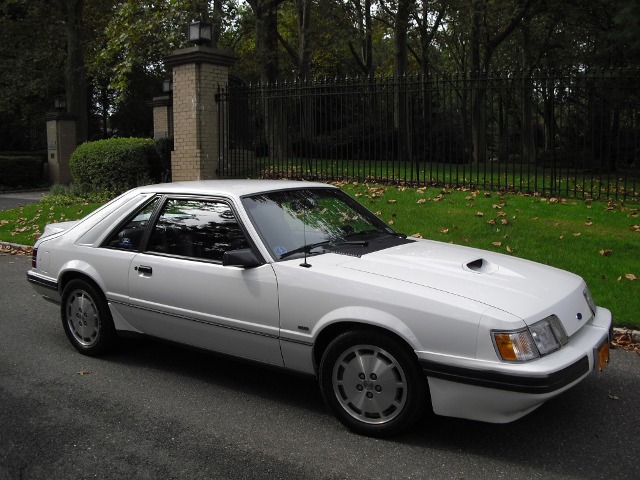 1986 Ford Mustang SVO
The SVO continued into 1986 with minimal changes. Horsepower dropped to 200 from 205 supposedly the result of lower octane fuel. Just with other Mustang's for 1986 a federally mandated third brake light was intergraded into the rear spoiler. Sales of the SVO continued to be challenging in 1986 with just 3,382 units of the specialty car being sold. With the SVO unable to gain a foot hold in the marketplace Ford informed the Special Vehicle Operations department that the company had decided to discontinue the model at the end of the 1986 production run. Only 9,844 units were built in its three year run. Many people feel that the slow sales would signal a failure, however the SVO did influence the development of the Thunderbird Turbo Coupe and many future Mustangs that went on to be great successes. It also spawned a vibrant factory indorsed performance parts division that is still inexistence to this day. The car might have died but the division that created it would live on and come back in a huge way in just a few short years.
Another reason for the SVO's early demise could have been that the decision makers at Ford Motor Company were busy planning a new Mustang for 1989 and didn't want to waste extra resources on the ageing Fox body car. This new car that was in the works would take the Mustang in radical new direction, but before its introduction Ford decided to give the faithful Fox body a grand send off with a restyle for what they thought would be its last two years.