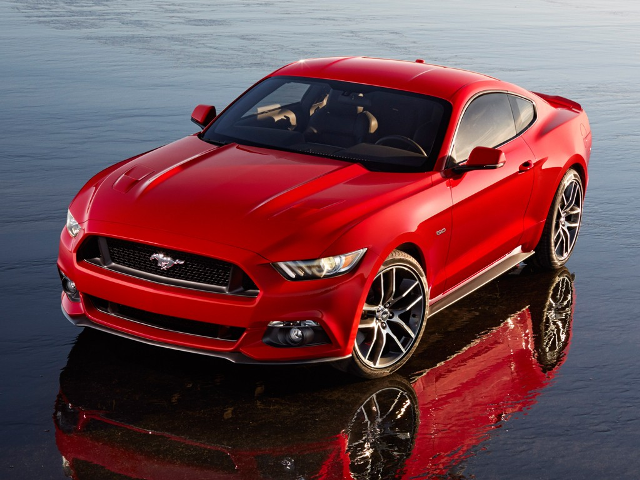 Written by James Dolan
Twenty fourteen marked nearly ten years in production for the S197 Mustang and it was time for the car to enter the history books and make room in Ford showrooms for an all new Mustang just in time to commemorate the 50th anniversary of the car. After fifty years of designing, engineering and producing Mustangs, Ford has the basic recipe of the Mustang down to a science and this latest Mustang can't be mistaken for any other car on the road but a Mustang. Inside and out the 2015 edition of this fabled pony car looks, feels, smells and sounds like a Mustang so there is a somewhat a familiar vibe to whole car on the surface. But this familiarity doesn't make the 2015 edition Mustang boring; far from it, as this new car boasts some of its own firsts for the line.
For 2015 there are now three engines to choose from; each one producing at least three hundred horsepower. The 3.7-litre V-6 and 5.0-litre V-8 are joined by an all-new 2.3litre EcoBoost inline four cylinder equipped with direct injection and a turbocharger. This makes the 2015 Mustang the first Mustang to offer four, six and eight-cylinder engines that each produce over 300-horsepower.
The 2015 Mustang rides on an all new platform known internally as the S550. From the onset this new architecture was designed to be manufacturer in either left or right hand drive configurations as it was Fords intention to officially bring the Mustang to international markets such as Europe, China and Australia for the first time on a volume scale. In the past Mustangs had been exported in limited numbers and had never been offered in a right hand drive configuration from the factory. This should broaden the Mustang's appeal and help boost production numbers at Ford's Flat Rock Michigan plant where the car is assembled.
Although making the Mustang available to more people around the world is note worthy the real excitement lies underneath the vehicle's new body structure. For the first time all Mustangs will ride on a four wheel independent suspension. Gone is the solid rear axle, a device that should have been regulated to the scrap pile over twenty years ago when the SN95 Mustang made it debut in 1994. Sure Ford engineers had done a marvelous job at taming the nasty short comings of the live axle in S197; all you have to do is drive a late model Boss 302 for proof of that. However, there was always a feeling, in my mind anyway, that the Mustang could have been even more capable with a proper independent rear suspension. The hard core drag racers will certainly lament the switch but the advantages on how the car performs in all other situations far outweigh the cries of those who choose to spend their weekends living life by one quarter mile run at a time.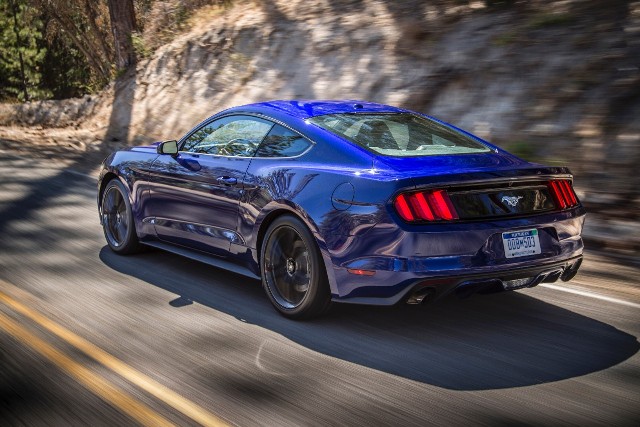 2015 Ford Mustang
Copious amounts of high-strength and ultra high-strength steels are employed throughout the body structure of the 2015 Mustang giving the car a more rigid platform. As a result the fastback is much more resistant to twisting with 28 percent more torsional stiffness. This allows engineers to precisely tune the suspension for significantly better handing and a more refined ride than could ever be possible in the previous model. Although being stronger the new body is actually lighter than the previous version. These weight savings were achieved through the use of advanced technologies including hydroforming and laser welding and through the use of lightweight high-strength steels and aluminum for the front fenders and hood. This new structure also benefitted the convertible body style as torsional stiffness had increased by thirteen percent resulting in a convertible that had a solid, quality feel even over the roughest surfaces.
With an all new high-strength structure comes an all new shape that was a clean-sheet design that has moved the Mustang forward yet still retains the essential spirit of the car by retaining key styling cues as the long hood and short deck but with a more contemporary execution. At the front the 2015 Mustang wears a shark-bite front nose with a large trapezoidal front grille. The look is contemporary and somewhat controversial with a face that now has more of a family resemblance to other Ford products than the car has had in the recent past but there still isn't any way that you could mistake the car for anything but a Mustang.
The headlamp housings are long and slim and are equipped with standard HID lighting for headlights and three vertical LED hash marks per side for the day time running lights. It looks modern and mean and is a refreshing change from the retro look that had dominated the Mustang's front end styling for the past decade. Overall the car was given a lower, wider stance with wider rear hips and track giving the car an aggressive and purposeful look. For 2015 the coupe was rebranded as the fastback and the car was given a sleeker profile with a reduction in roof height with a more steeply raked windshield and rear glass. At the rear the Mustang is given a slight kick up of the rear decklid that acts as a built-in spoiler for better stability at higher speeds. And finally a Mustang would not be a Mustang without its tri-bar tail lamps and the 2015 model is no exception with its modern interpretation of the traditional tri-bar lights that are three dimensional LED's with the ever popular sequential turn signals. Separating the tail lights is a glossy black plastic panel with either a running horse emblem or a round GT medallion on GT models.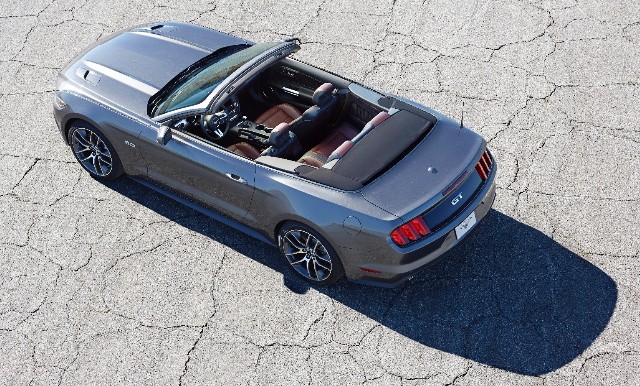 2015 Mustang GT convertible
Drop top Mustangs were designed from the ground up and receives unique, yet subtle styling cues that results in an elegant and tidy silhouette that set it apart from its fixed roof sibling. Creating the 2015 Mustang convertible was an involved process that required designers to re-contour the rear decklid and raise and straighten the belt line of the rear quarters. A great deal of effort was made to give the new Mustang convertible a linear quality with the top raised or lowered. Details such as the shape of the rear quarter windows were sweated over so that they could drop out of sight with the top down.
Speaking of the top, for the first time every convertible Mustang gets a full fabric exterior roof and a full interior headliner with a ten millimeter thick insulation pad in between that greatly reduces noise levels inside the cabin when driving with the top up. Lowering the roof in the 2015 Mustang convertible is a snap with a new centre-mounted latch that now allows for quick one-handed operation. There is also a new electromechanical drive system that is not only quieter than the pervious electro-hydraulic system but can raise and lower the top in half the time. This new drive system is also more compact leaving greater space for the Z-fold roof to be tucked out of the away, as a result the folded top now rests 6.7-inches lower than the pervious Mustang thus giving the 2015 model a sleeker and more elegant profile.
With an all new structure, a more compact roof and flat load floor thanks to the new independent rear suspension trunk volume has increased to 11.4 cubic feet allowing owners to fit two large golf bags in the luggage compartment. And with a lower lift over height it's easier to get those golf bags into the trunk! No longer to buyers have to sacrifice practicality for the pleasure of open air driving!
Aerodynamics played a key roll in the development and shape of the 2015 Mustang. With ever increasing demands for improved performance and fuel efficiency aerodynamic efficiency has become ever more important since the force required to slice through the air goes up exponentially with speed. Because of this aerodynamic engineers spent about twice as much time doing wind tunnel tests and run simulations than the previous Mustang. The aerodynamics team worked closely with the stylists and because of major advancements in Ford computational fluid dynamics capabilities the engineers were able to give feed back to the styling studio within 48 hours allowing the designers more opportunity to try out different ideas. With this close collaboration between teams the 2015 Mustang is able to retain its aggressive stance and forward-leaning shark-bite nose while being the sleekest Mustang yet, able to slice through the air for better fuel efficiency and high speed stability.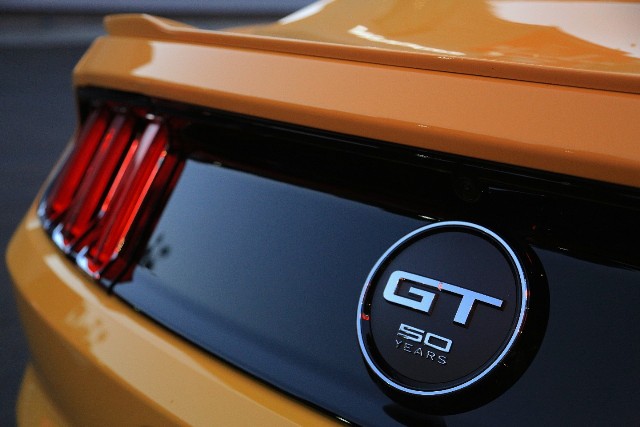 Every surface of the 2015 Mustang was tuned for maximum aerodynamic efficiency. The subtle rear lip spoiler on this GT is a fine example.
In order for the aerodynamic engineers to meet their goals of creating a slippery Mustang without resorting to a tear drop shape they needed to employ several wind cheating techniques. One of these tricks was the use of front wheel aero curtains that help guide airflow across the front wheels. Because a rotating wheel is a major source of drag and wheel skirts would just look wrong on a Mustang engineers decided to run with the idea of using aero curtains; a first for Ford. Air is channeled from vertical slots in the front fascia to openings in the wheel wells. This air then travels at high speed across the outer surface of the wheel and tire creating an invisible skirt around them reducing drag; very clever.
Another way engineer's improved aerodynamics in the 2015 Mustang was managing air flow through the engine bay. Each of the Mustang's three available engines gets its own unique grille that allows only as much cooling air to flow into the engine compartment that is required for that particular engine. The 2.3-litre EcoBoost four cylinder engine takes things one step further with the addition of active grille shutters that can completely close off the grille at highway speeds when extra cooling capacity is not needed thus further reducing drag. Engineers even went as far as to study and carefully shape the mesh in the grille in order to reduce air resistance and wind noise.
To help the cooling package breath more efficiently and reduce the pressure in the engine bay that causes front end lift there are a pair of functional air extraction vents in the hood. These hood vents release the air pressure under the hood by allowing the warm air to flow out and over the car. This also improves the efficiency of the cooling system requiring less air to cool the engine.
But engineers weren't just wasn't concerned with reducing drag for fuel efficiency reasons; although that was a major consideration; they also needed to create an effective aero package that would keep the new Mustang planted to the tarmac at high speeds in order to take full advantage of the new and improved suspension system. Through the use of splitters and engineers were able to reduce underbody pressure that causes lift. They also spent a lot of time developing under body shields that are unique to each power train and suspension application that better match each vehicles speed and handling capabilities. There are three basic air-dam/valance combinations for the 2015 Mustang. One for the V-6 and V-8 engines that has an air-dam that reduces lift; one for the EcoBoost engine that reduces drag for better fuel efficiency; and the last for the V-8 performance package that eliminates the air-dam in favor of brake cooling channels that directs cool air up to the brakes and other channels that help improve high speed stability.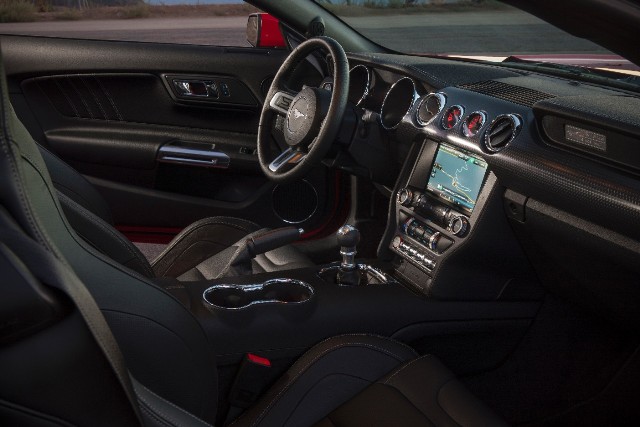 2015 Mustang Interior
Look inside the 2015 Mustang and you will notice an interior that is all new but is also somewhat familiar. Just as had been done with the exterior design, interior stylists retained certain elements that are linked with Mustangs from the past. Front and centre is a modern interpretation of the twin eyebrow dash that had been a prominent feature inside Mustangs from the 1960's and brought back in the 2005 redesign. In the 2015 model the dash incorporates the twin-brow styling theme in a modern instrument panel without looking retro or contrived. Directly in front of the driver is a set of round barrel style gauges that has been a styling cue that dates back to the 1967 Mustang. Again, like the rest of the dash, the gauges nicely blend the round barrel style with a modern theme that comes off looking new and fresh while not looking like a rehashed 60's design.
A benefit of the new S550 platform is a roomier cabin with improved shoulder and hip room for rear seat passengers and a larger, better shaped trunk that can accommodate two full sized golf bags. Ergonomics have been improved and higher quality tactile switches and knobs provide better control and quality feel. Speaking of quality, the interior of the 2015 Mustang has been made with higher grade materials and has been assembled with the highest degree of craftsmanship ever found in a Mustang. Gone are the days of hard cheap plastics and haphazard assembly that was often the result of cost cutting measures. The interior of this car feels as good as it looks and has been made to remain looking fresh for many years to come.
At the heart of any Mustang is its engine and for 2015 there are three engines to choose from in the regular production line-up. All three power plants deliver at least 300-horsepower and are capable giving the Mustang sparkling performance and smooth operation. Returning to the line-up is the 3.7-litre Cyclone V-6 that made its debut in the 2011 Mustang. Once again this is the Mustang's base engine and provides smooth effortless performance thanks to its modern design along with its 300-horsepower and 280 pound-foot of torque. With a smooth 300-horsepower on tap and decent fuel mileage the V-6 Mustang is one of the greatest guilt free touring cars that owners can pile on miles of smiles with out the extra cost of having to purchase and run the V-8.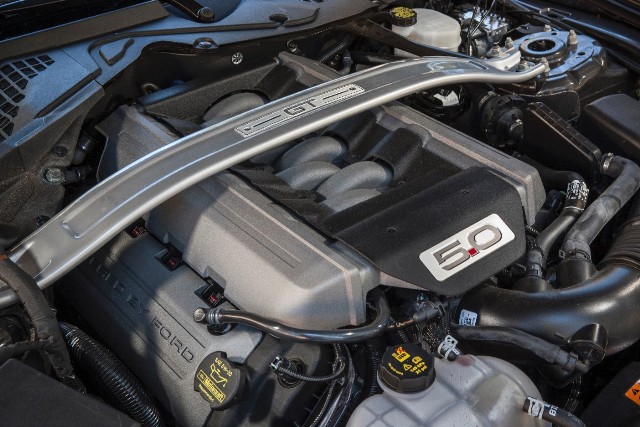 2015 Mustang V-8 Engine
No one will be complaining that the sweet 5.0-litre Coyote V-8 makes a comeback under the hood of GT models. Since 2011 this spectacular twin-cam 32-valve monster motor has been thrilling owners of Mustang GT's with its colossal power and silky smooth operation and for 2015 Ford engineers made some revisions to make the 5.0-litre even better. There is a rebalanced forged steel crankshaft and sinter forged connecting rods that are lighter and more durable to support higher-rpm operation with less vibration. This revised crankshaft is need in order to withstand the riggers of the 7,000 rpm redline that is possible thanks to new cylinder heads, valvetrain and intake manifold that allows this stunning V-8 to breath more freely from idle all he way up t redline.
Straighter intake ports in the cylinder head improve air flow while larger intake and exhaust valves allow more air into and out of the cylinders for more power. To take advantage of the larger valves both the intake and exhaust camshafts were revised and stiffer valve springs added to ensure that the valves close completely at high rpm. The combustion chamber was also modified along with redesigned piston tops with deeper cutouts to accommodate the larger valves were also thrown in. Engineers also played with the variable camshaft timing on the intake side allowing a greater range of adjustment. This change optimizes valve timing over a greater range of rpm and primarily improves both emissions and fuel economy making the big bad V-8 a little more environmentally friendly; that is until of light up the tires for a smokey burnout.
The new intake manifold features charge motion control valve plates that partially close off port flow at lower engine speeds. When the ports are partially closed this causes the air charge to tumble and swirl allowing the fuel and air to better mix. This improved mixture burns more efficiently in the combustion chamber resulting in better idle stability, fuel economy and lower emissions; all good things.
All the modifications have conspired to boost power of the 5.0-litre up to 435-horsepower and 400 pound-feet of torque, just shy of the 444-horsepower produced by the epic 2012-2013 Boss 302!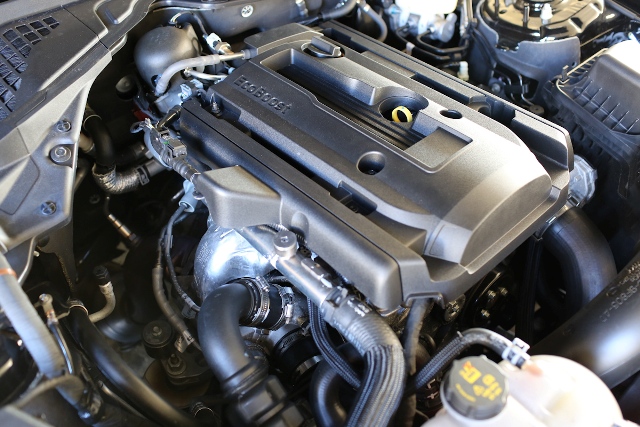 New to the line-up is the super efficient, yet powerful 2.3-litre EcoBoost four cylinder engine.
While the V-8 is still the undisputed king of horsepower for the regular production Mustang in 2015 it is the newly introduced third engine in the Mustang line up that is the most interesting, especially for enthusiasts who are on a budget. Nestled between the V-6 and V-8 in the lineup is the turbocharged 2.3-litre EcoBoost four cylinder engine that puts out an impressive 310-horsepower and 320 pounds-feet of torque. Over the last few years Ford has had huge success with its EcoBoost range of engines that produce prodigious amounts of power while sipping fuel at a miserly rate and finally this technology has been fitted to the Mustang.
The premise of the EcoBoost is for a small engine to produce the power characteristics of a larger displacement engine by combining sophisticated technology together such as direct injection, variable valve timing and turbocharging. The results of installing EcoBoost technology in other Ford products have been very impressive thus far and the Mustang should be no different. While EcoBoost engines have been use primarily in vehicles like the F-150 and Fusion to improve fuel economy the Mustang won't be the first Ford product with a performance focused EcoBoost product. Performance vehicles such as the Taurus SHO, Focus ST, and Fiesta ST all have used different forms of the EcoBoost engine and all three vehicles are spectacular!
The addition of the 2.3-litre EcoBoost four isn't the first time a turbocharged engine has been optional in the Mustang line-up. Back in the late 70's and early 80's another unrelated 2.3-litre turbocharged engine was made available that promised performance combined with fuel economy. After a couple of harsh fuel shortages manufacturers were scrambling for new ways of wringing out every last bit of energy out of a drop of fuel. Theoretically turbocharging was a means to improve the performance of smaller engines up to the levels of larger gas guzzling V-8's without using as much fuel.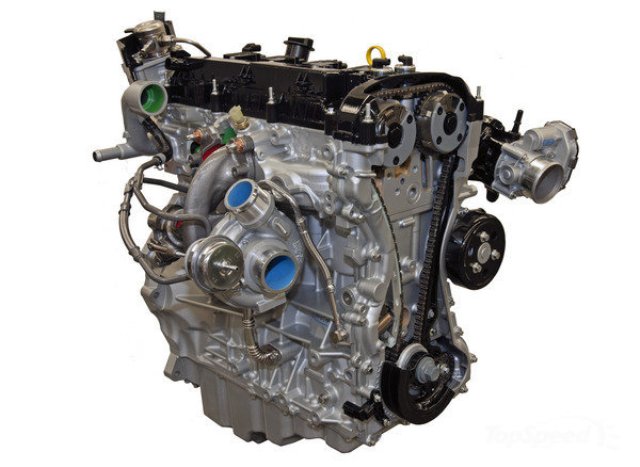 A detailed view of the 2.3-litre Ecoboost engine.
Unfortunately those early turbo engines were duds as the technology just wasn't advanced enough to work reliably or efficiently. However Ford stuck it out and steadily improved their turbocharged engines to the point where they were both fast and reliable. In fact the turbocharged 1984-1986 Mustang SVO is regarded as a performance high mark for the 1980's. But times had changed; fuel was again cheap and plentiful and buyers shied away from the expensive SVO in favor of the cheaper V-8 powered GT so after 1986 there would not be another four cylinder turbo Mustang, until now. But don't confuse the modern EcoBoost Mustang with its SVO forbearer. Unlike the SVO which was a premium priced product that stepped on the toes of its V-8 sibling the EcoBoost Mustang is less expensive than the GT V-8 and appeals to a different buyer who may not be able to afford a GT yet still wants a Mustang that can provide outstanding performance and fuel efficiency.
The 2.3-litre EcoBoost engine is a marvel of modern technology employing every technological trick to squeeze out every last bit of power from a drop of fuel. Starting with a lightweight, high-pressure die-cast aluminum cylinder block and ladder frame with integrated main bearing caps, engineers threw in forged internals that can resist the punishment of turbocharging. Inside, there is a forged steel crankshaft with premium bearing materials along with high-strength forged steel connecting rods with full floating pins. Attached to those strong rods are a set of light weight, high-strength pistons with low-friction skirt coating, steel ring carriers and increased compression ratio. For added durability the pistons are cooled by oil jets. At the bottom of the block is a baffled deep-sump die-cast aluminum oil pan that acts as a structural member of the engine assembly. To quell any undesirable vibrations that are inherent in any large displacement four cylinder engine the 2.3-litre EcoBoost is equipped with a chain driven balance shaft located between the oil pan and crankshaft.
Capping off the block is an aluminum high-low cylinder head with an integrated exhaust manifold that separates the inner and outer pairs of cylinders into each of the two inlet passages of the turbo. The advantage of having two separate exhaust streams to the turbo is this better preserves the pulse energy that spools up the turbo creating boost quicker for better torque deliver when the driver needs it. Another benefit of the separated exhaust ports is that the exhaust valves can stay open longer reducing pumping loses and further improve fuel economy. For maximum power and efficiency the chain driven twin camshafts that operate the four valves per cylinder are manipulated by Ford's twin independent variable camshaft timing that operates on both the intake and exhaust cams.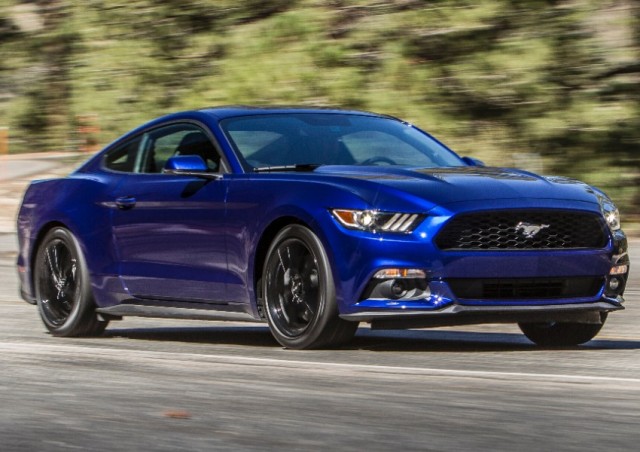 2015 Mustang EcoBoost with Performance Package
Engineers made use of direct fuel injection, another state of the art technology that improves both power and efficiency. Unlike indirect fuel injection that sprays fuel just ahead of the intake valve(s) in the intake manifold, direct injection has an injector that sprays fuel straight into the combustion chamber at a greater pressure. With direct injection the fuel burns more evenly and thoroughly resulting in cars that run more cleanly and efficiently with more power to the wheels to boot.
Even the turbocharger on the 2.3-litre EcoBoost engine is special. It is a low-inertia twin-scroll unit that provides quicker boost response, improved efficiency and lower emissions. This twin-scroll turbo combined with that special exhaust manifold that separates the exhaust pluses completely eliminates the dreaded turbo lag that affected turbocharged engines of the past.
All three engines send their power through a choice of either a slick shifting six-speed manual or an improved six-speed automatic transmission now standard with SelectShift. Manual transmission Mustangs now have the shift lever positioned closer to the driver and cupholders have been moved to avoid interference when rowing through the gears. And selecting those gears has also been made easier thanks to a new shift linkage design that has improved precision and easier engagement.
For those who prefer to let the car handle shifting duties while running errands or during their commute to work but still want to take control while blasting down a twisty country road can choose the improved automatic that now features standard steering wheel-mounted shift paddles. The paddle shift selectors add an extra splash of sportiness to the SelectShift six-speed automatic with rev-matching downshifts. Other improvements to the automatic include a redesigned case with cast-in ribs that make it lighter and stiffer; optimized clutches and increased operating temperature to reduce friction; and the output shaft is now supported by a ball bearing. All the changes result in a two pedal Mustang that is responsive and more enjoyable to drive.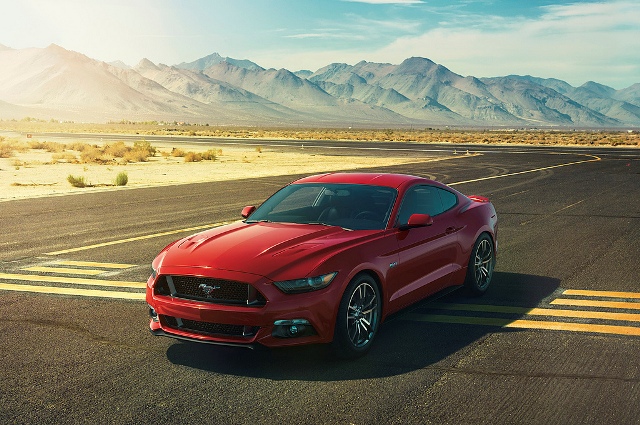 2015 Mustang GT
Power is sent through a limited slip rear differential on all Mustangs regardless of engine and transmission option for 2015. What does vary is the final drive ratio. Six-cylinder Mustangs come standard with an economical 3.15:1 gear ratio with a sportier 3.55:1 ratio as an option on both manual and automatic transmission models. Three-pedal EcoBoost Mustangs come with a 3.31:1 axle ratio however that gets replaced with a 3.55:1 ratio when the optional Performance Package is specified. For self-shifting four-cylinder Mustangs the fuel saving 3.15:1 ratio is standard with the 3.31:1 being optional and the 3.55:1 gear set is installed as part of the Performance Package. Top of the range Mustang GT's with the five-litre V-8 and automatic transmission come with a 3.15:1 ratio as standard equipment but can be upgraded to a 3.55:1 final drive if so desired. Manual transmission GT's come with the 3.31:1 ratio with the 3.55:1 available as an option. For those enthusiasts who opt for the Performance Package they receive a 3.73:1 axle ratio with a Torsen limited slip.
For over twenty years rumors swirled that each new generation of Mustang would receive a proper independent rear suspension and with every new Mustang introduced since 1994 there would be disappointment among enthusiasts when a new generation would arrive with a solid rear axle suspension. Sure the 1999-2004 Cobra's had a very trick independent rear suspension but those were limited production, high dollar cars that only a lucky few could own. This left main stream Mustang buyers with the adequate but completely outdated rigid rear axle. Times have changed and with increasing competition from rivals in Detroit and imports that all sport a superior rear suspension set up Ford need to step up their game with the 2015 Mustang and they did. Finally, for 2015 every Mustang from the base V-6 all the way up to the most expensive GT comes with a thoroughly modern four wheel independent suspension system that promises to catapult the Mustang to new levels of ride and handling performance.
This sophisticated new rear suspension features an all new integral-link independent rear suspension that consists of an aluminum lower control arm, integral link, an upper camber link and toe link. New aluminum alloy rear knuckles reduce unsprung weight to keep the wheels planted on the road. There are also specifically tuned bushings, springs and dampers thrown in that in combination with the rest of the new hardware delivers improved mechanical grip over the previous generation Mustang. With the new independent rear suspension geometry is vastly improved allowing the 6th generation Mustang to have better pitch control to keep the body level under extreme acceleration and braking conditions.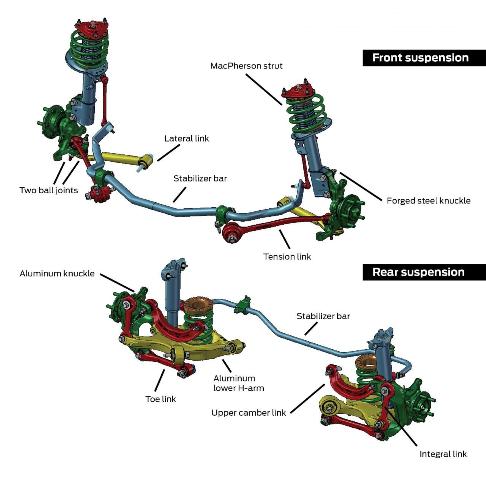 Finally all Mustang buyers benifitted from an all new independent rear suspension that has given the 2015 car oustanding ride and handling characteristics.
Up front the 2015 Mustang receives a new non-isolated perimeter subframe that provides a solid yet lightweight foundation for the new suspension. A new double-ball-joint MacPherson strut front suspension allows for the use of larger brakes without having to use wheels with excessive offsets that would numb steering feel. Geometry is also improved with additional pitch stability and anti-dive motions that allow the new Mustang to feel more stable and secure.
With an all-new fully independent front and rear suspension systems bolted to a stiff body structure the 6th generation Mustang does a much better job of keeping its four wheels in contact with the ground improving both handling characteristics and day to day ride quality.
While the standard suspension on the 2015 Mustang is excellent with the best handling standard Mustang ever built there are those enthusiasts who always crave more performance and better grip and they have not been overlooked. For even higher levels of capability buyers can add a performance pack to EcoBoost fastback or convertible or GT fastback.
The performance pack on EcoBoost Mustangs includes retuned springs, bushings and monotube rear shocks; thicker rear sway bar; a K-brace that connects the strut towers to the bulkhead; retuned electric power steering, ABS and electronic stability control; a centre gauge pack; additional cooling capacity; four-piston 46-millimetre fixed aluminum front calipers with 352-millimetre front rotors and single piston floating iron rear calipers with 330-millmetre rear rotors; unique 19x9 inch alloy wheels finished in Ebony Black with Pirelli 255/40R19 Y-speed-rated tires front and rear and a 3.55:1 rear gear ratio.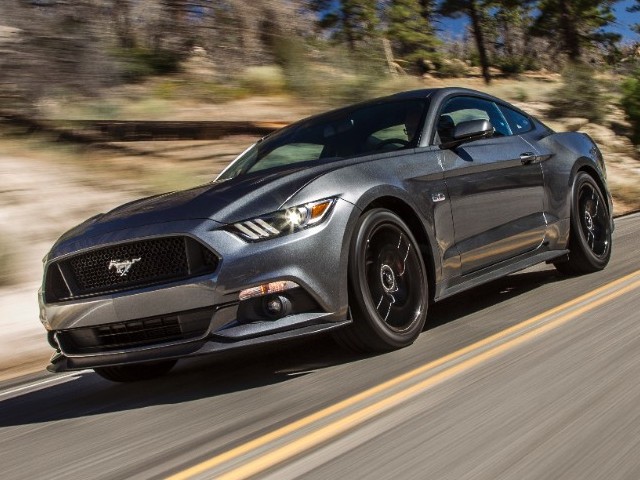 2015 Mustang GT with the Performance Package
The performance pack available on the Mustang GT takes performance up a notch further with even more aggressively tuned springs, bushings and monotube rear shocks, thicker rear sway bar and a strut tower brace. The electric power steering, ABS and electronic stability control were also retuned and the centre gauge pack is added. Front brakes consist of gorgeous looking Brembo six-piston, fixed aluminum calipers with massive 380-millimetre rotors. To keep the front brakes from melting down under extreme conditions a unique front splitter is included that channels cooling air to the front brakes. At the rear is the same single piston floating iron rear calipers with 330-millmetre rear rotors that are found on the EcoBoost performance pack. Tires are 255/40R19 Pirelli Y-speed-rated tires wrapping unique 19x9 inch Ebony Black painted alloy wheels up front with huge Pirelli 275/40R19 Y-speed-rated tires mounted on unique 19x9.5 inch Ebony Black painted alloy wheels are at the rear. Rounding out the GT performance pack is a 3.73:1 final drive ratio with a Torsen limited slip diff that gives the car extra acceleration kick.
The performance pack promises to be a real hot performer. Engineers had the goal to go above and beyond the driving dynamics of the already sensational 2012 Boss 302, a lofty goal indeed. During track testing a 2015 Mustang GT equipped with the performance pack consistently beat the lap times of the 2012-2013 Boss 302 thus making the all-new 2015 6th generation Mustang the best all round performing ever produced.
Not only is the 2015 Mustang the best performing and engineered Mustang ever built, it is also packed with a vast amount of innovative electronics and technologies that provide owners with information, control and connectivity never before seen in any past Mustang. Familiar technologies such as SYNC, MYKey, Track Apps and MyColor gauges all return and are enhanced with new features such as a new Shaker Pro Audio System, Blind Spot Information System (BLIS) with cross-traffic alert, adaptive cruise control and Intelligent Access with push button start all make the 6th generation Mustang a technological tour-de-force. With all its new and enhanced technology the Mustang is even more tunable to each driver's desires. With a tap of the console mounted toggle switches the driver can quickly adjust steering effort, engine and transmission response and electronic stability control settings using the Selectable Drive Modes to customize their driving experience.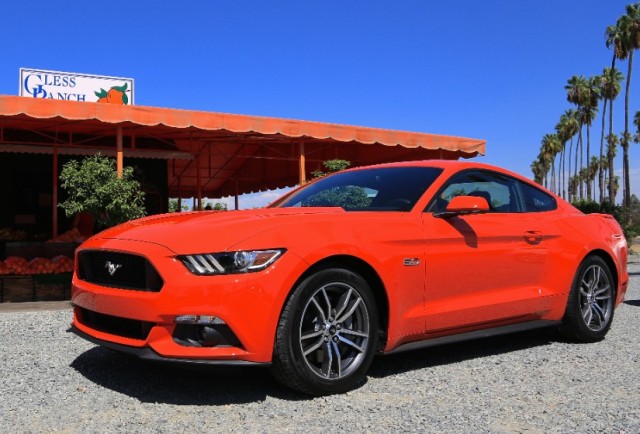 2015 Mustang
The 2015 Mustang is also the safest Mustang ever produced with new enhancements to the SYNC 911 Assist feature making its debut. The system works in conjunction with a mobile phone connected to SYNC to call 911 when needed. These enhancements provide the ability to deliver important information to emergency dispatchers such as indication of crash type, safety belt usage, awareness of whether multiple impacts occurred and whether airbags were deployed. This vital information can then be passed along to first responders en route to an accident.
To enhance cash survivability the new Mustang is equipped with an all new inflatable airbag restraint that provides the front seat passenger with a knee airbag that is lighter weight and a more compact design. This new airbag is a part of a comprehensive safety system that not only doubles the total number of airbags, to a total of eight, but also includes an improved package of exterior lighting, sensors, and safety belt anchor pretensioners. With all its technology and safety enhancement the 2015 Mustang takes occupant safety to a whole new level in the Pony car market.
Since its inception every new generation of Mustang has been welcomed with a combination of excitement and trepidation among enthusiasts. Some generations have been more successful than others and with its improved aerodynamics and structure, sleek styling, improved suspension, sparkling performance and technical innovations the 6th generation Mustang should go down in history as one of the more successful renditions of the worlds favorite Pony car making the 2015 model not only deserving of the Mustang name but a great tribute to 50 years of automotive greatness. Long live the Mustang!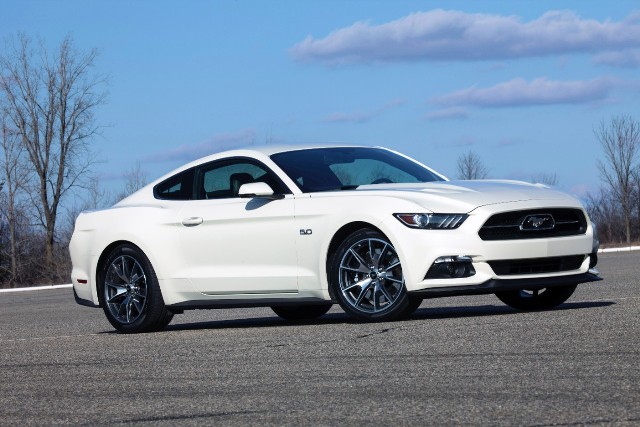 2015 Mustang 50th Anniversary Special Edition