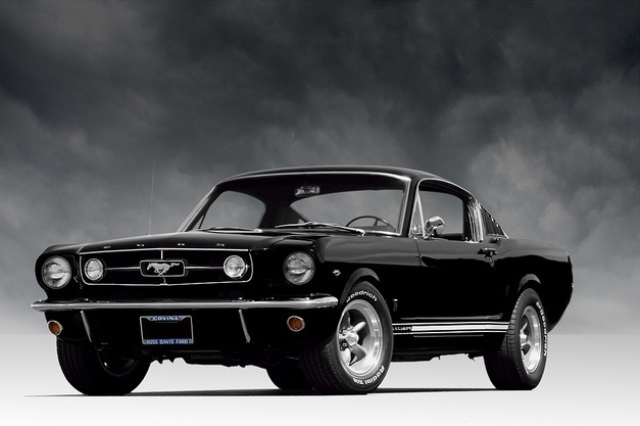 Written by James Dolan
On April 17th 1964 the Ford Mustang was unveiled to the public for the first time and the car instantly became a sensation. Popularity was so strong that dealers took about 22,000 orders on the first day alone, making the Mustang the most successful vehicle ever launched in history, a title it still holds to this day fifty years later. Mustang fever was so great that there are stories of dealers being swamped by eager customers wanting to buy a Mustang of their own. Many dealerships had to close their doors fearing that potential customers would overrun the dealership, injuring staff and damaging vehicles in their mad rush to buy the car.
Some dealers were selling cars to the highest bidder, while others would take as many orders and healthy deposits as they could that first day. Legend has it that one customer even stayed with his new Mustang going as far as sleeping in it while waiting for his cheque to clear fearing that the dealership would sell his new car out from under him. So why was the Mustang so popular? What would cause such euphoria over an automobile? To understand you have to look back upon American society in 1964.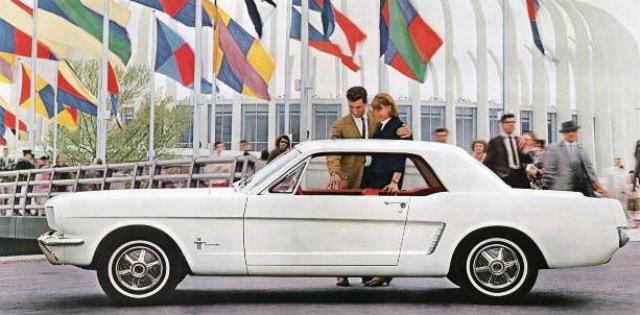 The 1964.5 Mustang Coupe at the World's Fair in New York City.
Nineteen sixty-four was a year of major cultural and social change in the United States. American society hadn't really progressed since the 1950's. People were expected to fit into a certain mould. Men were expected to wear dark suits with ties and have their hair cut short. Women were to become house keepers and stay at home with their children. Families bought houses in the suburbs and this social conformity was supposedly the road to happiness. However social change had been brewing for a few years. African Americans still didn't have equal freedoms and opportunities and their discord was bubbling to the surface. Suburban teenagers were bored and looking for outlets to express themselves.
As a matter of fact, the whole country was tiring of conforming. In addition market demographics were changing rapidly. The first wave of baby boomers were growing up and beginning to buy large ticket items such as vehicles and they wanted something fun to drive. Ford's sales and marketing guru, Lee Iacocca could sense that the motoring public was eager for an exciting, attention grabbing, reasonably priced car that would be an expression of the owner's personality.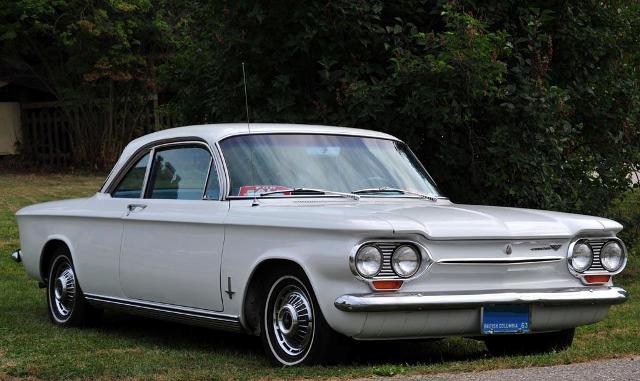 The success of the Chevrolet Covair Monza was the inspiration for Ford to build a sporty car of their own.
There were signs of this shift in market place. General Motors was having great success with the radically engineered, rear engine, air-cooled Chevrolet Corvair. Iacocca noticed that the Corvair was particularly popular with young buyers. Ford needed something similar to compete with the small and sporty Corvair. Sure, Ford had the massively successful compact and economical Falcon range but it was stodgy; not something you would buy based on pure emotion. With the Thunderbird growing in size and price Ford no longer had a sporty car in its lineup. Ford dealers lots were awash with austere, practical, but boring cars. Iacocca figured that he would have a winner on his hands if Ford sold a vehicle that combined the excitement and youthful appeal of the Corvair with the low priced sensibility of the Falcon.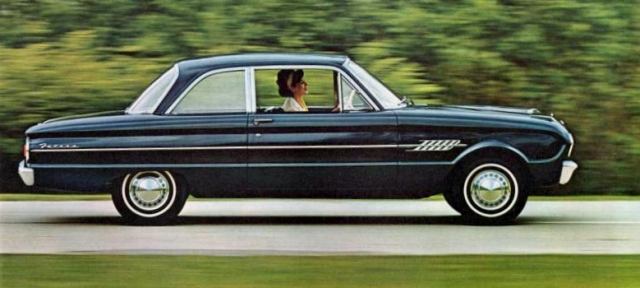 1962 Ford Falcon Futura
In November of 1960 Iacocca was named vice-president and general manager of the Ford division. Iacocca's first step as vice-president was to spruce up the dreary Falcon line with brighter paint, more chrome and bucket seats to the two-door body. The new trim was designated the Futura. At the same time the larger Galaxy line had a fastback roof added to the line-up. Public reaction to the new, sportier models was favorable and sales were strong. While these were stopgap measures; they did however, lay down the foundation for future vehicles. The success of the Falcon Futura and fastback Galaxy models gave Iacocca more confidence that his vision of a new sporty car would be successful.
In 1961 Ford engineer Don Frey had gathered a small group of engineers and designers to develop a concept of a small, sporty car that was endowed with certain cache to rival the Chevrolet Corvette. Like Iacocca, Frey knew that there was a burgeoning youth market that was hungry for an exciting car. However, Ford's researchers informed Frey's group that there wasn't enough of a market for a two-seat sports car. The group began working on concepts with four-seats but unfortunately by 1962 their concepts had become stale and the project was set aside.
Meanwhile Iacocca had approved the development of a mid-engine two-seat concept car to gauge public reaction of such a vehicle. The little sports car was a hit with the press and reaction from the public was extremely favorable as well. This concept car became known as the Mustang, but this vehicle was never really considered for production; it was solely made to gauge public opinion. It was simply too expensive build and with seating for just two it would not have the market potential needed to be a sales success. Both Frey and Iacocca knew Ford needed a sporty car they just needed the right car for the marketplace.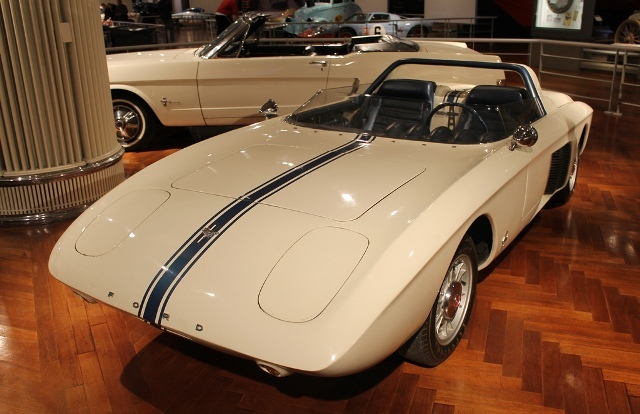 1962 Mustang Concept Car had 2 seats and a mid-mounted V-4 engine.
As vice-president of Ford, Iacocca was able to surround himself with hand picked, liked minded group of young up and comers within the company. This group consisted of people throughout the company with many different disciplines. Don Frey was chief engineer; Walter Murphy was from public relations; Frank Zimmerman was from marketing; Hal Sperlich was a product guy; and Sid Olsen was a talented advertising copywriter; this talented group of individuals became known as the Fairlane Committee since they met at the Fairlane Motel located near Ford headquarters in Dearborn. It was this group headed by Lee Iacocca who came up with the concept of the Ford Mustang that we know today.
The Mustang concept was a simple, 'small-sporty' car that wasn't an all out sports car like the MG, but was adaptable, light weight and cheap four-seater that was easy to drive and had decent sized trunk. This would be a car that would appeal to young families, couples or even single people from all walks of life. The car had to be both fun and practical in order to reach the widest possible audience be able to achieve maximum sales. To save development time and costs it was decided to use as many parts as possible from existing Ford vehicles and base this new car on the Falcon platform.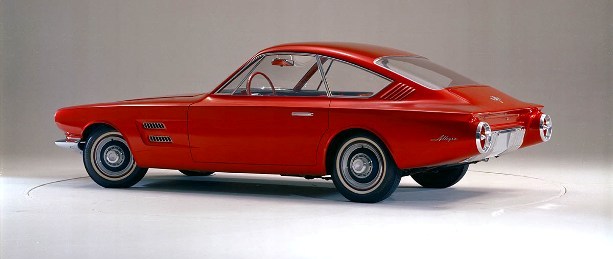 1962 Ford Avanti Concept Car was an early experiment with a four seat sporty car.
In early 1962 the Fairlane Committee had a concept for their youthful sporty car; however this car needed the approval of Henry Ford II and this would not be an easy sell. Iacocca was the man to sell the concept of the Mustang to Henry Ford II, but Ford was lukewarm to the idea. Ford has just been through the marketing and sales disaster with the Edsel and he wasn't in the mood for another major flop. Besides the Ford Motor Company was in the middle of a major retooling of its lineup for 1965 and money was already allocated to that. Henry didn't want the embarrassment of another failure on his hands and he was more than happy with the status quo selling as many Falcons as they could produce. Eventually Iacocca assured Ford that he could sell this new car and Henry relented; allowing development of the production car to begin.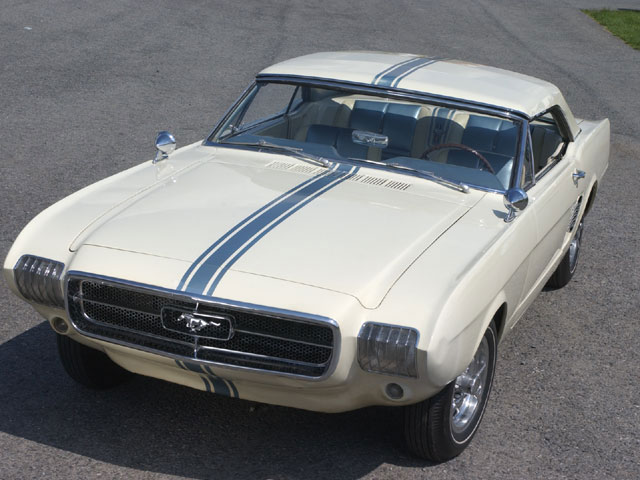 1963 Mustang II concept indicated what the production car looked like.
Work on the new car began in earnest. By the summer of 1962 there remained just 21 months until the reveal and the car hadn't even been designed yet. After a few initial designs were rejected the decision was made to hold a design competition within the company. The staff in the design department was given two weeks to prepare full sized clay models to show to Ford management in August. Dave Ash was responsible for the winning design. His car had the now recognizable long hood, short trunk that has been a hallmark of every Mustang since day one. The car looked long, low and appeared to be in motion even at this early stage.
Finally after months of work Don Frey, Lee Iacocca and the Fairlane Committee had the four-seat sporty car that they had envisioned. Now the car was turned over to Don Frey and his group of engineers who was handed the colossal task of turning the clay model into a production ready automobile in just 18 months. Fortunately for the group of engineers most of the 'heavy engineering was already done. Since major mechanical components such as engines, transmissions, and suspension were all borrowed from other Ford products, the team just had to adapt the new body work to the Falcon platform. Still, in sixties this was a monumental undertaking as computer aided design and engineering was still many years into the future.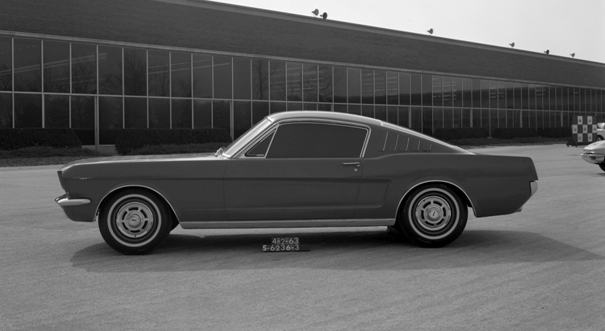 A clay model from 1963 of what would become the 1965 Mustang fastback.
While the car was taking shape it still didn't have a name. Henry Ford II wanted to call the car 'Thunderbird II'. The styling department was pushing very hard for 'Cougar' while 'Torino' was another strong contender. After much debate the car was to be called the Mustang; just like the early mid-engine concept car. Originally the car was named after the World War II P-51 Mustang fighter aircraft. However it was soon clear that the name was more closely associated with horses, cowboys and the excitement of wide open spaces; thus the horse became the trademark of the car. With styling, engineering and the car having a name, all they had to do was sell it.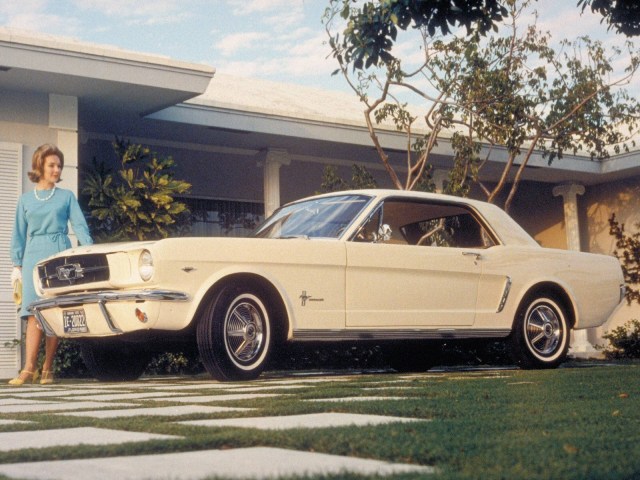 1964.5 Ford Mustang Coupe.
Perhaps the true genius of the first Mustang wasn't the car it's self but was the marketing behind the car. Iacocca had put himself on the line in the eyes of Henry Ford II and this car needed to be a success. Just to add to the pressure, Iacocca made it a goal to sell 417,000 Mustangs in it first year of production. This was a lofty, if not cocky goal since to only car to reach this mark was Ford's own Falcon just a few years earlier. Officially the Ford Motor Company set what was deemed as a realistic sales target of 250,000 units for the first year. Iacocca needed to pull out all the stops and use marketing and advertising strategies never before attempted in the auto industry.
To kick off the publicity machine a month before the launch a member of the Ford family drove a preproduction black Mustang to lunch in downtown Detroit restaurant. By strange coincidence some members of the press just happened to be at that very same restaurant that day. The next day the 'secret' photos taken of the car appeared in the Detroit Free Press and in Newsweek. This stunt fired up anticipation for the new car and national magazines quickly started writing about it.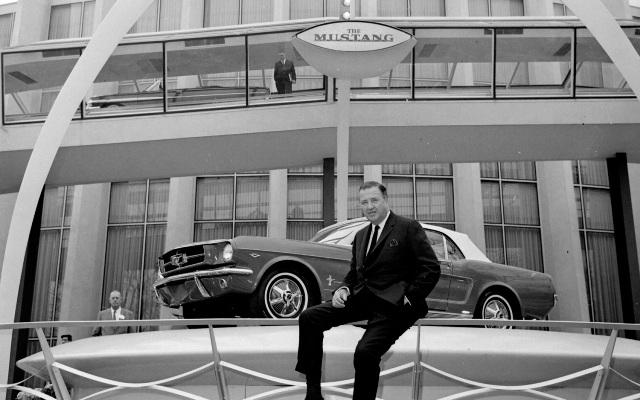 Henry Ford II posing with a Mustang convertible at the 1964 World's Fair in New York city.
The Mustang was to be unveiled at the New York World's fair on April 17th 1964. The night before the unveiling Ford bought the nine o'clock commercial spot on all three TV networks. Over 29 million viewers saw the ads for the new Mustang that night. The following day the Mustang was unveiled in New York. At the same time dealers who each had a Mustang covered up in their showrooms lifted the covers of the cars. About 2600 newspapers wrote articles about the Mustang that same day as well.
Mustang fever was so hot that dealers were inundated with customers all vying for the opportunity to have a Mustang of their own. The car sold out on the first day and dealers took 22,000 orders on the first day alone and over that first weekend nearly 4 million people flowed through Ford showrooms. Excitement and sales didn't stop there; 100,000 Mustangs were sold in its first four months. Quickly, it became clear that Ford's official target of 250,000 cars was under estimated, as a matter of fact by April 17th1965 Ford had sold just about 418,000 Mustangs, breaking the Falcon's record and Iacocca's personal goal.