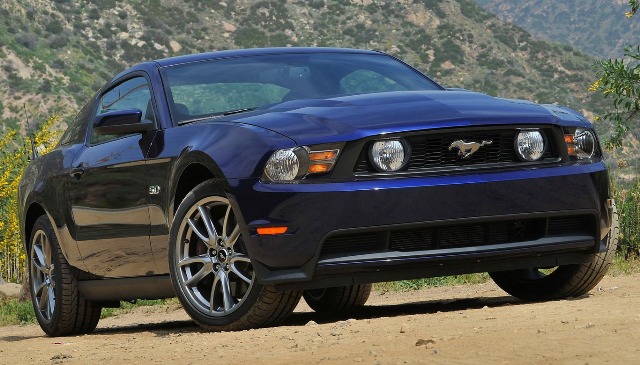 Written by James Dolan
At a time when coupes were considered a dying market, the 2005-2009 S197 Ford Mustangs were strong sellers. Its sexy heritage styling, strong performance and iconic history appealed to many buyers. The fact that it was the only pony car in the marketplace probably didn't hurt sales either. But other manufacturers noticed Mustang's success and Ford's strangle hold on the pony car market was soon going to end.
Dodge was the first competitor for the Mustang when they launched their own heritage inspired modern muscle car in 2008. The Challenger looked crisp and mean with aggressive styling that was heavily influenced by the sexy 1970 model. It was quite clear that the Challenger was going to be an aggressive competitor for the Mustang as it offered a full independent 5-link rear suspension and more powerful engines. Dodge didn't flood the market place with Challengers in its first year, only offering a high-end SRT8 model with a huge 6.1-litre Hemi V-8 with 5-speed AutoStick automatic transmission. While production of the 2008 Challenger was limited, Dodge was able to pre-sell its entire run U.S. run of 6,400 vehicles; many of which sold for well above asking price. This was just an indication that Dodge was serious about challenging the Mustang in the market place as more models of the Challenger were rolled out in 2009 with more powerful V-6 and V-8 engines under the hood than the Mustang.
While Dodge was introducing their new Challenger, General Motors was busy putting the finishing touches on an all new Chevrolet Camaro that was going to be introduced for the 2010 model year. Just like the Mustang and Challenger, the Camaro's stylists looked to the past when designing its new pony car. With a low roofline and pointy nose the 2010 Camaro was defiantly the most aggressively styled Camaro to date. Not only was it good looking, it was also sophisticated; riding on G.M.'s new Zeta architecture with four-wheel independent suspension. Under the hood the base power-plant was a 312-horsepower direct-injected 3.6-litre V-6 that was mated to either a 6-speed manual or 6-speed automatic transmission. While the base V-6 had impressive power the Camaro SS was powered by a rip roaring 6.2-litre 426-horsepower V-8 when equipped with the 6-speed manual or a 400-horseower V-8 when the 6-speed automatic was ordered. It was quite clear that G.M. wasn't about to take any prisoners in its newly declared war against the Mustang.
With aggressively styled, sophisticated competition from Chevrolet and Dodge that had higher powered engines, it was clear that Ford had to do something with the Mustang, and fast, as the Mustang was in danger of quickly being irrelevant in the marketplace. Thankfully, the return of the Camaro wasn't a complete surprise to Ford so its stylists and engineers had some time to revise the S197 Mustang for 2010.
2010 Mustang GT and V-6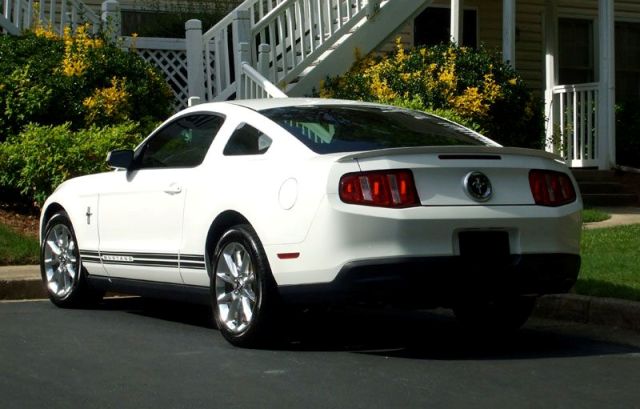 2010 Ford Mustang Pony Package
The majority of changes to the 2010 Mustang were to the exterior of the car. Just as had been done a decade earlier with the restyle of the SN95 that created the New Edge Mustang, designers left the roofline of the car alone and concentrated on the areas below the beltline. Stylists narrowed the grille opening and tapered the front end giving the nose a more aggressive appearance. The headlamps were narrowed and now integrated the parking/turn signal lamps into them. Once again, GT's had their huge fog lamps mounted in the grille. A power-dome hood gave the front of the Mustang a more muscular appearance. Borrowing a look from the 1969 Mustang was the quarter panels that kicked-up long the beltline giving the 2010 a slightly broader look along its sides.
At the rear the sheet metal was beveled and the three-lens taillights redesigned that now featured Light-Emitting Diodes (LED) and sequential operation, recalling the Shelby's from 1968. Other detail changes included washer nozzles being moved from the hood to the cowl and the antenna relocated from the right front fender to the right rear quarter panel for a cleaner look. Once again the Mustang was available in coupe, convertible and glass roof body styles. All the changes gave the Mustang an aggressive, muscular look that was cleaner and more cohesive design.
Inside, the twin-cowl themed dash continued, however the design was cleaned up and materials were upgraded better quality, soft touch plastics and more metallic trim pieces with less cheap looking plated plastics. A redesigned instrument cluster greeted the driver with upgraded displays and dials made reading the instruments easier to view at a glance. In order to control the Mustang's many new electronic features, the steering wheel was redesigned with buttons to not only operate the cruise control but radio and other convenience options as well. The round centre dash vents were now rectangular. Below that the centre stack was completely reworked with a redesigned display and audio and climate controls all housed in an integral looking unit.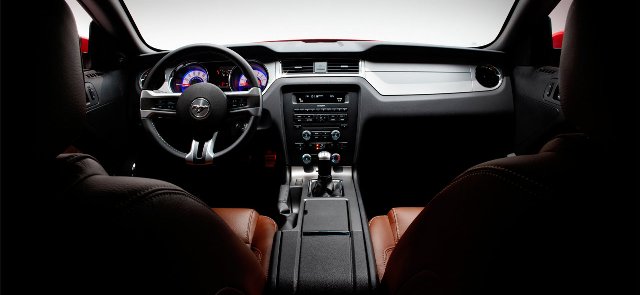 2010 Ford Mustang interior
A navigation system with a huge 8-inch display screen was optional. This system featured voice activation and route guidance that read upcoming street names aloud, detected traffic incidents and offered route alternatives. For music lovers there were ten-gigs of storage space available for music or pictures. The music could be managed through the Jukebox function and the system could store up to 2,400 songs; now that's a lot of road trips!
Another advanced option was Ford's Sync system that was created in partnership with Microsoft. This system allows drivers the ability to operate Bluetooth-enabled mobile phones to make hands-free phone calls and plug in digital media into the USB port to control music and other functions through their vehicle using voice commands, steering wheel and radio controls.
To assist with reversing maneuvers the 2010 Mustang also offered a rear view camera. This hi-tech helper offered a full-colour image of what's behind the car projected on either the rear view mirror or on the 8-inch display screen on cars equipped with the optional navigation system. An overlaid grid added some directional assist and distance reference in tight spaces.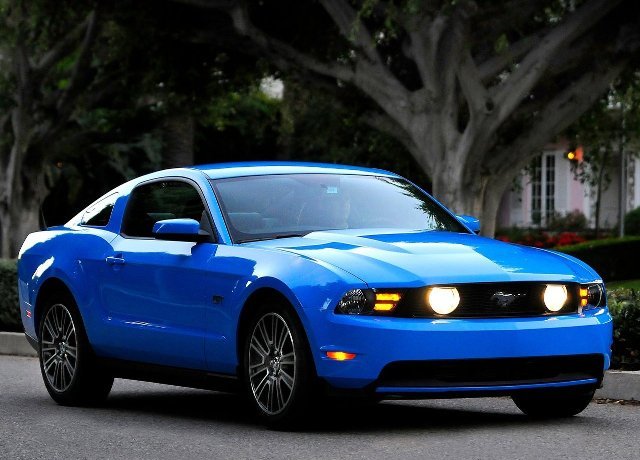 2010 Mustang GT
Optional interior packages included the Comfort Package for buyers of V-6 Premium and GT Premium models that included heated front seats, 6-ways power front-passenger seat and auto-dimming rear view mirror with compass. Another option for GT Premium customers was the Premier Trim with Color Accent Package that included Charcoal Black interior with colour accented seats, unique door trim with bright pony badge, dark-aluminum instrument panel and aluminum shift knob.
The always popular V-6 Pony Package galloped back into 2010 and now included larger 18-inch polished-aluminum wheels wrapped with P235/50WR18 all-season tires. Other niceties included Pony grille with chrome bezel, fog lamps that were now mounted in the lower fascia, Pony fender badges, lower bodyside tape stripes, rear spoiler, body-colour side view mirrors, chrome exhaust tip, automatic headlamps and carpet floor mats with Pony logo.
With all its new technological, comfort and convenience features it was clear that Ford was ready to bring the Mustang up to the next level to compete with its Detroit rivals. Never before had a Mustang been available with such an array of hi-tech, advanced features.
While the 2010 Mustang looked fresh and was brimming with electronics and convenience features; underneath the car was largely carried over from 2009 with some improvements. The base Mustang continued to use the ageing 210-horsepower 4.0-litre V-6 engine that was clearly out classed by the base engines in both the Challenger and Camaro in areas of power and refinement. Clearly the V-6 was outdated but Ford had a solution for the following year.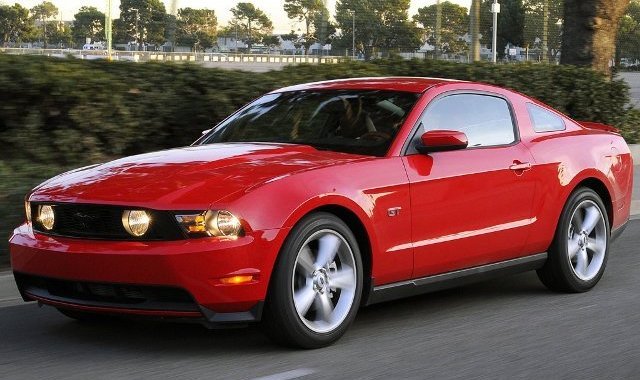 2010 Mustang GT
The 4.6-litre 3-valve V-8 was treated to the cold-air induction system from the 2008-2009 Bullitt that brought power up to 315-horsepower. Another addition to the GT that didn't improve performance but did enhance the Mustang experience was the addition sound induction tube that ran from the intake to the interior that allowed more of the throbbing V-8's reverberations into the passenger compartment. While still not close to the competition power wise, the improved kick was definitely appreciated and was a stop gap measure while Ford was readying and new power-plant for the GT. Both the V-6 and V-8 power cars continued with the same 5-speed automatic and manual transmissions that had been available since 2005.
Handing on GT models was improved with some suspension enhancements borrowed from the previous year's Bullitt edition. Stiffer springs were installed along with recalibrated shocks that offered stiffer compression and rebound dampening. Base Mustangs now rode on 17-inch aluminum wheels as standard equipment with 18-inch wheels being optional. Mustang GT's were upgraded 18x8-inch aluminum wheels with 235/50ZR18 Pirelli P Zero Nero all-season rubber. An optional wheel and tire package was available on GT's that came with 19x8.5-inch bright machined-aluminum wheels fitted with wider 245/45ZR19 tires.
All Mustangs now came standard with Ford's AdvanceTrac stability control system – a first for the Mustang. The system would intervene if it sensed that that car was skidding out of control and would reduce engine power and use the braking system on the appropriate wheel(s) to attempt to regain control. On slippery surfaces the system also worked as a traction control system to help the driver gain traction to get underway. Because the Mustang was a performance minded vehicle the system would allow the driver quite a bit of leeway before taking over. A sport setting allowed for even more driver induced tomfoolery before kicking-in. For the ultimate fun and complete driver control the system could be defeated.

2010 Mustang GT
Performance loving enthusiasts could choose from two option packages available on the Mustang GT. First was the 3.73 Rear Axle Package that upgraded the rear axle ratio from the standard 3.31:1 to a short 3.73:1 axle ratio and also included dual-piston front calipers, performance brake pads and recalibrated AdvanceTrac electronic stability control system. This package allowed the driver to get the best possible acceleration and braking performance out of their Mustang GT.
For the ultimate performance potential the package to have was the awesome TrackPack that included the upgraded 3.73 axle ratio, dual-piston front calipers with performance brake pads, recalibrated AdvanceTrac electronic stability control system, GT500 34-millimeter front and 24-millimeter rear stabilizer bars, retuned front and rear dampers, GT500 rear lower control arms and 19-inch premium painted luster-nickel aluminum wheels shod with larger 255/40ZR-19 Pirelli P Zero summer only performance tires. With this package Ford claimed that body roll was reduced by ten-percent and maximum grip increased to a sensational 0.93 g. On the road a TrackPack Mustang reacted much more quickly to steering inputs and could turn in more aggressively than a standard Mustang GT.
While all the changes to the 2010 Mustang were terrific and vast improvements compared to the previous car, it was still lacking when compared to the competition. Both the base V-6 and GT V-8's were crying out for better, more powerful engines. When the 2010 Mustang was introduced Ford was very tight-lipped regarding what was in store for the 2011 model year. Since the Mustang had just gone through a major revision for 2010 no one anticipated what Ford had planned for 2011 and it was one hell of a surprise!
2011-2014 Mustang GT and V-6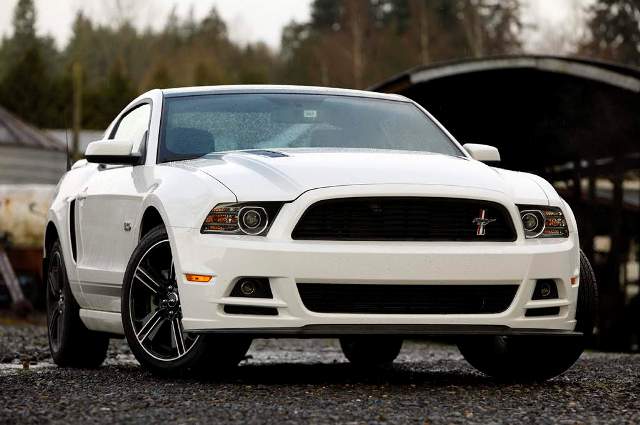 2013 Mustang Califonia Special
For 2011 Ford made some monumental changes under the hood of the venerable Mustang. While the revisions in 2010 was evolutionary the alterations to the power-train was nothing short of revolutionary. In 2010 the new Camaro handily outsold the Mustang and on the streets it completely over-powered it as well with its modern engines and transmissions. This didn't catch Ford by surprise as engineers were diligently working on a pair of new engines and transmissions for the Mustang that would be more than competitive with its cross-town rival from Chevrolet.
Base V-6 powered Mustangs received the most radical personality adjustment with the installation of Ford's new, ultra modern, 3.7-litre Cyclone V-6. This new jewel of an engine replaced the ageing 4.0-litre Cologne overhead-cam V-6 that could trace its lineage all the way back to 1962. Although the Mustang shared this 3.7 V-6 with the F-150 pick-up, it was far removed from the slow revving, rough running, unsophisticated V-6 truck engines of the recent past. With all-aluminum construction, dual-overhead cams with twin independent variable camshaft timing (Ti-VCT), 4-valves per cylinder and a tuned X-pipe dual exhaust the Cyclone V-6 in Mustang tune boasts an unbelievable 305-horsepower and 280 pound-feet of stump pulling torque.
To put this into perspective these numbers are comparable to V-8 powered GT Mustangs from the recent past and very close to the power ratings of Cobra's from a decade earlier! Even more impressive is that a Mustang powered by the Cyclone V-6 could achieve phenomenal fuel economy when driven responsibly. It was very possible for the owner of a 2011 V-6 Mustang to achieve over 30-miles per gallon of gasoline while cruising out on the open road. Given the power output this is simply remarkable. Not only was this V-6 powerful and economical, it was incredibly refined, so much so it was also installed in high-end Lincolns, quite impressive.

The 3.7-litre Cyclone V-6 is not only ultra smooth, refined and fuel efficient it is also a very spirited performer packing 305-horsepower.
With a new engine under the hood came a pair of all-new transmissions. Standard fair was a slick shifting Getrag MT82 six-speed manual that replaced the old five-cog unit. Optional was Ford's extremely pleasant 6R60 six-speed automatic that could run through the gears quickly and smoothly. Unfortunately a manual mode with paddle shifters wasn't offered with the automatic which would have been a nice addition in combination with the Cyclone V-6's fun, rev-happy demeanor.
At the rear the V-6 Mustang was given a limited-slip differential with a 2.73:1 ring and pinion ratio as standard or an optional performance 3.31:1 gear ratio with limited-slip. This allowed owners to lay down a patch of twin rubber stripes on the pavement if they chose. This was in contrast to the signature one-wheel peel of previous V-6 Mustangs.
Ford could have left the rest of the 2011 Mustang V-6 alone and the car would have been terrific, but they didn't and notched the car up further. By fiddling with the suspension tuning and dialing in some more "sport" the "base" Mustang was now actually tossible through the twisties without sacrificing the pleasant ride dynamics. The brakes were also upgraded to 11.5-inch rotors up front and 11.8-inch rotors at the rear. The steering was revised with the hydraulic power steering system being trashed in favor of a new electric power steering rack. These changes made the V-6 Mustang a legitimate contender in the inexpensive sport car market, but for those wanting to explore the ultimate potential of a Cyclone powered Mustang Ford offered up the V-6 Performance Package that could be ordered strictly on manual transmission coupe models.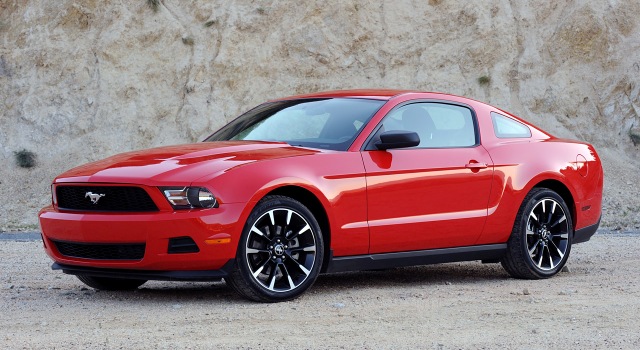 2011 Mustang V-6 Performance Package
By selecting the V-6 Performance Package the V-6 Mustang metamorphosed from a fun car into a ground hugging road machine that was guaranteed to provide hours of asphalt ripping entertainment while smearing the driver's face with a silly grin. The package included upgraded shocks, springs, and stabilizer-bars from the GT coupe; GT spec brake calipers with upgraded pads; the 3.31:1 limited slip differential; a strut tower brace; a gorgeous set of 19-inch painted machined-aluminum wheels outfitted with a super sticky set of summer only P255/40ZR19 Pirelli P Zero tires; and unique tuning of the electronic stability control system with a more liberal sport mode.
The always popular V-6 Pony Package returned virtually unchanged, and those people seeking just a little exterior flair an Exterior Appearance Package could be had that included lower bodyside tape stripes and a rear spoiler.
But for someone seeking something really special the Mustang Club of America Edition was made available in both coupe and convertible body styles. Ford wanted to pay homage to the many devoted members of the Mustang Club of America and the Mustang MCA Edition was the result. This special edition V-6 Mustang consisted of a painted dark stainless billet-style grille with the tri-bar running pony emblem; lower fascia mounted fog lamps; a unique "hockey-stick" style bodyside satin-black tape stripe with "Mustang" inset into the fender area; a tape appliqué on the deck lid; a rear spoiler; larger P235/50/R18 tires mounted on a handsome set of Sterling Grey Metallic painted-aluminum 18-inch wheels. Automatic headlamps and premium carpeted floor mats finished off the interior.
The MCA Special Edition Mustang was aggressively handsome and quickly became one of the few collectable six-cylinder Mustangs that will surely become a future classic.
Never again would the owner of a V-6 Mustang be scorned with ridicule by other sports car enthusiasts for being a poser. This Mustang was now a serious performer, especially when equipped with the Performance Package. Tire smoking, power-sliding hooliganism was just a prod of the throttle and twist of the steering wheel away; the kind of shenanigans that had previously been reserved for owners of V-8 powered Mustangs. And not only did the V-6 perform admirably it felt great while bounding down the road. The steering had terrific feed back and the suspension offered plenty of road holding capabilities even on the base cars. Cars with the Performance Package were simply stunning; easily out performing the previous years GT. In fact, I'd be willing to say a V-6 Performance Package Mustang might just be a better handling car than its bigger brother GT. It was a better balanced car with sharper reflexes and nimble feeling that the heavier GT just couldn't match. If you relished craving corners and never travel in a straight line this was the Mustang for you.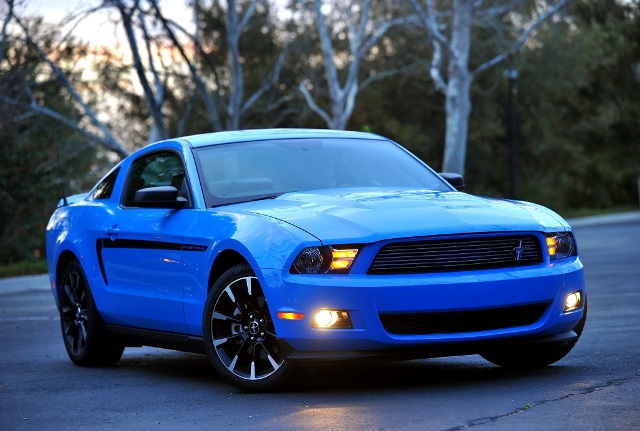 2011 Mustang Club of America Edition
The 3.7-litre Cyclone engine completely transformed the base Mustang from a pleasant cruiser that didn't really overly impress to an astonishingly good car. In all honesty, you no longer needed a V-8 to make a Mustang a fun car to drive. It could dash to 60 mph in 5.5 seconds, embarrass more expensive cars through the corners, yet still be used as a comfortable and economical daily commuter. Although the V-6 didn't have the V-8's signature burble and bark it did have a very pleasant note of its own when spun up to it's 7,000 rpm red-line. The V-6 had more than enough power, refinement and personality to impress; however for some of the staunchest Mustang enthusiasts only a V-8 will do and for 2011 Ford stuffed a new V-8 under the hood of the GT that boldly wore the legendary 5.0 nomenclature with pride.
After a 16 year hiatus the legendary thunder of a 5.0-litre V-8 made a return to the Mustang line-up. But don't be fooled, this 5.0 had no relation to the much loved mill from Mustangs past. This one was oh so much better in everyway! Ever since the 4.6-litre Modular V-8 supplanted the 5.0-litre V-8 many Mustang fans had been clamoring for the return of a 5-litre engine. No matter how powerful, advanced and terrific the 4.6-litre Modular V-8 was, there was still a loyal legion of followers who worshiped the numbers 5.0 with a religious like fanaticism and felt that only engine that belonged under the hood of a Mustang was a 5.0-litre V-8. So in 2011 when a Mustang appeared with a pair of 5.0 fender emblems Mustang devotees rejoiced.
The only thing that the all-new Coyote 5.0-litre V-8 shared with the famed engine of the past was its designation. In fact the Coyote V-8 had more in common with it 4.6-litre Modular brother than any 5-litre from the past. And this is a very good thing since the Modular engine had proven to be reliable design capable of producing some amazing horsepower numbers.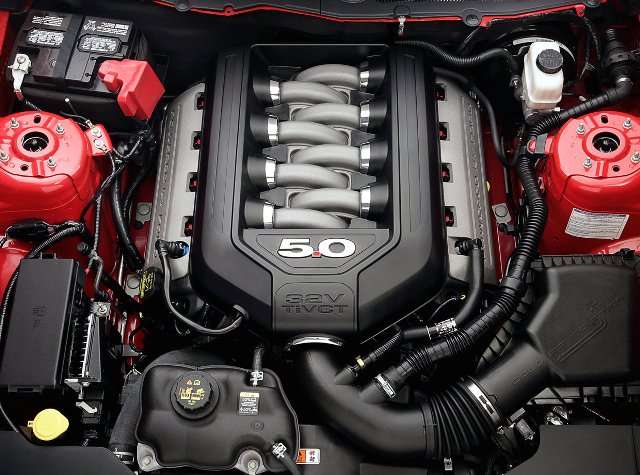 Coyote 5.0-litre V-8
All Coyote V-8's used an aluminum cylinder block with optimized bay-to-bay breathing, and shared its bore spacing and deck height with the 4.6-litre. For added strength the block casting featured extensive webbing. Hiding inside the block was fully counterweighted forged-steel crankshaft that was held in place with nodular iron, cross-bolted main caps containing upsized bolts. For better cooling under high load conditions, the new V-8 incorporated oil cooling jets for the pistons to increase durability. The compression ratio leaped up to a stratospheric 11.0:1; a number not seen since the early 1970's.
For the first time in a Mustang GT a four-valve per-cylinder, dual-overhead-cam cylinder head was installed. These all-new hi-flow aluminum heads incorporated a revised design that shifted the camshafts outboard which allowed for the use of compact roller-finger followers configured for very aggressive cam-lift rates and improved intake port geometry. As a result the intake ports of these heads actually out-flowed the cylinder heads from the Ford GT supercar. Just like the Cyclone V-6, intake and exhaust cam timing was fine tuned by Ford's torque-actuated twin independent variable camshaft timing (Ti-VCT) that could make valvetrain adjustments in microseconds. These new cylinder heads along with the upgraded internals in the engine block allowed the new 5-litre to spin up to a dizzying 7,000 rpm red-line.
Crowning the new 5.0-litre was a gorgeous low profile intake plenum that wore a plastic cowl with a large 5.0 emblem finished in chrome. The rest of the air-intake system was optimized for maximum air-flow in order to fill the heavy-breathing V-8 with the copious amounts of cool air. The system is so efficient that effects of the addition of an aftermarket cold-air intake system would be negligible. The Coyote exhaled through a pair of unique tubular exhaust headers that maximized pulse separation allowing more efficient exhaust savaging out of the cylinders.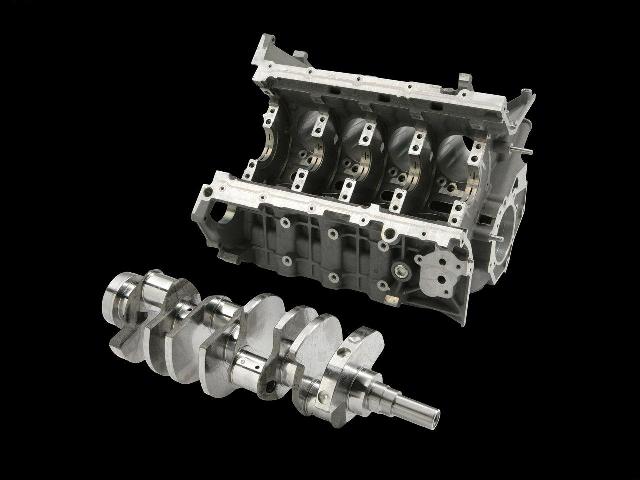 The all new 5.0 V-8 features an aluminum block and fully counterweighted forged-steel crankshaft.
It was quite clear that Ford had thrown everything they had into the new 5.0. With all its technology and solid engineering the new V-8 cranked out a thundering 412-horsepower and 390-pound-feet of torque! This translated into an outstanding 82-horsepower-per-litre in a naturally aspirated engine. Just a decade earlier SVT engineers had struggled to reach a similar horsepower goal for a naturally aspirated Cobra and were unsuccessful. In the end they had to resort to supercharging the V-8 in order to be successful. Better yet this new engine was socially responsible with the ability to sip fuel at a miserly rate while cruising down the highway. Now mainstream Mustang buyers had a chance to own an exquisite aluminum constructed, four-cam, 32-valve high powered V-8 that could out perform and out class just about any other V-8 powered vehicle on the road.
To get the power to the pavement the Coyote V-8 sent its power to the road through a heavy-duty version of the Getrag/Ford MT82 six-speed manual or the optional heavy-duty Ford 6R80 six-speed automatic. Manual transmission cars were fitted with a limited-slip axle with a 3.31:1 gear ratio, while automatics were saddled with a taller 3.15:1 ring gear.
Just as had been done on the V-6 Mustang the suspension was retuned with revised spring rates, shock valving and larger stabilizer bars giving the GT a more aggressive suspension profile. To bring the car to a rapid stop, larger front brakes with 13.2-inch rotors were installed.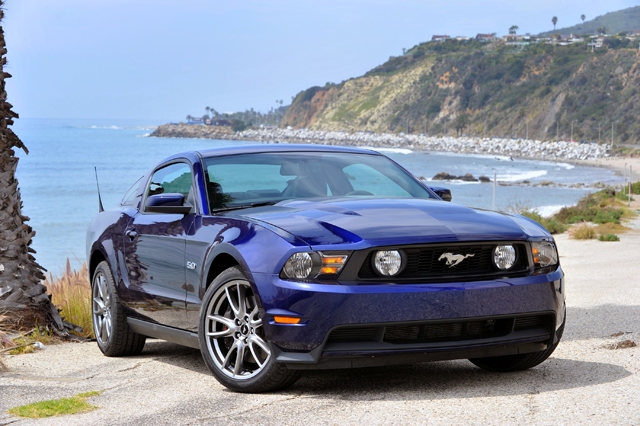 2011 Mustang GT
Electric power rack and pinion steering was now standard and allowed engineers more freedom in tuning the steering more precisely for varying driving conditions. With this system less assist can be dialed in during high road speeds for better feel and then boosted up during parking maneuvers, something that could never be achieved fully with a hydraulically boosted system. It also reduces unnecessary drag on the engine as no auxiliary pump is need there fore reducing parasitic loss of power and raising fuel economy.
Just in case you felt that the standard Mustang GT wasn't hot enough for you, Ford made available some performance enhancing options. For those who get their thrills living their life from one stop light Grand Prix to the next a pair of limited-slip axles were available in either a 3.55:1 gear ratio or a 3.73:1 ratio for down right frightening acceleration. But for the ultimate performance one need to specify the outrageous Brembo Brake Package. More than just a brake upgrade; this package was a comprehensive brake and suspension combination that would take the Mustang GT capabilities to a higher level. This was a no none-sense performance package that could only be ordered on coupes equipped with a manual transmission.
The Brembo Brake Package included a gargantuan set of 14-inch Brembo front rotors with Brembo 4-piston calipers; a pair of 11.8-inch vented rear rotors with 2-piston calipers; more aggressive suspension tuning; a set of 19-inch dark stainless painted-aluminum wheels shod with gummy P255/40R19 Pirelli P Zero Nero ultra high-performance summer tires; and a recalibrated electronic stability control system that would allow the driver higher levels of exuberance before activating. This package combined with one of the optional axle ratios made the Mustang GT into a giant killer that could out handle and out accelerate the best Camaro or Challenger available from the factory.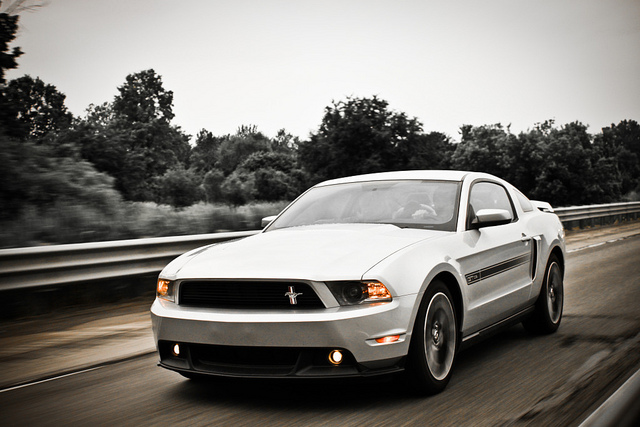 2011 Mustang GT California Special coupe
But the Mustang GT wasn't all about blistering performance, it was also about style. So for those who desired a special Mustang, Ford brought back the California Special Edition for 2011. Once again the California Special was brimming with style and luxury. For 2011 the package included a unique deeper lower front fascia with integral fog lamps and a unique chrome billet-style grille with body colour surround. Special GT/CS stripes along with non-functional side scoops adorned the sides of the car. At the rear was a unique lower bumper insert with an air diffuser. The decklid was outfitted with a pedestal rear spoiler, black tape appliqué and a unique faux gas cap with a running horse and "California Special" lettering. Special 19-inch argent painted machined-aluminum wheels with "GT" lettering engraved on one spoke were fitted and wrapped with P245/45ZR19 Pirelli P Zero Nero ultra high-performance summer only tires.
On the inside, the California Special was outfitted with a unique instrument panel and dashboard carbon fiber weave finish with the GT/CS graphic on the passenger side. The carbon fiber look continued with the leather seats featuring carbon fiber weave ribbed seat inserts with GT/CS logo embossed on the seatbacks. Even the door panels received the carbon fiber weave treatment on the door inserts. Finishing off the interior was a set of premium carpeted floor mats with GT/CS embroidered into them.
With the new body style the California Special came away looking low and aggressive without being over the top. It was a handsome package both inside and out and gave the Mustang that little extra bit of aggression that let other know that the owner was driving something a little special.
Other options available on both V-6 and GT Premium models were a rear view camera; HID headlamps; the Comfort Package that included a 6-way power front-passenger seat and heated front seats; and the electronic Package that included dual-zone electronic temperature control, HD radio, and the hard drive-based Navigation System with 10 gigabytes of digital storage for pictures and music; and AM/FM stereo/single-CD/DVD, and MP3 player. For audiophiles the awesome Shaker 1000 Audio system was available that included 10 speakers and 1,000 watts of deafening power.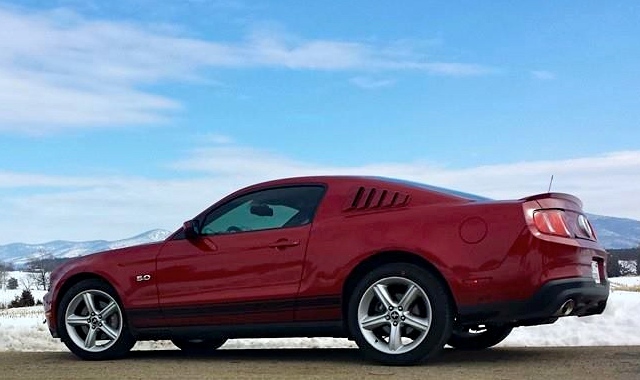 2012 Mustang GT
With its sensational new engine the Mustang GT was not only able to keep pace with its competition it was literally able to pull ahead. Crack open the throttle and the 5.0 GT could blast to 60 mph in just 4.5 seconds leaving the larger engine and more powerful Camaro and Challenger in its dust. There once was a saying, "there is no replacement for displacement". Well Ford instantly shattered that myth with a smartly designed Mustang that was lighter weight and equipped with what is perhaps the best engine Ford has ever produced.
Not only was the Mustang GT blindingly fast, it could also handle. Even though the Mustang was technically at a disadvantage because of its live axle rear suspension, somehow Ford's suspension engineers made it all work beautifully. This car was sharp and focused and would tenaciously hold its line through a corner even when the pavement would become uneven and do its best to upset the cars composure. When equipped with the optional Brembo Brake Package with its sticky tires the Mustang GT could pull and astonishing 0.94g on a skidpad.
No longer was the Mustang GT a car fraught with compromises. This car could accelerate, handle and brake with the best sports coupes and convertibles on the market. It could smoke its tires and power slide through corners like a complete hooligan with little effort or slither up or down a mountain road precisely clipping corners then rocketing out of them down a straight away to the next corner and then just as easily cruise along a freeway comfortably and quietly. Thanks to the S197 platform, wonderfully crafted power-trains and dedicated chassis and suspension engineers the 2011 Mustang V-6 and GT were unquestionably the best pony car to come out of Detroit at that time, and it was only going to get better.
Changes for the V-6 and GT Mustangs for 2012 model year were few limited to striping options, Lava Red Metallic paint and selectable steering with three driving modes; standard, comfort and sport. The biggest news was the return of the legendary Boss 302, a no excuses, naturally aspirated, all-out performance, street legal track inspired car with capabilities never before seen on any Mustang in history. But more on that one later…
A mild styling refresh was in store for the 2013 Mustang that featured a restyled nose with a more prominent grille and revised headlight assembly with HID headlamps and LED accent lighting now standard. Mustang GT's now came equipped with LED fog lamps and functional heat extractors in the hood. Lower rocker panel moldings were now painted the same colour as the rest of the car for better integration into the rest of the bodywork. At the rear all Mustangs received new LED tail lamp assemblies with sequential brake lights and signals plus a glossy black filler panel located between the taillights.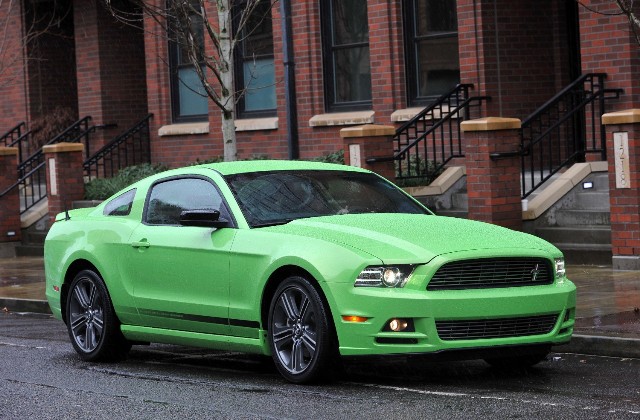 2013 Mustang Club of America Edition finished in Gotta Have it Green.
Mechanically the 5-litre V-8 churned out a few more ponies and was now rated at 420-horsepower. Mustang's equipped with a manual transmission now featured hill start assist. This handy feature would help prevent the vehicle from rolling backwards when stopped on a hill. The system worked by maintaining brake pressure for about two seconds after the brake pedal had been released allowing time for the driver more time to move their foot from the brake to the gas pedal. When stopped on a slope the vehicle would sense that it's stopped on a hill and automatically engage the hill start assist system. When the driver removes their foot off the brake the car will stay in place for about two seconds by maintaining pressure on the brakes. Once the accelerator pedal is depressed the brakes automatically release and the driver carries on their way. The feature would work on inclines or declines and would also work when the car is in reverse.
Buyers of automatic transmission Mustang's also got a trick new feature with SelectShift for the 6-speed automatic. The feature allowed drivers to manually change gears of the automatic transmission. SelectShift would be engaged when the gear lever was placed in "S" or Sport mode. The driver could then select higher gears by pressing the "+" button or lowers gears by pressing the "-" button located on the gear shift lever. If for any reason the driver forgot to manually up shift, the transmission would automatically select a higher gear at redline. Conversely if engine rpms dropped too low the transmission would automatically select a lower gear. This gave owners of automatic transmission Mustangs a little more control and flexibility making a two pedal Mustang even more fun to drive.
Inside, the 2013 Mustang were newly optional Recaro seats, available in cloth or leather, that were heavily bolstered, holding the driver and front seat passenger in place during aggressive cornering maneuvers. This was a particularly helpful feature for cars equipped with one of the Mustang's performance packages. Another cool feature that complemented any one of the performance packages and was standard on V-6 Premium and GT Premium models was a 4.2-inch LCD screen located in between the tachometer and speedometer with Track Apps functions. Track Apps enabled the driver to measure acceleration times, braking performance and g-forces. This was a fun way for the owner to gauge the performance of their Mustang or their driving abilities on a closed course. The system could also save the latest results and the best recorded results for personal interest or for bragging rights with fellow enthusiasts. Engine functions could also be displayed on the LCD screen with displays for inlet air temperature, cylinder head temperature, oil temperature, air/fuel ratio and volts; all very handy information for those weekend warriors who drove their Mustang on the track.
Capping off interior changes was a new Shaker Pro Audio System with 550 watts and 9 speakers including 3, yes 3 subwoofers, which was optional on GT Premium.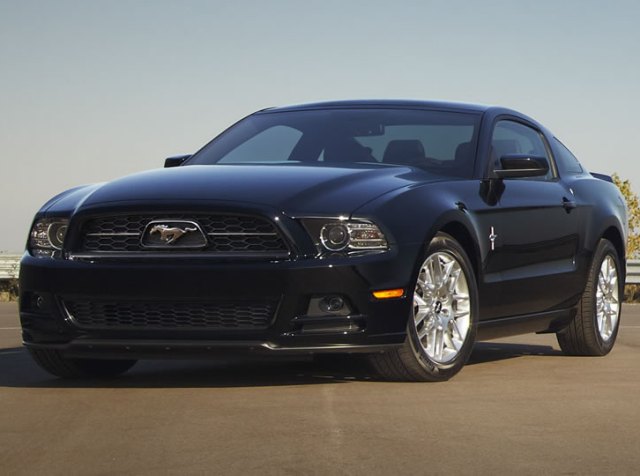 2013 Mustang V6 Pony Package
The V-6 Performance Package and V-6 Pony Package returned unchanged while the Mustang Club of America Edition returned with new bodyside tape stripes, but was otherwise unchanged. Pony projection light side mirrors were now included in the Comfort Package. These cool mirrors would cast an image of the Mustang running Pony on the ground when the unlock button is activated.
Also new for both the V-6 and GT was the Reverse Sensing and Security Package that included a new reverse sensing system that would alert the driver when they were approaching an object while reversing with an audible pattern of beeps that would increase in frequency as the vehicle came closer to the object and would become one steady tone when the driver was about to hit the object. Also part of the package was an Active Anti-Theft System and wheel locks. Most of the V-6 Mustang's other options and features pretty much carried over from 2012.
Like the V-6 Mustang, most of the GT's options and packages returned for 2013 with little being changed. The California Special retuned virtually unchanged, looking better than ever with the styling changes for 2013. Once again the sensational Brembo Brake Package returned unchanged along with the 3.55:1 and 3.73: gear ratios, both with limited-slip. More exciting though was the new and exciting GT Track Package which included all the contents of the Brembo Brake Package plus engine oil cooler, the BOSS 302 radiator and a 3.73:1 gear ratio with a Torsen helical limited-slip rear differential. Combined with the Recaro Sport seats and the Track Package, the Mustang became one of the best sports cars available for 2013.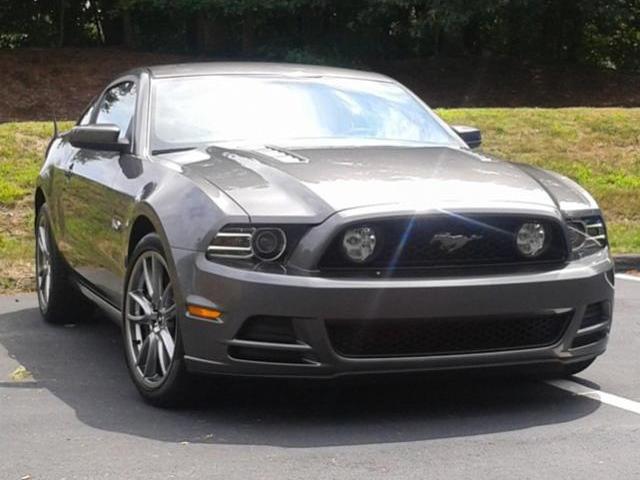 If you wanted wanted the best performing factory Mustang Gt avaiable this would be it, a 2013 Mustang GT equipped with the Track Package.
For its final year the S197 Mustang entered 2014 virtually unchanged. And really why mess with a good thing? The final years of the S197 Mustang represented the best regular production Mustang ever produced with year over year improvements to quality and performance in both V-6 and V-8 formats. The V-6 Mustang had finally evolved into a serious contender in the lower end of the sports car market with a world class engine and option packages that could make the V-6 into either a beautiful sport touring car with the Pony Package; an aggressively handsome collectable with the MCA Edition or a crisp and tossible sports coupe with the Performance Package. And the GT set the standard by which all other pony/muscle cars of the decade should be judged. These truly were remarkable cars however it was the 2010-2014 Shelby GT500 and 2012-2013 Boss 302 that will forever be looked upon as the holy grail of the S197 lineage.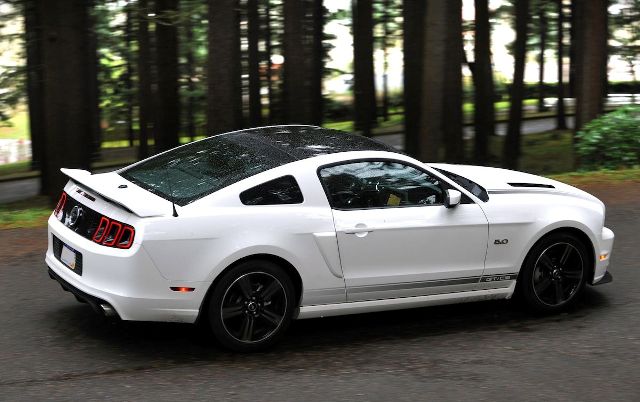 2013 Mustang GT California Special glassroof