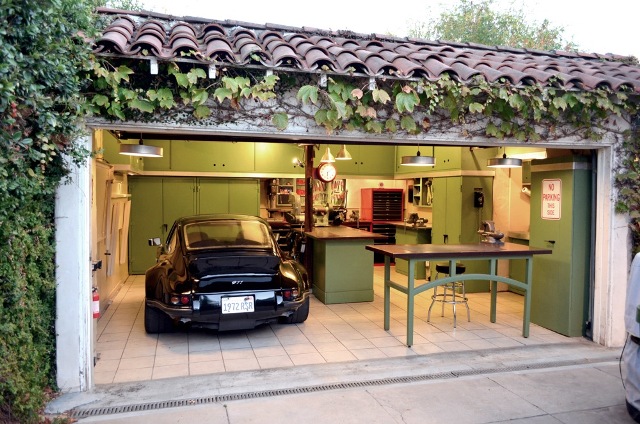 Written by James Dolan
Phototography by Jack Olsen
Video by Petrolicious
At first glance inside Jack Olsen's 12-Gauge Garage in suburban Los Angeles you may get the feeling that somehow you have been magically transported back in time to the 1960's. The 20' x 22' two car garage certainly has a retro vibe with the light tan paint on the walls and a soothing shade of green adorning the cabinetry. Details such as the 1951 Western Electric 354 rotary dial phone, a reclaimed bar stool from his kitchen, the Wilton vises mounted to sturdy work benches, band saw and 1973 Rockwell drill press all have a feel from days gone by. Even the 1972 Porsche 911 RSR that lives in this warm and inviting space does not seem out of place parked inside. All that's needed to complete the scene from the 60's would be some jazz or Matt Monro playing softy in the background.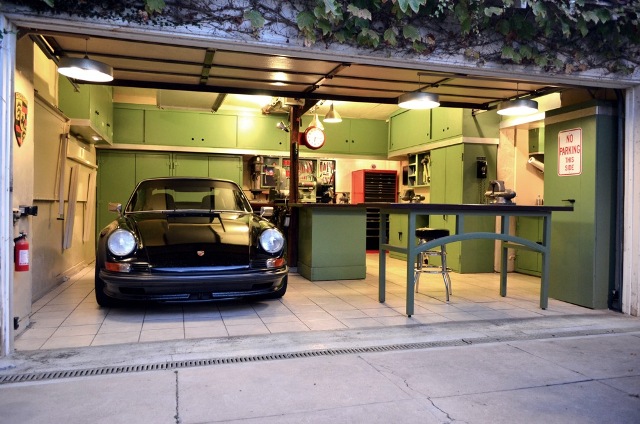 As you scan the garage you'll be in awe as you take in details like the tile floor, beautifully crafted cabinets and strategically located work areas. There is even a stainless steel sink installed in a beautifully curvaceous counter top tucked away in an alcove directly behind the door that one would enter into the garage. If all that does not impress you then the hydraulic lift table that is cleverly hidden in that tile floor will certainly raise an eyebrow or two.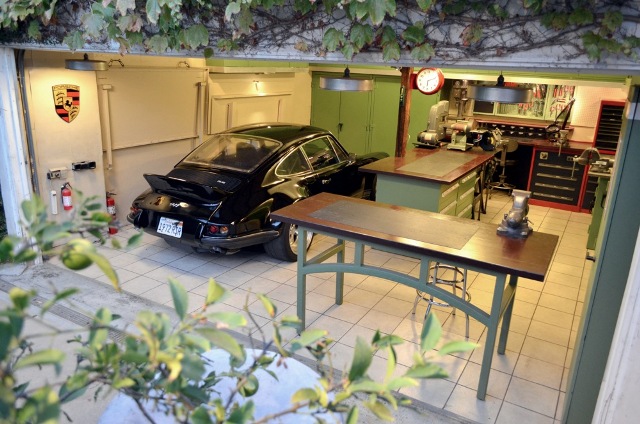 But the garage is so much more than eye candy and 60's nostalgia; it's a multi-purpose tool as Jack describes it. This suburban two car garage serves as a space for carpentry projects, a metal fabrication, welding and a place where regular maintenance and repairs can be performed on the 911. As a matter of fact when the Porsche needed the engine rebuilt all the dirty work was done in the garage by Jack's good friend Tyson Schmidt who is responsible for most of the amazing work that has gone into the vintage car.
The garage has 10 separate work surfaces, some of which fold down from the wall to occupy the area where the Porsche is normally parked. Because of the space limitations of being a suburban two car garage and no room to expand, many of the work surfaces are used for multiple purposes. Even the lift can be raised up and used as a work table. This dual-purpose use of the lift table is possible because the 911 is a rear engine vehicle with a flat bottom floor allowing the entire underside area of the car between the front and rear wheels to lay almost perfectly flat on the surface of the lift table. If you tried this with any front engine vehicle you would end up with many components such as exhaust systems and drive shafts inaccessible.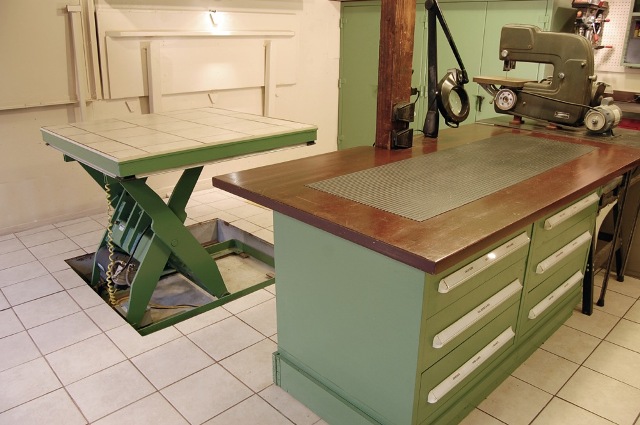 Not only is this a muti-use fully functioning garage it also serves a storage space for tools, car parts and what ever else you may find in a typical garage. What is not typical is how well everything is organized. Everywhere you look there are areas for storage. There is a multitude of cabinets, drawers even a small closet where Jack hangs his overalls and welding clothes. This has been done in an uncluttered way making the garage a pleasant place to work. Everything has its place and labels everywhere make things easy to find.
It's all very nice, aesthetically pleasing and very functional as well, but completely out of reach for the average person, right?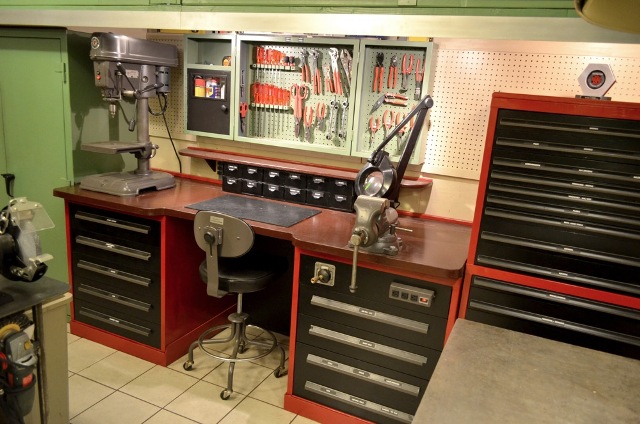 Well you can be forgiven if you think that Jack's 12-Gauge Garage is completely out of reach of the average person. That was my impression when I first came across his garage on a Porsche forum a few years ago and this was before he had installed the lift! I couldn't have been more wrong since the most impressive aspect of this 20' x 22' space is that Jack was able to accomplish this for just a shade under $3,500. No, that's not a typo, Jack laid tile, found or fabricated and installed all the cabinets, tables/benches and installed that lift all for under the price of a very well used car.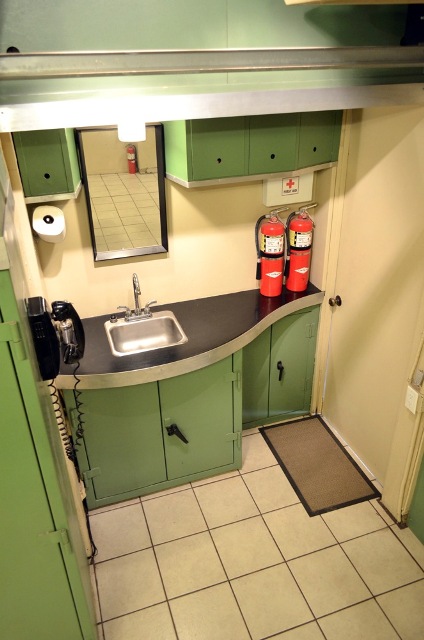 Before beginning his garage project Jack had never set tile before or built a workbench let a lone cut and pour concrete or any sort of welding for that matter. This makes the fruits of his labour all the more impressive since this was his first real project with no formal training. Single handedly Jack has proved my theory that with some good research and determination just about anything can be accomplished.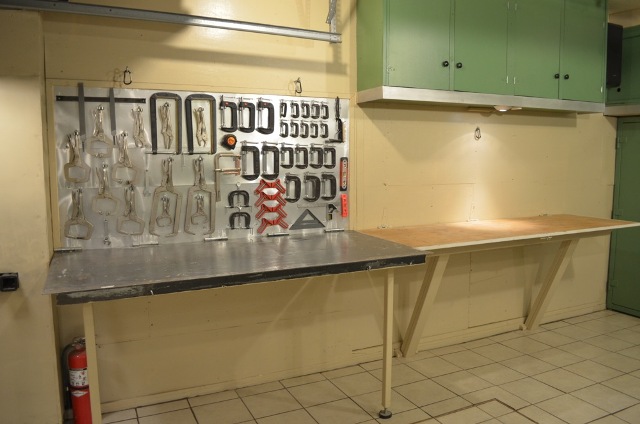 Jack's hours of labour and new found skills were not the only reason why the garage is completed on a paltry budget. Jack is an accomplished bargain hunter always searching Craigslist, eBay, disposal companies and auctions for deals on items that he can use or repurpose for use in his garage. Great examples of Jack's ability to seek out a deal are his three Strong Hold cabinets; two of them are located just behind where he parks the Porsche. The third cabinet is a half size unit that is 36" wide with an inch thick 500 pound piece of steel mounted on top that makes a work bench that Jack has aptly named "The Compliance Station". This work area has earned this title since it is often used as a surface to pound non-compliant objects into submission.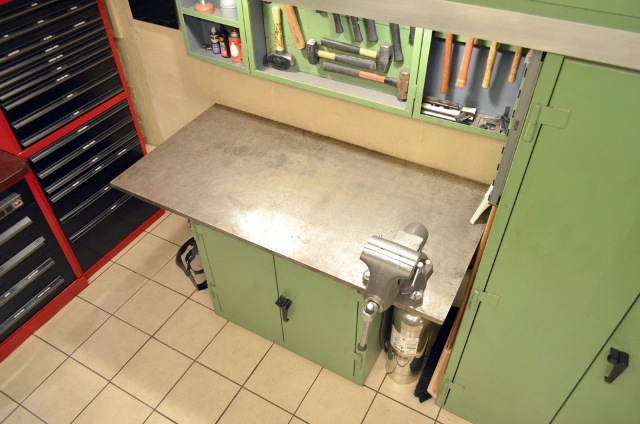 Made of 12-gauge steel these Strong Hold cabinets are incredibly strong having a weight rating of 1,900 pounds for each shelf and doors seemingly strong enough to resist a nuclear bomb blast. Jack is so impressed with these cabinets that they were the inspiration for naming his garage "The 12-Gauge Garage". Generally these cabinets are unbelievably expensive to buy new or used. But as a relentless bargain hunter Jack managed to track down the cabinets at a much lower price, paying the equivalent of what weaker cabinets you would find at Sears or Home Depot. He even bought a forth cabinet, cut it up and repurposed it for use as the lower cabinets and counter top for his sink, pretty clever I think.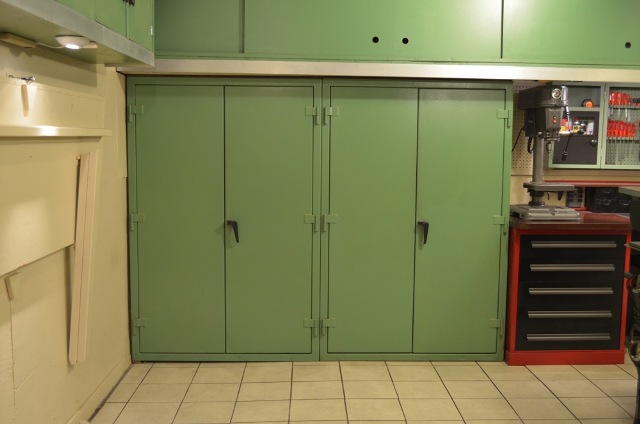 Most impressive aspects of the 12-Gauge Garage to me are the thoughtful details. The two faced clock is a nice example. It not only looks retro but is a very functional item that can be seen from most parts of the garage. The clock is made from two battery operated clocks mounted on piece of bent aluminum attached to the centre post of the garage.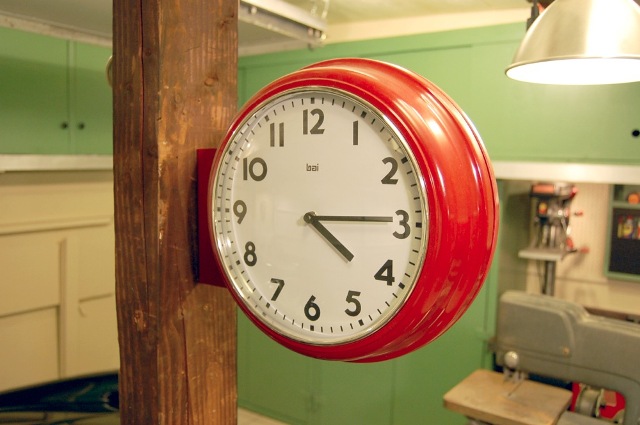 Then there is the Swiss Army Table that will hold seven or eight angle grinders, and a table saw underneath it. Up top has a pair of bench grinders, a belt sander and an old band saw mounted to the steel top, a pretty nifty use of space.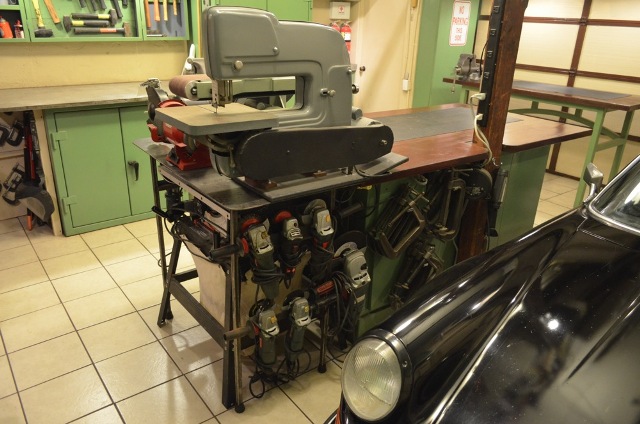 But my favourite detail has to be the lights mounted to a long arm attached to the wall and stretches out under the tracks for the garage door. This allows the workbench underneath to be lit when the garage door is open. And those lights are made from inexpensive aluminized steel cake pans with holes cut into the centre for each light socket. Cool, retro and functional all at the same time.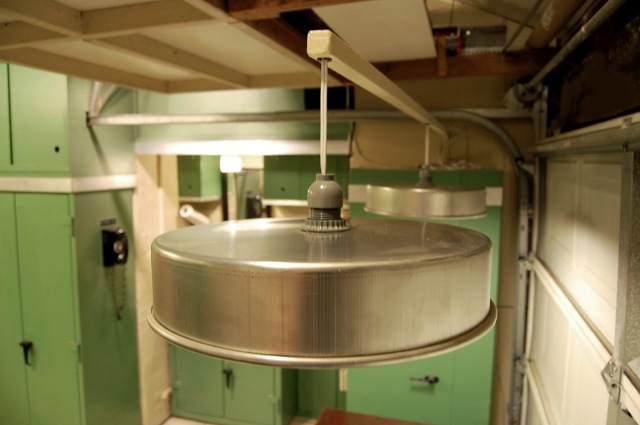 The 12-Gauage Garage serves not only as a visually appealing, well executed, organized and functional workspace for Jack but as an inspiration for us all and a reminder with some research, hard work, determination, creativity and the bravery to take on a daunting task that just about anything can be accomplished. This might be just a garage to Jack but for me it serves as a reminder that what may seem to be out of reach initially is in fact obtainable if you think outside the box. This garage project has certainly inspired me to take on my own challenge of renovating my own dark and dingy 13.5' x 38.5' two car garage and perhaps a few other challenges that need to be tackled. Thank you Jack Olsen for inspiring us all!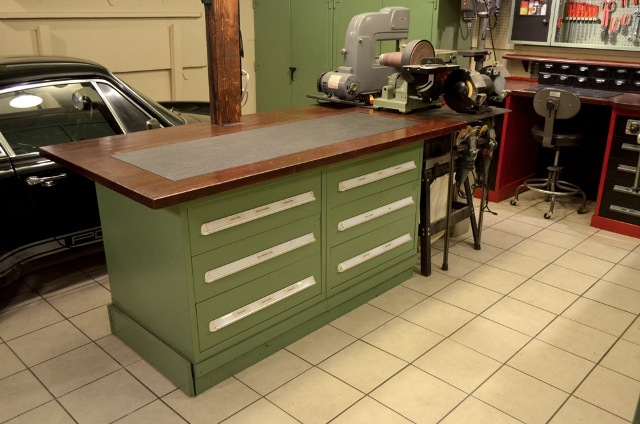 Want to see more pictures of the 12-Gauge Garage?
Click here...
For more information about Jack Olsen's garage and his magnificent Porsche 911 RSR replica visit his website at 12-gaugegarage.com.
If you are inspired by the 12-Gauage Garage check out The Garage Journal discussion thread regarding Jack's garage.
Below is a video by Petrolicious about Jack's Porsche and his fabulous garage.