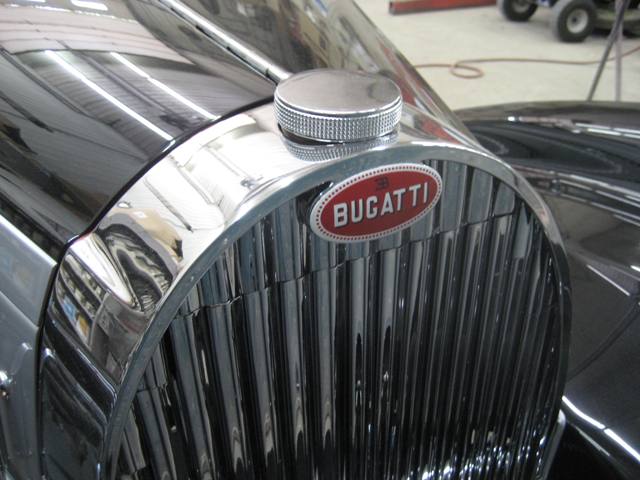 Written by James Dolan
Never had I imagined that I would be up close and personal with classic Bugatti. Well perhaps I would see one at a major car show, but not here in rural Eastern Ontario. And most certainly not in the simple town where I grew up, the proverbial town where a 1980's Cutlass Supreme is considered a status symbol by some people. Never the less here it was in all its magnificent glory, a 1939 Bugatti Type 57C Gangloff undergoing a coachwork restoration. Now I'm no expert in the realm of classic Bugatti's but I do know they are potentially worth millions and here I am just a mere few feet away from it, so close I could touch it. This all seemed so out of place, as if I had been placed in the automotive equivalent of a Twilight Zone Episode. Yet it was all very real.
Years ago I had left my sleepy home town for the big city in order to pursue an education and hopefully a career in the auto industry. Now I have never claimed that I was all that smart for doing so but that is exactly what I did. During those years I was fortunate to see and do many things that most auto enthusiasts can only dream about, such as caring for priceless concept cars and pre-production prototypes, working and attending auto shows and various special events like new car introductions, those sorts of things. All of it was hard work, incredibly fun and an invaluable experience, but as we all know life changes as do our priorities. Tired of the rat race that I found myself in, I felt the timing was right to return to my roots. In a decisive moment my better half and I took the plunge and left the big city behind us. We bought a house and I started a small business in my home town. With that decision made I thought my exciting automotive experiences would be over. Quickly I accepted the fact that I would be regulated to running my small business and my days of getting up close and personal with ultra rare exotic machinery was long over. That is unless your interpretation of exotica is a 1978 Camaro. Being the practical thinker that I am (most of the time anyways) I simply assumed that if I was to see a vehicle the caliber of this Bugatti sitting before my eyes that it would have to be in a big city or exclusive location at a major show or event. Certainly not sitting in a steel building at the edge of my hometown, man was ever I wrong.
The first time I heard about the Bugatti was when I connected with an old friend of mine who was in the process of going through his own set of life changes and looking at the possibility of opening up a foreign car repair shop. Since most repair facilities cater to the Cavalier and Taurus crowd he figured the area was in need of a business that could serve the needs of the ever growing number of European and Asian vehicle owners. We got to talking about potential locations for his business and he proceeds to tell me about this guy on the edge of town who has some shop space that he is willing to rent out. As the conversation continued my friend then tells me that shop owner restores old cars and has some interesting vehicles there, including a Bugatti. Skeptical, I surmised that there was no way it could be a real Bugatti, it had to be a kit car resembling a Bugatti, and no way could this be the real deal, not here in the town where a Dodge Charger is the "in" car to have. But my friend insisted it was the real deal and that I should have a look for myself. So I did…
A few days later my friend and I took a drive over to the shop. The simple steel building located at the edge of town had a dirt parking lot with a row of old derelict vehicles in various state of disrepair. It didn't seem like the sort of place that would house an ultra rare piece of automotive history like a Bugatti or even a nice VW Beetle for that matter. As my friend and I walked through the front door into the office I was more confident that inside the shop held a poor interpretation of something Cruella de Vil would drive rather than a nearly priceless automobile. Old books and manuals were stacked floor to ceiling and I swear the dust on those books was almost as thick as the books stacks were tall. Trophies and plaques won from classic car shows long ago lined the shelves. We turned a corner and walked through a door into the work area and there it was, instantly my jaw dropped to the floor in disbelief…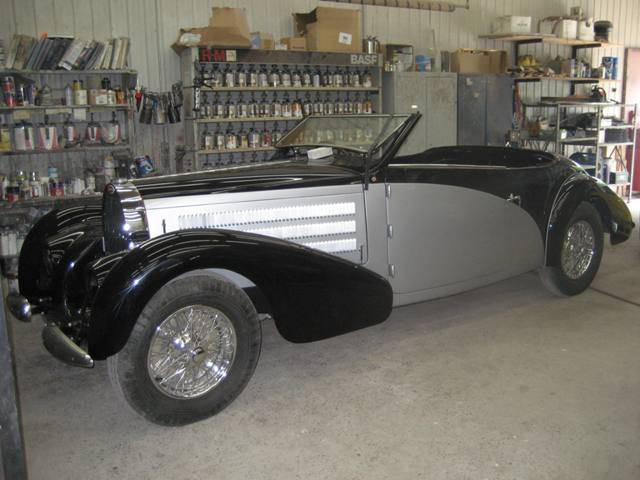 No more than 20 feet in front of my eyes sat a nearly perfect silver on black 1939 Bugatti Type 57C in the home stretch of a coachwork restoration, and my god was it ever beautiful. Every element of this machine was a masterpiece of design and engineering. From the seductive feminine lines of the Gangloff coachwork to the intricate mechanical beauty of the twin cam straight eight equipped with a supercharger glinting in the florescent light.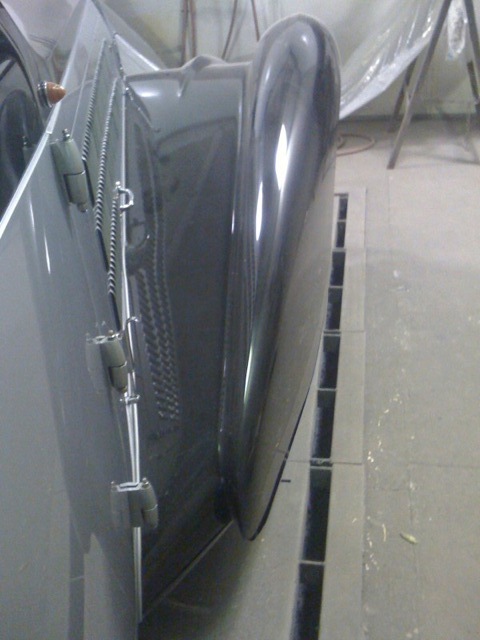 Like a beautiful woman this is one of those cars that just draws you in, grabs your attention and just never lets it go. Captivated by the sheer beauty of the flowing lines from front to rear and the glint of the chrome in the light (I am sucker for shiny objects), I walked around the car absorbing all the intricate details of the coachwork. This was not a car; it was a sculpture of metal, wood, fabric and leather that could be driven if so desired. Now I am the first to admit that I never really had an appreciation of pre World War II vehicle design, but that was until I laid my eyes on that Type 57. From that point on I have been completely captivated by vintage Bugatti's and new appreciation of the mark.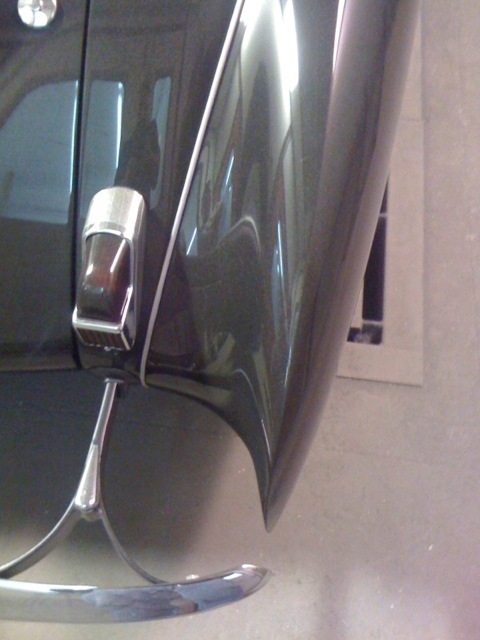 My friend rented space in the shop where the Bugatti sat and over following weeks and months we both assisted when our help was required with the reassembly process of the restoration. Although our role was very small it is incredibly satisfying to know that I have played a miniscule part in the history of such a rare and coveted vehicle. Over time the Bugatti became an everyday item in the shop and a bit of an annoyance for my friend who had to carefully work around this priceless piece. It is amazing how something so rare and beautiful can seem to become less significant when you are exposed to it daily. Still, I wanted to know more about this vehicle and what makes it so special.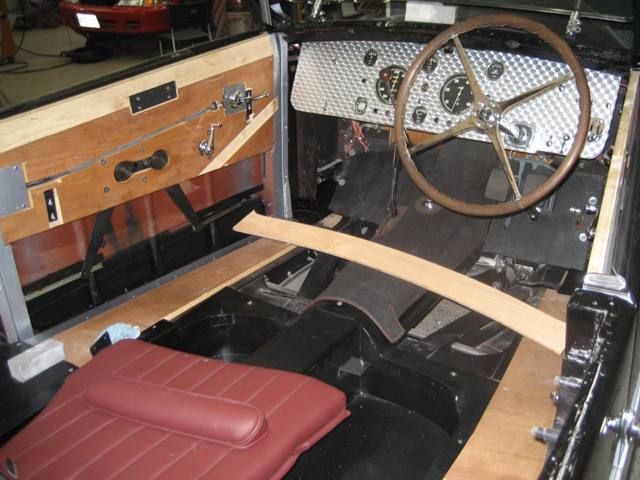 This particular Bugatti is a 1939 Type 57C Gangloff cabriolet that bears chassis number 57760. The seductive Gangloff coachwork is finished in black and silver with a sumptuous burgundy leather interior that is almost as beautiful and detail rich as the exterior panels. During the lifespan of the Type 57 series that ran from 1934 to 1939 Gangloff became the most popular coach builder of the Type 57 line. Each one is different with no two vehicles being exactly alike. Every inch of the car is a masterpiece of engineering detail and hand made craftsmanship. Even the signature Bugatti radiator grille is a sculpture of automotive artwork with such intricate details like the vertical fins that open as the engine warms up and close as it cools to help regulate temperature. The two piece engine bonnet is hinged in middle along the centre line of the vehicle and features three rows of perfectly formed louvers running along each side. Open that bonnet and you will find a supercharged 3.3 litre twin cam straight eight engine that would make any card carrying auto enthusiast buckle at the knees.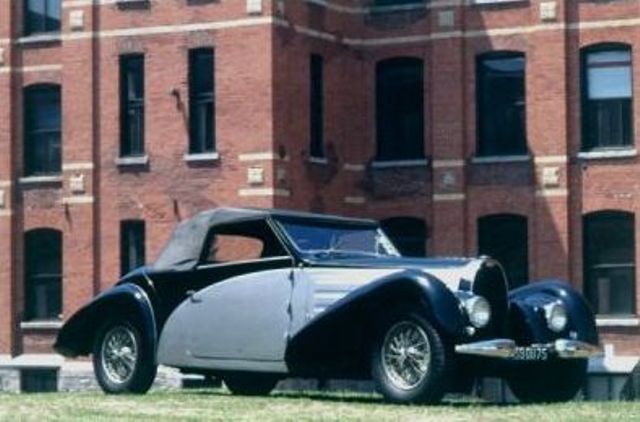 An undated photo of chassis number 57760
Unfortunately I don't know the full history of chassis number 57760 but I do know the pervious owner was celebrated Canadian painter and sculptor Jean-Paul Riopelle. For over 40 years Riopelle owned two Type 57 Bugatti's until he passed away in 2002. After his death Riopelle's treasured Bugatti's were auctioned off and sold to a business man with a private collection of vintage and specialty vehicles. I may never know why Riopelle owned these two vehicles, but I can only surmise that the seductive beauty and complexity of these amazing automobiles captivated his mind, drew him in and just never let go of him.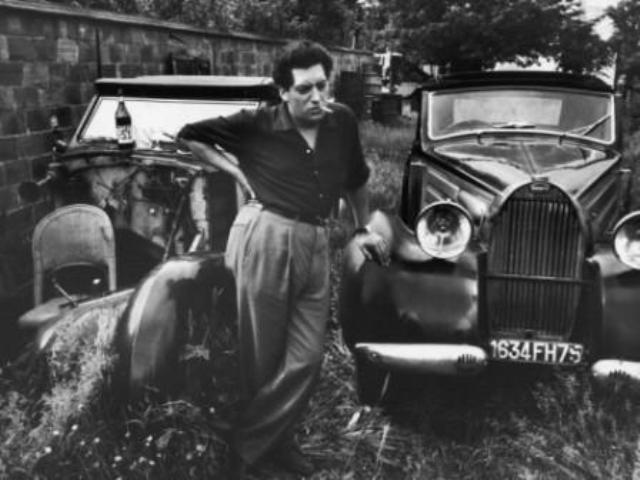 Above: Jean-Paul Riopelle posing in front of his two Bugatti's #57760 is on the left
Below: Riopelle sitting in the engine bay of #57760 and #57355 is to the right. Circa 1959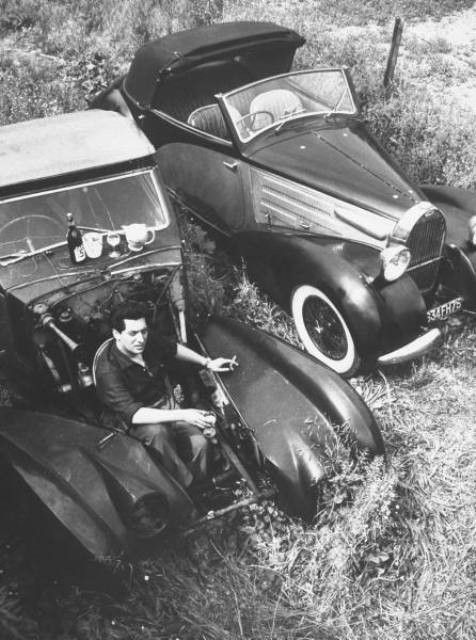 The restoration of the Bugatti's flowing coachwork has been completed long ago and is now back at its new home having a new top and trim work installed, being feverishly finalized for the enjoyment of the current owner. Today my buddy now owns the building that once housed that Bugatti, it is now filled with various makes of vehicles that somehow seem more mundane, if you could call Mercedes-Benz's, Porsche's and the occasional Ferrari mundane... As for me, I'll never forget this amazing Type 57 Bugatti that was located in the least likely of places, a stones throw away from my own backyard, in an unlikely place.