My Vehicles
---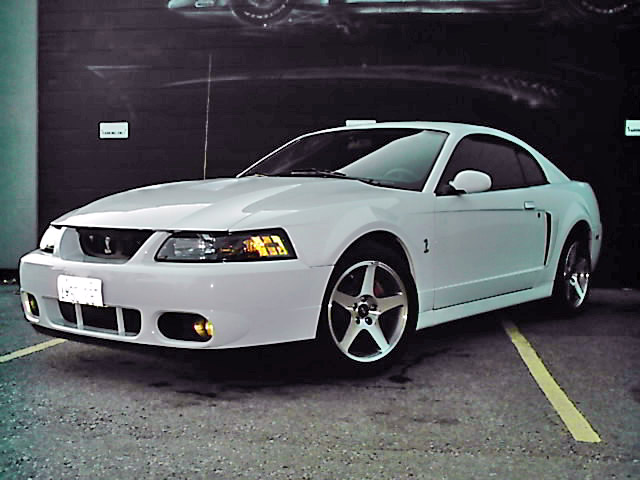 Written and Photography by James Dolan
It was a hot summer day in 2002; I had just received the latest issue of Road&Track magazine when I saw a road test for the 2003 Cobra. Immediately I was taken by the beauty of this 390 horsepower supercharged snake. I gazed at the photos of the red spoiler delete Cobra in the magazine for probably an hour before I even read the review.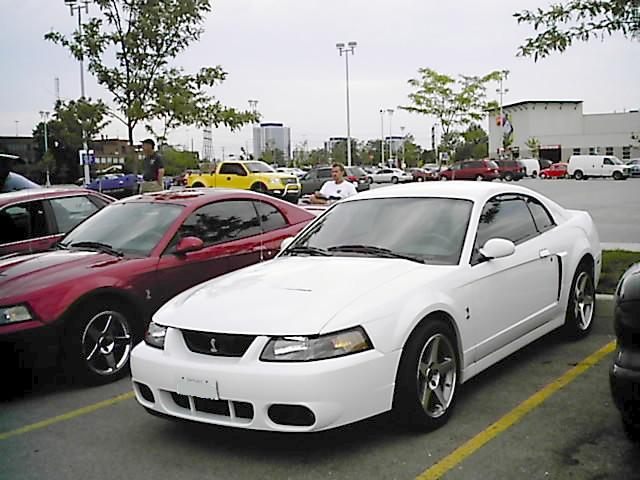 Ever since I can remember I have had a love for Mustangs and always longed for one. This Mustang had it all, a high tech engine assembled by hand, a 6-speed manual transmission, fully independent suspension at all four corners and aggressive looks. But best of all it matched all of the performance numbers of the 2003 50th anniversary Corvette also being reviewed in that same issue. In my opinion this was the Mustang to have, but this was just a dream. There was no way I could ever afford the $50,000+ for the car on my very meager pay as a parts clerk at the local Ford dealer.
Others seem to share my opinion as well since there was a waiting list and dealers where charging and getting a premium price. It seemed to me this car would only remain as a dream. Little did I know all that would change in 2 years.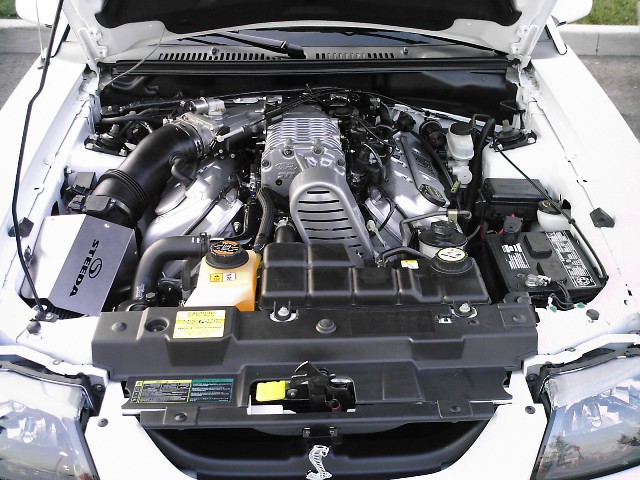 A year later in summer of 2003 I had moved to Toronto to take a job at Hyundai Auto Canada. I got involved with the local SVTOA chapter as I had a modified Ford Focus at the time. The first club function I attended was the annual summer BBQ. This is where I saw a 2003 Cobra in the metal for the first time. It was oxford white with spoiler with delete, perfect and owned by a guy named Andy. Andy and I hit it off and by the end of the day I told him that if he ever wanted to sell the car to let me know. Again I was just dreaming but you never know, right? He was a decent guy and looked after the car, maybe in five years or so when he is tired of the car and wants to move on I would be able to afford it.
That chance to own a Cobra came much quicker than I had ever thought. The next summer came around and the SVTOA club started meeting up regularly again. Once again I saw Andy but this time he didn't have his Cobra, he was now driving a 2004 Mustang Mach 1. I found out that the Cobra had spent a good part of the winter at the dealership getting some mechanical issues sorted out. By the time spring rolled around Andy just didn't want the car back. He made a deal that the dealer would buy the car back and he would buy a new Mach 1. He told me how much he got for the Cobra and I nearly died. They gave him only a fraction of what he paid for it originally. The next Sunday I cruised by the dealer to look at the car. The sticker in the window was $45,000; I left and forgot about the car, it was only dreams remember?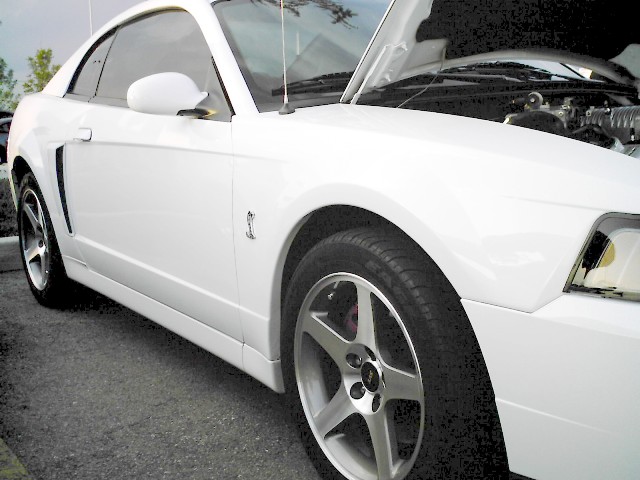 Late July 2004 rolled around and it was time for the annual drivers' education weekend that the cub hosted. I went as a volunteer in order to get some track time and instruction in return for my help throughout the weekend. The club and the event were sponsored by the dealer who had Andy's former Cobra for sale. As per usual Ted, the dealer principle, attended and brought a Mustang with him. If you had not guessed yet he brought Andy's old Cobra. It seems that Ted was having a hard time selling Andy's old car. The market for Cobra's had cool significantly, so much so that Ford was having a hard time selling the new 2004's. Things were so slow that for the first time Ford was offering 0% financing and crazy lease deals on the Cobra. This in turn makes a slightly used over priced 2003 Cobra virtually unsellable since the new cars were in fact a much better deal once you factored in the financing. Purposely I stayed away from Ted and the car the entire weekend. I was going to be responsible, I didn't need a new car, especially a sports car. Besides I already had the RX-7 and I was trying to sell my Focus since I had access to cars from Hyundai at a very cheap employee rate.
Everything was good until Sunday afternoon when Ted got word that I wanted a Cobra and if he got me to drive it I would probably break down and buy it. Like a blood hound Ted tracks me down and convinces me to take the car for a test drive… On the track! Needless to say that was the ultimate test drive and I was sold, but I didn't tell Ted that. I got thinking and calculating and if… if I could buy the car for what Andy traded in for and if I got a certain amount for my Focus that I wanted out of, I could swing the deal. After about three weeks of back and forth dealing with Ted I convinced him that I should get the deal that I deemed was fair. My logic was that I would take the Cobra off his hands at no loss to him but no gain either. He would give me fair wholesale value for my Focus, but this would give him a vehicle that would be easier to sell because it had a broader appeal and a chance to make some money. Ted finally agreed and on August 12,2004 the Cobra was mine.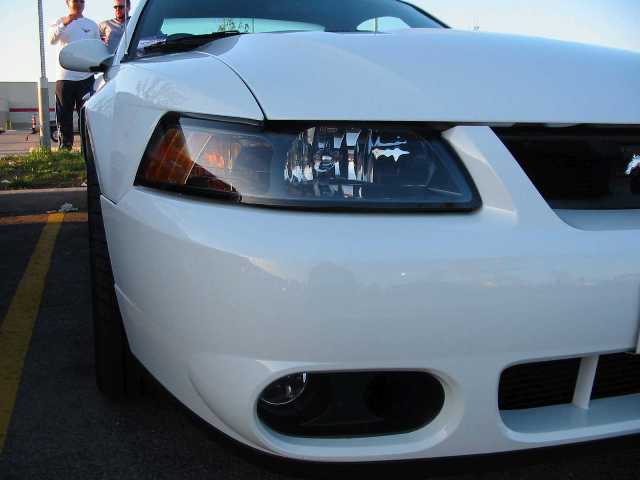 Driving the car is an experience like no other. The power is incredible and intoxicating, if not careful you can end up sideways very quickly if you are to enthusiastic with the throttle. Driving on wet pavement is like driving on ice. Power comes on instantly and seems to be endless. The rumble of the hand assembled duel cam V8 is drowned out buy the wine of the Eaton Supercharger, instantly the scenery around you becomes a blur. Quickly you realize that there are not too many cars out there that can out accelerate this one.
Acceleration is just one aspect of this car. Unlike Mustangs of the past this one handles. This car just plants its self to the pavement and sticks and sticks some more. Drive it hard enough the Cobra will peel your face off from corner to the next. The heavily modified front suspension along with the well sorted out rear suspension with Bilstein socks and struts makes a monumental difference. Combine that with sticky tires and 13-inch Brembo brake rotors with PBR twin piston calipers and you have a car that stops and turns as well. Drive a GT from the same generation and you would swear you were driving a completely different car. What more could anyone want?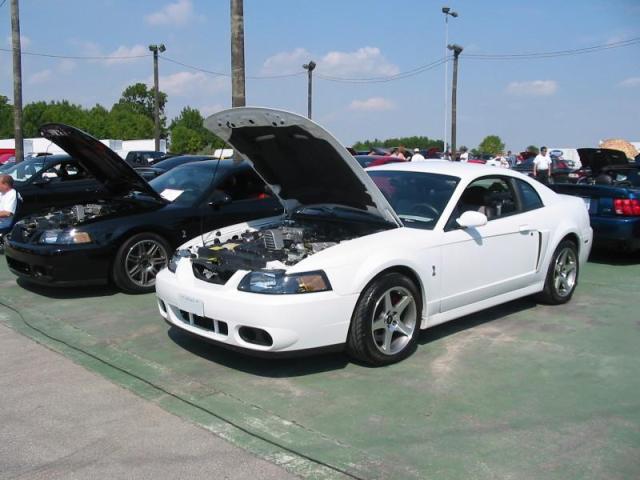 The epic performance for a beer budget price does come with a price. This truly is not a car for everyone. Hand assembled engines, fancy heavy duty transmissions, brakes that can make you lose your lunch and tick suspensions are expensive. The Mustang which the Cobra is based was an old platform. That's being too kind, it's Stone Age in the automotive world. To add insult to injury the platform was designed for a late 70's Ford sedan not specifically for a 390 horsepower sports coupe. In Mustang form the Fox platform dates back to 1979. These were the days before air bags , ABS brakes, five start crash ratings, and well you get the idea. Sophistication is not a strong suit of this ride.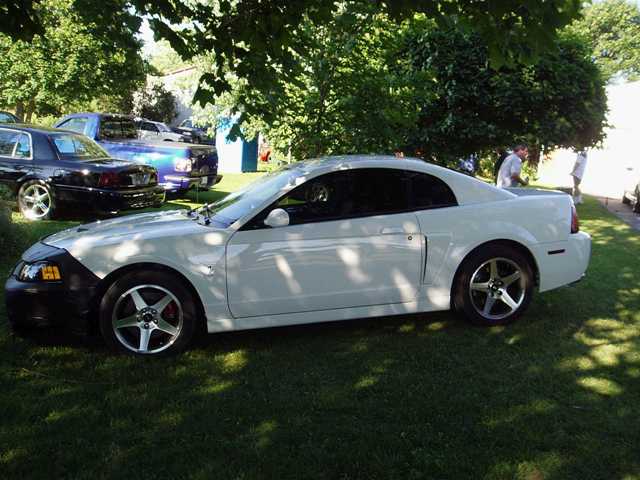 To Ford's credit they did a good job modernizing things over the years but the archaic engineering shows. The seating position along with the relationship of the driver to the steering wheel, shifter, controls and pedals is all completely wrong. The cabin is cramped. The cable actuated clutch can be painfully heavy especially if you are stuck in Toronto's world famous traffic. The bulky shifter can be a pain if you are not precise and lack finesse, its way too easy to miss a second to third shift on hard acceleration. Fit and finish inside and out is abysmal compared to everything else made in 2003.
You may think that with all these flaws that this car is good only for a scarp pile. Well you could not be more mistaken. The flaws are part of the appeal, for once you get the hang of things you become more and more comfortable and you start to appreciate all the great things that have gone into this machine. The way everything works together on the road is a symphony of sensory overload. The power, grip and brakes really all come together in this package. The Cobra is amazingly satisfying to drive on an open road or closed course. Very quickly you forgive the sins of using an ancient platform, in fact you become thankful because the imperfections allow you to be able to attain the other wise unattainable. Plus eccentricities of the Cobra makes it that much more rewarding to drive once you start to master it. And this is why I would not trade it for anything else.


Vehicle Specs
Engine - 4.6L DOHC 32V Supercharged V8 390HP and 390lb-ft Torque.
Curb Weight - 3665lb. (1662kg.)
Transmission - TTC T56 6-Speed Manual.
Brakes - 13-inch Brembo vented discs, PBR twin-piston calipers (front); 11.65-inch vented discs, single-piston calipers (rear); four-channel ABS.
Tires - 275/40ZR17 Bridgestone Potenza RE760 Sport
Suspension - Front and rear multi link independent suspension with Bilstein shocks.
0-100kph 4.5-4.9 seconds. 1/4 mile 13.0 seconds. 0.90g skidpad.
Options/Upgrades - Oxford White, Spoiler Delete, Stainless Steel "COBRA" Bumper Inserts, Tinted Windows, Steeda Cold Air Intake, Hood Struts,
---
Most Popular Articles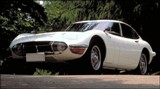 Japanese Nostalgic Vehicles: The next trend in classic cars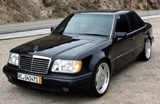 Five Sports Sedan's I'd Love to Own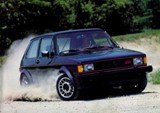 Hot Hatchbacks From the 1980's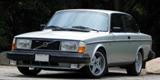 Volvo 200 Series: An Unappriciated Classic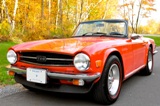 Triumph TR-6: Music to Anyone's Ears
---
---
Fifty Years of Mustang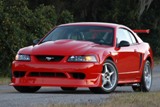 1999-2001 Ford Mustang SVT Cobra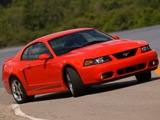 2003-2004 Ford Mustang SVT Cobra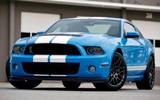 2010-2014 Ford Mustang Shelby GT500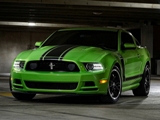 2012-2013 Ford Mustang Boss 302
---