My Vehicles
---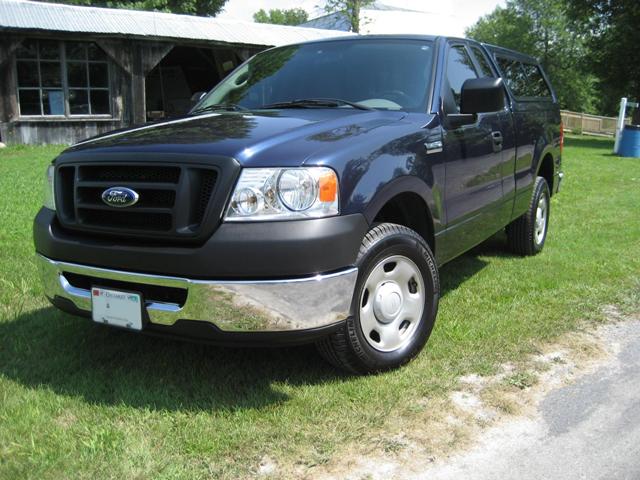 Written and Photography by James Dolan
There is something that is appealing to me about a basic, bare-bones pick-up truck. Perhaps it is the wholesome honesty in the ways it performs its day to day duties without any pretentions of being something that it's not. All too often I see trucks being used as personal transportation or as a symbol of status. These trucks are usually wearing 22-inch chrome wheels and outfitted with every gadget and technical toy available. Not to say I completely despise a nicely outfitted truck. My neighbor has a very nice 2011 Harley-Davidson edition Ford F-150 that I am fond of. But no matter how nicely equipped some of these modern trucks are, with all their luxuries and cosmetic goodies, I still like to get behind the wheel of a no nonsense truck.
The 2006 Ford F-150 that I bought this past December is a fine example of a back to basics work truck. With owning a small business a truck has become a necessity. Hauling equipment around in a car just wasn't practical and I quickly realized that the wagon I inherited from my brother when he moved overseas just wasn't going to cut it either, it was time to get a truck.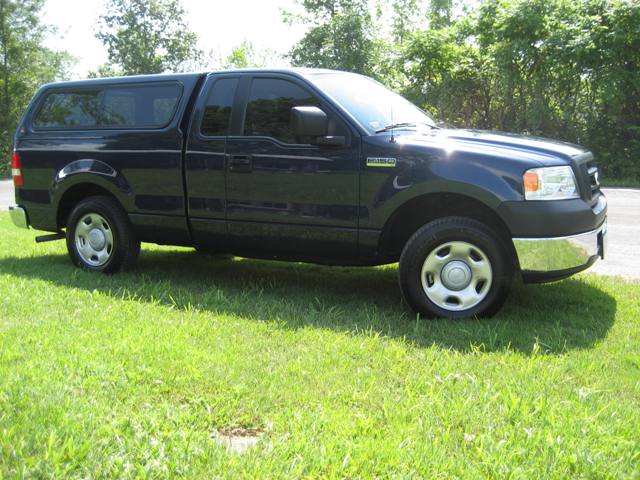 Although I could have easily purchased a nicely equipped four-wheel-drive extended cab with all the trimmings, that's just not my style at this time. I'm not the type to follow convention and I'm inherently frugal so a regular cab rear-wheel-drive manual transmission truck was on my wish list and only a Ford F-150 would due because it is the best truck on the market, at least in my mind anyways. Since resale value on base model regular cab trucks is pretty dismal I figured that I should have very little problem finding a good deal. That is if I could find a truck equipped the way I wanted, especially with a manual transmission.
After a fruitless search of local car lots and classifieds I determined that a road trip was in order to find the truck that I wanted at a price that would satisfy my thrifty ways. While scanning ads and finding a few good prospects the decision was made that Heather and I would concentrate the search in our old stomping grounds of Toronto. Besides it was a good excuse to get away for a weekend. Being the weekend before Christmas I figured that anyone who was serious about selling their vehicle would be eager to strike a deal since the chances of selling anything during the Christmas holidays would be pretty remote. Sure enough I was right and we struck a deal on a 2006 Ford F-150 equipped with the elusive manual transmission.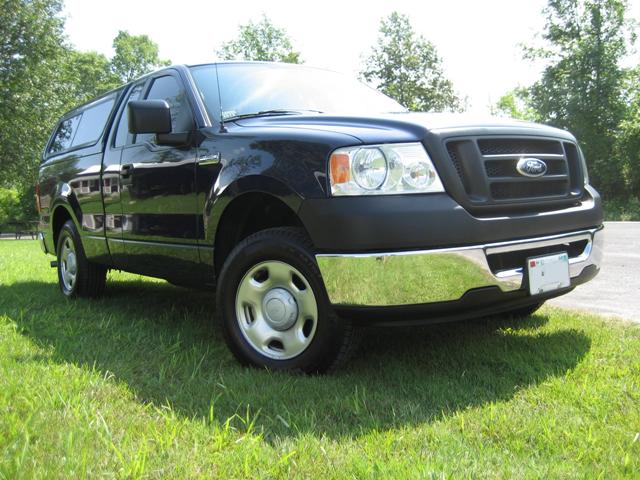 Although this Ford truck was in need of a little love and attention the price more than made up for the maintenance and cosmetic items that were required. However I knew that this F-150 had good bones so to speak. The engine runs beautifully; as well as an archaic Ford V6 can run, anyways. It shifts buttery smooth and the body and chassis are devoid of any rust with the exception of a rusty front bumper that is a bit of a bummer but easy enough to fix. Best of all the truck came with a Leer cap; this saves me the added expense of having to buy a cap or hard tonneau cover in order to secure my equipment I need for my business.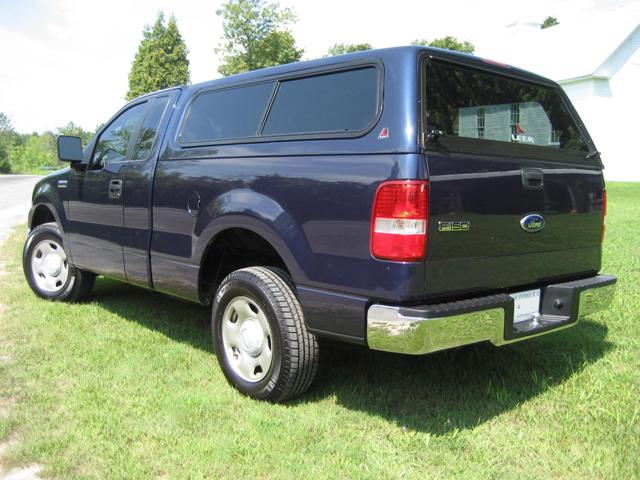 One of the more 'exciting' aspects of the truck that was in need of immediate repair was the brakes. When the brake pedal was applied the truck would shimmy and shake with alarming violence even at low speed. The truck would stop, but it was unnerving looking in the review mirror only to see the rear end of the truck dancing around like it had a mind of its own. When I backed into the driveway Heather told me that she could hear the grinding of metal against metal emanating from the rear. As it turns out the rear brake pads were non-existent and all 4 rotors were warped beyond the point of being salvageable. This would explain the frightening experience that beheld any driver stupid enough to apply the brakes or drive 400 kilometers home through Toronto's legendary rush hour traffic.
Thankfully the weather gods were in my favour and graced me with clear skies for my trek home. Any hint of rain or snow would have turned my trip into a complete disaster ending with me dying a fiery death since the bald tires combined with the 'brake pedal of excitement' would have certainly made for an unpleasant demise. Fortunately the weather and traffic was clear and the road was straight making for a relaxed drive home.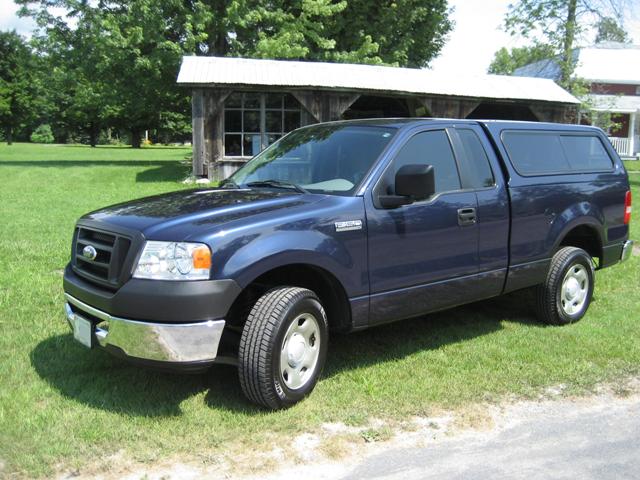 With a new set of brakes, Michelin tires, a pair of ball joints and an alignment the True Blue F-150 drove as good as new. The brakes that once instilled fear now stop the truck with confidence and the absence of any vibration is certainly welcome. My love affair with Michelin tires has also been rekindled as the F-150 now has plenty of grip for just about any situation. To be fair just about any new tire would have been a massive improvement however I seriously doubt that they could give as much grip and do so with the poise and comfort of the Michelin.
Whenever I get behind the wheel of the F-150 I get a silly grin on my face, I just love it. It's a different driving experience from any of our cars and with the short wheel base and manual transmission a very different driving sensation than most modern pick-up trucks. This truck actually feels small and is surprisingly agile both on the road and in tight parking lots. In spite of being very basic there are many aspects of the 2006 F-150 that make it a pleasure to drive. When Ford redesigned the F-150 in 2004 they wanted to give buyers all the capabilities of a truck with ride and handling characteristics more similar to a car. And for the most part they have succeeded.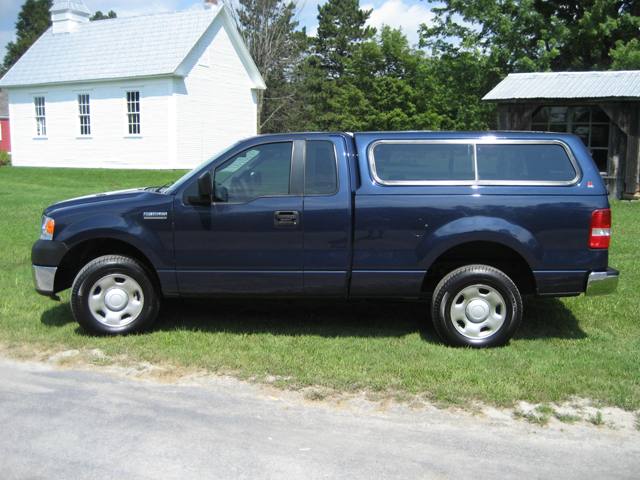 One of the F-150's best attributes is the ride, it's simply amazing. I can't remember any truck that has a ride as smooth as the 2004-2008 F-150. Gone are the days of the twin I-beam front suspension and all it inherent disadvantages of awkward wheel motions, alignment issues and weight. Sure Ford had a more traditional front suspension on the previous generation F-150. But Ford really stepped up their game for the 2004 redesign. For starters the lower control arm is made of cast aluminum making it lighter than a steel design allowing better control of wheel motion, reduces road noise and improves handling because of less un-sprung weight. Ford also ditched the traditional separate shock and coil spring for a strut and spring assembly something usually associated with a car not a truck.
In the rear traditional leaf springs are still used but they are a beefy 3 inches wide allowing for more stability and less twisting. The rears shocks are mounted outboard of the frame rails and this also contributes to stability, roll control and as an added bonus improves ride quality.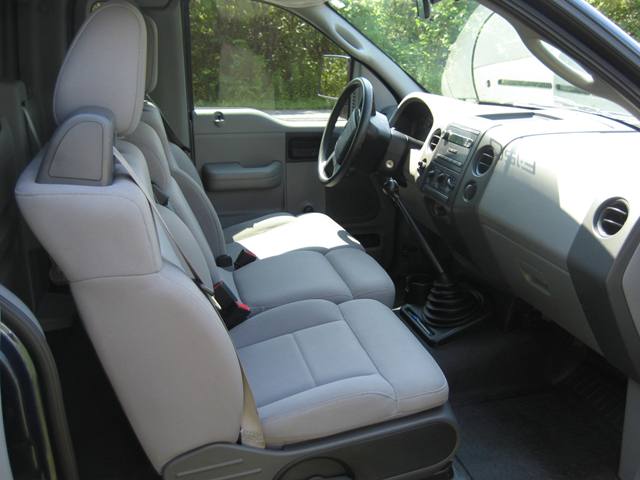 Steering feel has also been greatly improved in this series of F-150. I was never a fan of the steering feel of pervious generations of F-series trucks. They always felt overly vague and imprecise compared to the competition, almost as if the steering components were loose or worn out. This 2006 Ford truck is nothing like the ones from the past when it comes to steering feel. The old recalculating-ball system that harkens back to sometime in the dark ages was finally replaced with a much better rack and pinion system that is actually precise and has some road feel as well. This not only makes the truck handle so much better than the Ford truck of the past it also makes the truck feel smaller, less ponderous and more enjoyable to drive. Also the turning radius seems to be tighter as well.
All the advancements to the ride handling of modern pick-up trucks have made owning a bare bones truck a much less painful proposition. As a matter of fact this truck is down right comfortable and has many features that I would not expect on a basic truck. This is probably thanks to streamlining assembly and the popularity of fully loaded trucks. For example this truck is equipped with a tilt steering wheel as standard equipment, something of a surprise to me.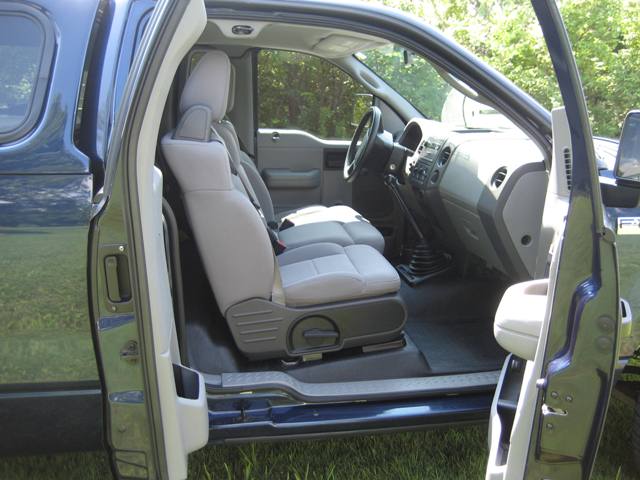 Gone is the long, flat, miserable vinyl bench seat from the past replaced with a remarkably comfortable 40/20/40 setup. This modern seat arraignment is essentially a nice pair of contoured bucket seats with a fixed middle section bolted to the floor where a console would or could live. The beautiful thing about this combination of three individual seats is that there isn't a compromise in comfort in order to have three abreast seating. Driver and passenger seats adjust individually as an added bonus the driver is awarded an adjustable lumbar support for their lower back. The seats are comfortable as I found out on my five hour journey home from retrieving the truck and contoured just enough that you won't end up on the passengers lap if you corner left with any sort of enthusiasm. Try that with a basic truck from twenty years ago. The centre section seat back folds down and doubles as an arm rest when not used for hauling a third person. Although I really can't see a third person being able to ride in the middle seat unless they don't have legs and willing to let you get to know them very intimately as the shift lever will inevitably land in the passengers lap when you shift into second, fourth and reverse.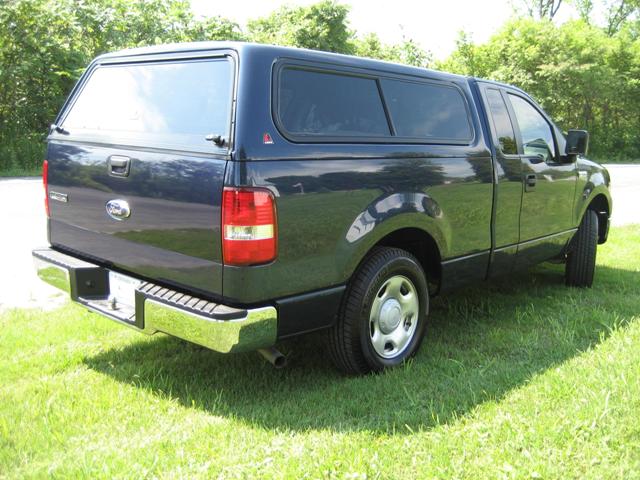 Another compromise that really only affects the base model manual transmission truck is that the driving position is rather odd. It is very apparent that Ford had not intended to offer this truck with a manual transmission. I say this because if you adjust the seat to a comfortable position away from the steering wheel you will find that you can't fully depress the clutch. When you move the seat forward t a position where the clutch and be full depressed comfortably you will find there is a steering wheel with an airbag just a little too close for comfort. The driver has to compromise being a little close to the wheel and a little too far to comfortably depress the clutch fully in order to drive. A telescoping wheel or longer legs would solve the problem and I don't exactly have short legs. This wouldn't be an issue with the automatic since you don't have a third pedal to full depress ever y 10 seconds while driving around town and the power adjustable pedal option that isn't available with the manual transmission completely eliminates the issue altogether in the automatic transmission trucks.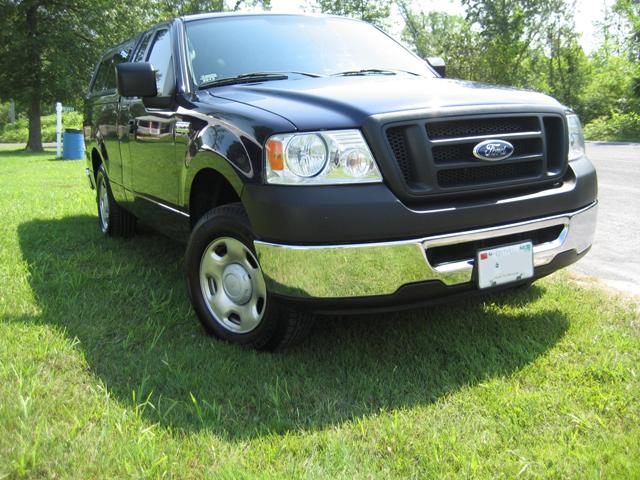 While there are many features of the F-150 that I am thrilled about like the tilt steering wheel, great seats and radio that has pretty decent sound, there is one area that the interior people fell flat on their face and that is interior storage space for all the little necessities of life. Sure the glove box is large enough and there are reasonable sized door pockets but only having one cup holder located on the floor next to the gearshift is unforgivable. That's not all, there is only one small cubby hole in the dash below the cigarette lighter that is too small to fit my sunglasses which are forced to live in the large but shallow rubber lined recessed area on top of the dash in plain view for everyone to see and for the sun to heat them up to branding temperatures. Now this lack of storage seems to only affect the base model. Upper trim levels have plenty of storage areas in the vast centre console, heck even most models with the 40/20/40 seat have a large storage area and cup holders in the armrest and I would have been happy with that. I guess compromises have to be made somewhere when building a vehicle to a certain price point. The situation isn't hopeless however because it is behind the seat is where the big Ford really makes up for lack of storage up front.
Unlike any regular cab pick-up truck made the 2004-2008 F-150's are unique because they were all 4-door trucks. Ford made the cab just a little larger than what is normally offered and added mini suicide rear door on either side of the truck to easily access the space behind the seats. This has to be the best feature ever conceived on a regular cab pick-up. With enough space behind the seats to store tool boxes, junk, crap, even a week's worth of groceries and the doors for easy access makes this truck all that more enjoyable to live and work with. Best of all that space behind the seats is secure and dry. The real tragedy is that Ford has discontinued this wonderful feature from the 2009 model year onwards and now just makes a conventional 2-door regular cab.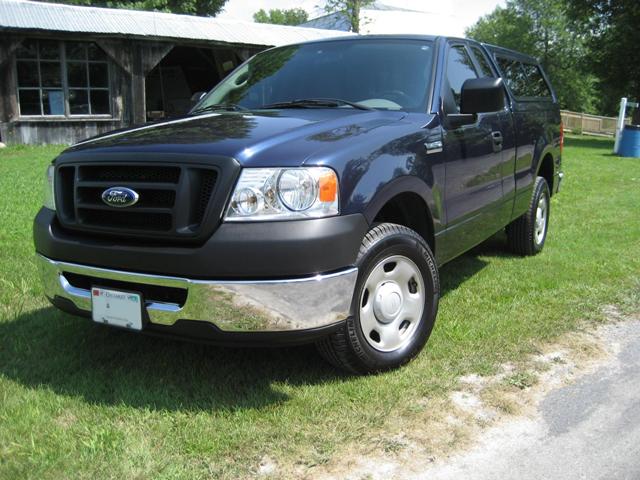 Even with its short comings of having an agricultural overhead valve V6, lack of passenger compartment storage and compromised driving position, I still love this truck very much. The benefits of low cost of ownership, great fuel economy, second to none utility, fantastic ride and handling characteristics and overall comfort have made this truck a winner in my books. If Ford brought back the 4-door regular cab and offered a six-speed manual transmission mated to one of its fabulous modern twin cam multi valve V6 engines I would be all over that like a fat kid on a cheesecake.