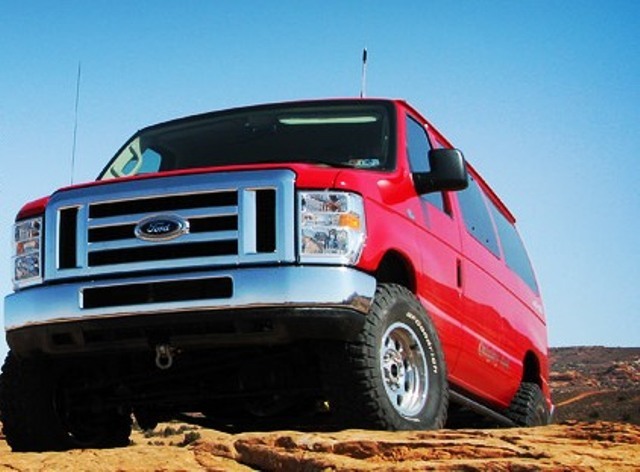 Written by James Dolan
So you have a dilemma. You have mountains of crap to haul around or a village of people to transport or a trailer to haul or a combination of all three. The solution is simple; you need a full size van. But here is the catch, because of where you live or where you want to go you need a 4x4 vehicle. And let's be honest a full size van hasn't been in fashion since the 1970's and that expensive Suburban or Expedition XL you have your eye on just won't cut it when it comes to cargo and hauling capacity. So what do you do? Tying your extra passengers to the roof rack might seem like a great idea, especially when it involves that special mother in-law that you oh so dearly love. Or you can spend even more money and buy a trailer to tow behind that new SUV just so you can haul your junk around. None of these solutions are either practical or in same cases legal. The ultimate solution would be a rugged well built 4x4 full size van that can swallow your totem pole collection, carry an army troop and haul a trailer to just about any destination you could ever want to go. However that sort of vehicle just doesn't exist, or does it?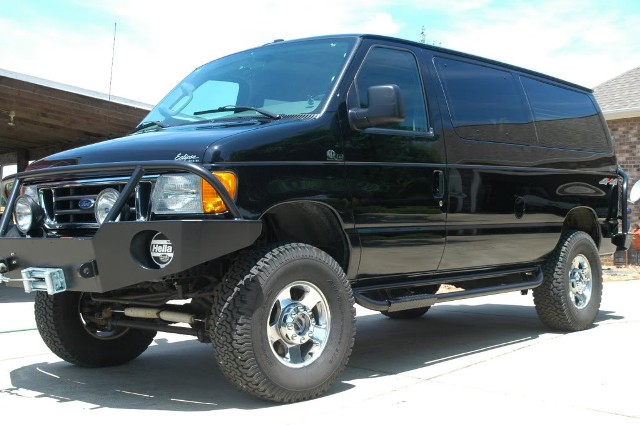 Fortunately this mythical vehicle does exist and Quigley Motor Company is the place where ordinary vans become extraordinary. Quigley has been in the 4x4 van conversion business since 1974 and superior quality and engineering plus a close relation ship with Ford Motor Company and its dealers is what sets them apart from the rest of the other 4x4 retrofitters. As a matter of fact you can order a Ford E-Series 4x4 van right from a Ford dealer and have all the 4x4 components covered by a 36 month/36,000 mile warranty by Quigley and the rest of the vehicle is covered by Ford. Quigley has also gone to great lengths to ensure that these conversions adhere to all Federal Motor Vehicles Safety Standards and all in house components are designed in accordance to Society of Automotive Engineers specifications. So we know this is a quality product and not some hacked up, engineered by a red neck Frankenstein van. This van will stop when you stomp on the brakes and turns a corner when you want to change directions rather than crashing and bursting into a spectacular ball of flames. Now because it is a raised van some common sense is required when driving a vehicle like this, but if you keep in mind that it's not a sports car you'll be just fine.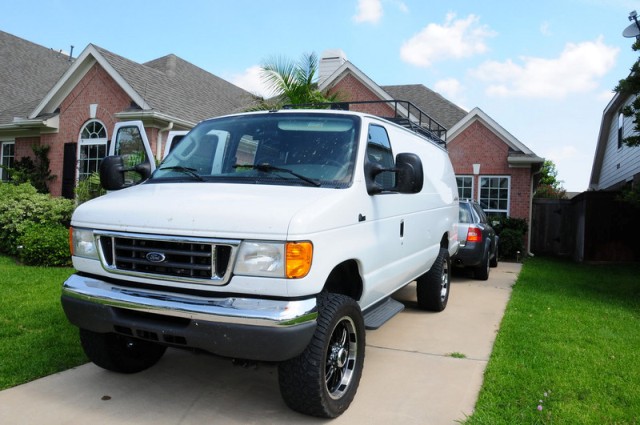 All this stuff about warranties, engineering and factory approval is great stuff, but what exactly is a Quigley 4x4? Simply put if you take a Ford E-Series van and a Heavy Duty Ford F-Series 4x4 truck put them in a room, dim the lights, light some candles and put on a Barry White CD open the door 2 weeks later you have your self a 4x4 van. In reality it's not that simple but you get the idea. The marriage of all these bits and pieces is quite ingenious and because 90% of the components used in the retrofit are Ford parts (calipers, brake rotors, pads, etc.) servicing will be a synch and everything works in complete harmony just as if it was designed and built that way right from the get go. These vans are rugged. Built with an F-350 solid front axel and 2 speed transfer case, gives these vans the capability to go anywhere. Manual or automatic lock out front hubs; brake calipers, pads and rotors, steering stabilizer, tie rods, steering linkage, 17"wheels and shocks are also Ford F-Series pieces. With all these bits in place this aggressive Ford van will sit just a shade less than 3.5" higher then a stock E-Series and because all the extra weight of the retrofit is down low the centre of gravity is only raised slightly giving the big Ford stabile handling. Add optional Ford 17" aluminum wheels, B.F. Goodrich LT265/70R17E Rugged Trail T/A Tires, Bilstein Shocks or Rancho Adjustable Shocks and a Helwig rear sway bar and you have one tough aggressive looking van.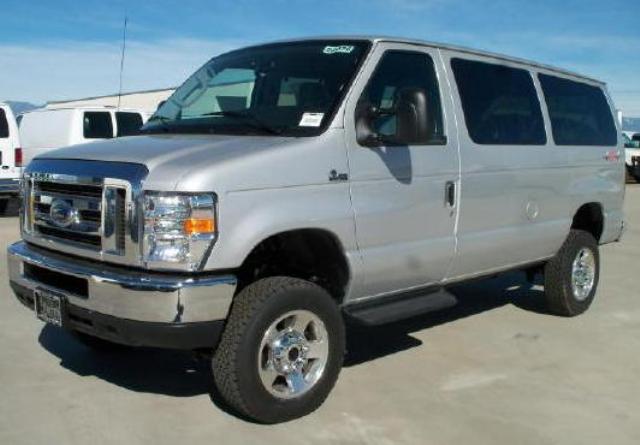 Being a van cargo capacity and passenger carrying capability is second to none. Full size SUV's can only wish they were this practical. These vans will tow between 7,000-10,000lbs., more than enough to haul your boat to the lake, your camping trailer to that favorite remote get away or your car hauler to the track. Plus these vans can carry 8-12 passengers including your dear mother in-law inside the van in air conditioned comfort. Not only that, the extended van has more than double the maximum cargo area of a long wheel base Expedition. And when the going gets really rough it will go just about anywhere and make a modern SUV look foolish while do so. Probably the best part of the whole package is even with the cost of the retrofit taken into account one of these vans can cost less than a full size SUV, this makes the purchase of a 4x4 van even more compelling.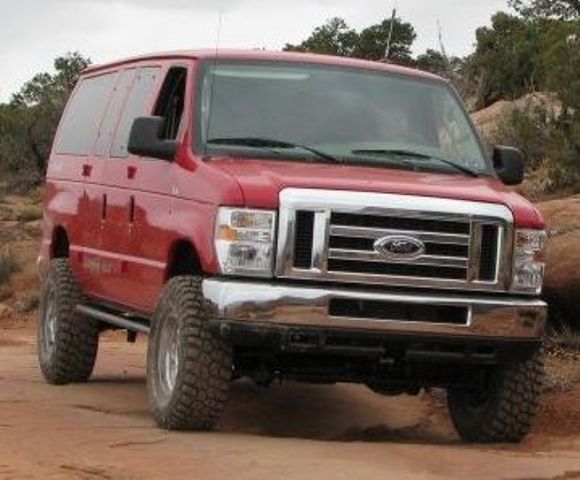 Sexy is not a term I would usually apply to a full size van. Visions of plumbers bent over, church choirs, people with 18 too many kids and counting or that scary old man offering candy are all usually associated with the full size van. But this van is different, it's aggressive, rugged, macho and dare I say cool. Looking at it makes me want to climb up into it and drive somewhere far off the beaten path or take it on a road trip or just drive over something, like that guy who just cut you off. Not that I condone running over traffic, but the thought of being able too do such a thing is appealing. Quite honestly I could see myself cruising down to Florida on a winter get away in one of these vans or hauling an Airstream trailer on a cross country summer adventure or just simply being able to get out of my driveway after a snowstorm. One thing is for certain with only about 10,000 Quigley conversions ever done in the last quarter century you will more then likely be the only one on your street or in your town that owns one and that just multiplies the cool factor by ten. So why would you buy an SUV over a Ford E-Series Quigley 4x4? The practicality, cost advantage, capability, exclusivity and cool factor are enough to make me want one in my driveway. I'll take mine fully loaded in red if anyone is willing to buy me one.