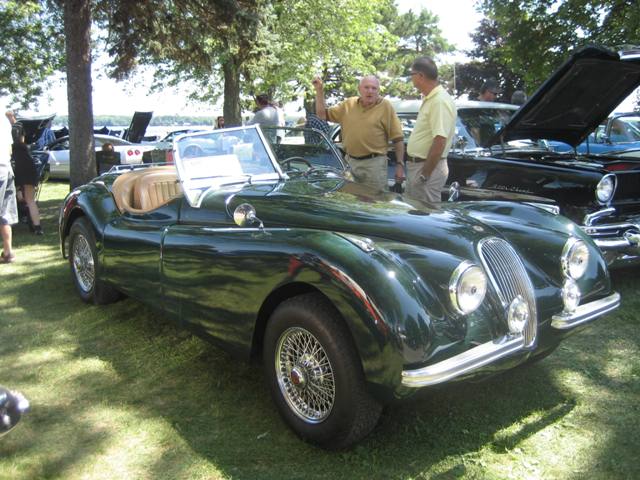 Written and Photographed by James Dolan
One of the highlights in the city of Brockville every summer is the AutoMotion car show that takes place on picturesque Blockhouse Island along the St. Lawrence River. This year marks the 24th year for this show that attracts all kinds of vehicles from Hot Rods and American Muscle Cars to Antiques, European exotics even some Japanese vehicles are thrown in for good measure. Whatever your tastes in vehicles you are sure to find something to your liking at this show.


It is the variety of machinery that attracts me to this show every year. Let's face it, walking around looking at 600 plus muscle cars in a row can get a bit boring after the first 100 or so, making you want to commit suicide if you see just one more Corvette. What keeps bringing me back every year is the smattering of different makes and models. You can walk past a row of Mustangs and Challengers then stumble upon a Gremlin, Citroen DS, Jaguar E-type or Mazda RX-7. This tends to hold my all too short attention span longer and just seems to make the whole experience that much more interesting for the spectator.


This year the weather was spectacular, the sun was shining and the air was warm so Heather and I packed ourselves some snacks and drinks jumped into our white Cobra for drive to Brockville from our home base in Cornwall. We decided to follow the banks of the St. Lawrence River along County Road 2 for the hour long journey. This is a scenic route that once linked Montreal to Toronto before the days of the 401 and is so much more relaxed and enjoyable then the modern highway of today. I highly recommend this drive to anyone who actually still takes a "Sunday drive", if there is anyone out there who still does such a thing. There are so many sights to see along the route, historic villages, old stone homes, water front parks, even an old fort dating back to the war of 1812. The drive it self could be a day long adventure if you really wanted to take your time and see all the sights.


AutoMotion is a big show attracting 500-600 vehicles plus from all over. Participants come from Ottawa, Montreal and Toronto. There are even vehicles that come up from the United States, driving for hours just to show off their vehicles for the one day event. And why wouldn't they? The location is beautiful with the river and the historic downtown as a back drop, amazing vehicles to gawk at, and big shiny trophies to be won. Not a bad way to spend a mid summers day I'd say…


Continue to the Complete AutoMotion 2010 Photo Gallery...