My Vehicles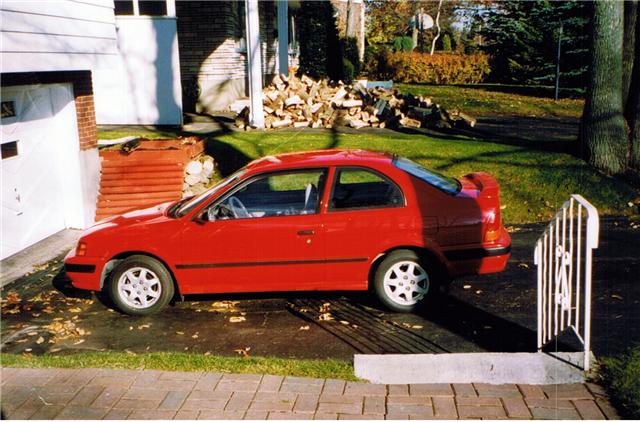 Written and Photography by James Dolan
By the time the fall of 1997 rolled around my Escort had pretty much seen better days. It was time for something new (or newer). My friend Tracy who worked at a Toyota dealer suggested that I look at a 1996 Toyota Tercel Sport that they had on their lot. The car had 23,000km on it and was in mint condition. The pervious owner was moving out to western Canada and did not want to take the car so he sold it to the Toyota dealer whom he had purchased the car from new. It was red with a basic grey interior with a Toyota sport three spoke steering wheel and AM/FM/Cassette/CD stereo with premium sound.
The Tercel Sport was a one model year limited production vehicle conceived by the product planning department for Canada only. Only 800 were produced with a choice of only 3 colours and offered in the 2 door body style. Unlike most "Sport" packages offered by manufacturers the Tercel Sport was more then a graphics and spoiler package. Sure the Tercel had a rear spoiler, "sport" graphics, 14" alloy wheels from the Paseo, even side skirts and painted bumpers but Toyota wanted the car to perform as well. Since engine modifications were not possible due to cost and emissions restrictions Toyota modified the suspension. Toyota's performance parts division (TRD) provided new shocks, struts, bushings and springs along with a sticky set of high performance Yokohama tires made the little Tercel feel like it was attached to the road like crazy glue. To round out the package Toyota equipped the car with a tachometer and three spoke sport steering wheel that was thicker then a standard wheel.
The entire package transformed the boring Tercel into a BMW 3 series look a like with handling to match. New the car was not cheap, with a few options the price tag came very close to $20,000. But it was loads of fun to drive and because of the light weight of the Tercel it really wasn't underpowered with its standard 1.5L 16V DOHC engine and close ratio 5-speed transmission from the Paseo. The big bonus was that the car achieved some amazing fuel economy numbers. Ask any one who has driven a Tercel Sport and they will attest that it's a blast to drive. Aside from the most uncomfortable seats I have ever sat in, lack of air conditioning and horrible ventilation I loved that Tercel and put many, many kilometers on it. Honestly if it wasn't for the lack of A/C and those seats from hell I would have kept that car longer.


Vehicle Specs
1996 Toyota Tercel Sport
Engine - 1.5L DOHC 16V I4, 93HP and 100lb-ft Torque.
Curb Weight - 1950bs.
Transmission - 5-Speed Manual with hydraulic clutch.
Brakes - 9.3" Vented discs, single piston calipers(front); 7.1" drums (rear).
Tires - 185/60HR14 Yokohama
Suspension - Front, type: Independent Macpherson strut type, with anti-roll bar, coil springs. Rear, type: Trailing torsion beam with rear stabilizer bar, struts, coil springs.
0-100kph 10.3 seconds.
Options/Upgrades - AM/FM/CD/Casette with premium sound, 14" alloy wheels, Sport tuned suspension, Only 800 built for Canada only.