My Vehicles
1985 Mazda 626 LX Coupe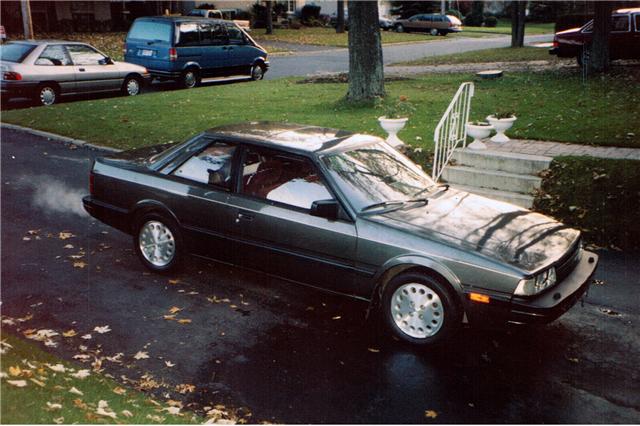 Written and Photography by James Dolan
After I sold the Hyundai I bought a 1985 Mazda 626 LX Coupe. It was almost everything I was looking for in a car that the Pony wasn't. The 626 was a beautiful modern looking coupe with a low roof line and aerodynamic body. My 626 was tornado silver with red interior and was loaded with options. The sleek Mazda was equipped with power windows (even the rear quarter windows that are normally fixed in a coupe were power operated!), electronic adjustable suspension, headlamp washers, power sunroof, cruise control, 200 watt premium sound system, 10 way adjustable seats and 15" alloy wheels. Even the trunk was fully finished with luggage tie down straps. But the coolest option I have ever seen in a car before or since was the oscillating centre dash vents. With a push of a button the vents would swing back and forth between you and your passenger, to this very day I miss that feature.
Not only was the 626 loaded with features and good looking, it was fun to drive as well. The ride and handling was firm with the suspension set to sport mode. The cockpit was well laid out and all the features easy to use and all the materials were of high quality. Even with 200,000km the Mazda looked and drove like a much new car and it was still dead reliable. The one fault that car had was lack of power. The 2.0L engine was underpowered and even with the 5-speed manual transmission acceleration was on the slow side. On the plus side it was very good on gas and very smooth with the exception of the computer controlled carburetor that sometimes had poor performance under some conditions. Other wise it was a great vehicle and I was sad to sell it. But I needed the money to finance my trip to Japan.


Vehicle Specs
1985 Mazda 626 LX Coupe
Engine - 2.0L SOHC I4, 2bbl Carb, 83HP and 87lb-ft Torque.
Curb Weight - 2266lbs.
Transmission - 5-Speed Manual with hydraulic clutch.
Brakes - Vented discs, single piston calipers(front); drums (rear).
Tires - 195/60HR15 Goodyear Eagle GT
Suspension - Front, type: Independent electronically adjustable Macpherson strut type, with anti-roll bar, coil springs. Rear, type: Independent, trailing arms, twin-trapezoidal links, electronically adjustable struts, coil springs, anti-roll bar.
0-100kph 10.3 seconds.
Options/Upgrades - Tornado Grey, Headlamp Washers, Bosch Driving Lights, 15" Alloy Wheels, Electric Sunroof Panel.