My Vehicles
---
1986 Hyundai Pony 1400 GL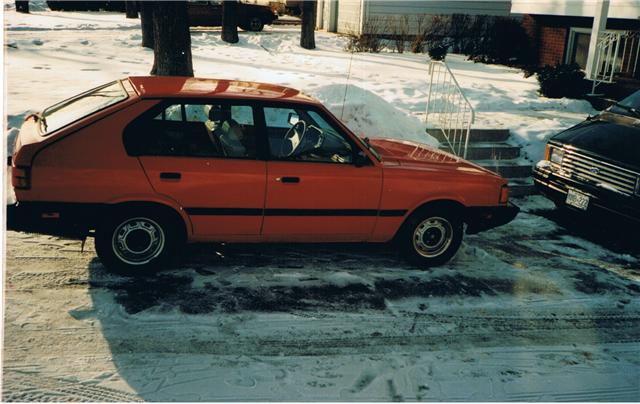 Written and Photography by James Dolan
This was my very first car that I bought in the fall before I turned sixteen. It definitely was not the car I was originally looking for and certainly not a cool car by any means. Like any young person looking for their first car I wanted a cool sports coupe. The Pony was everything I didn't want except for the fact that it had a manual transmission. It was far from sporty and miles away from being cool but it turned out to be a fantastic first car. After months of searching, looking at dozens of cars we spotted the ad for the Pony. In the preceding months we had looked at a 1984 Mazda 626, 1986 Ford EXP, two 1984 Mercury Capri's, a 1979 Mazda RX-7 and I looked at a 1982 Mazda RX-7 while my parents where in Europe.
My father had not bought a used car in almost 40 years and had never bought one privately so this was all new to him as well as me. Since the Pony was advertised with low mileage and was a 5 speed we decided to go check it out. It wasn't much to look at. It had a few rust spots showing through, a radio that didn't work, a crack in the seat and dash, faded paint and was dirty. But it seemed to run and drive well and identical to my brothers' first car, a red Pony 1400GL with tan interior. The owner was able to prove that it had been maintained and that the 46,000km showing on the odometer was accurate. The price was cheap so after a little convincing from my father I decided to buy it.
We got it home and I started going to work on the car. After a through cleaning the interior was stripped out in order to fix the drivers seat and clean or repair every interior piece and install new speakers. Next was the body work. These cars rusted quickly and if they were not washed regularly or stone chips repaired they would start to rust. Once all the spot repairs were done and spray painted I made a concoction of liquid wax and rubbing compound mixed together and rubbed out the paint. My faded red car was red again. I went on to refinishing the wheels and trim and eventually installing a new stereo and I replaced the steering column that was broken. Once I was done the car looked like new!
This was the perfect first car as it was extremely simple and had reliable Mitsubishi mechanical components. This made the car very easy and cheap to diagnose and repair, plus you could use basic hand tools. While owning this car I leaned how to replace tie rods, shocks, a steering column and a bad clutch that my dad and I failed to notice on our inspection, lesson learned. Not only was the car easy to work on it was fun to drive!
Hyundai Pony's were not know for being a power house, but when equipped with a 5-speed manual transmission and some creative use of parts it could be fun to drive. With a decent set of wider tires and a set of aftermarket gas shocks (yes, gas shocks was an upgrade!) the Pony handled quite well and was very well balanced. Being rear wheel drive was an added bonus too! Being relatively low powered it would keep a young enthusiast from getting into too much trouble.


Vehicle Specs
1986 Hyundai Pony 1400 GL
Engine - 1.4L SOHC I4, 68hp and 82 lb-ft Torque.
Curb Weight - 2000 lbs.
Transmission - 5-Speed Manual with cable clutch.
Brakes - Front solid discs, single piston calipers; rear drums.
Tires - P155/80R13 Michelin XA4
Suspension - Strut front suspension independent with coil springs , solid rear axel with leaf springs
0-100kph 13.5-14.0 seconds.
Options/Upgrades - AM/FM/Cassette player, Right side mirror, Gas charged shocks and struts, anti-roll bar.